What Is Moringa?
Moringa is a plant native to India, but it is cultivated worldwide in tropical and subtropical regions. It is known for its nutritional and medicinal properties. Researchers show it could be used as a treatment for cancer, asthma, cardiovascular disease, diabetes and other diseases.
A 2017 study published in the Asian Pacific Journal of Cancer Prevention found the extract from moringa leaves acts as an as anti-cancer agent that reduces cancer cell growth and promotes cell death in several cancers.
There are 13 species of moringa that range in size — from leafy shrubs to tall trees.
The most commonly harvested species, M. oleifera, is a small, fast-growing tree used for centuries to combat many different ailments, including symptoms associated with a mesothelioma diagnosis.
However, there are no studies about its effect on mesothelioma.
Nutritional Benefits of Moringa Tree
The 2018 National Nutrient Database for Standard Reference shows 1 cup of chopped moringa tree leaves contains:
Protein: 2 grams
Iron: 11 percent of RDA (Recommended Daily Allowance)
Vitamin A: 9 percent of RDA
Vitamin C: 12 percent of RDA
The high levels of antioxidants (vitamins C and A) help protect against cell damage caused by chemicals in the body, known as free radicals, which can play a role in the development of cancer.
Vitamin C helps the body maintain a healthy immune system, while vitamin A is essential for normal growth, vision and bone development. It can also help maintain mucous membranes that protect against infections in the respiratory and digestive tracts.
Moringa leaves also contain essential amino acids that can boost the immune system. This is extremely important while undergoing treatments such as chemotherapy. Drugs used during chemo can wreak havoc on the immune system, and the body needs a way to combat this side effect in order to fight back.
The National Institute of Nutrition's 1989 book "Nutritive Value of Indian Foods," shows a handful of moringa leaves contains:
Seven times the amount of vitamin C in an orange
Three times the amount of iron in spinach
Four times the amount of vitamin A in a carrot
Four times the amount of calcium in one glass of milk
Three times the potassium in one banana
Two times the protein found in regular, plain yogurt
There are many ways to incorporate moringa into your daily diet. Its leaves can be eaten fresh, cooked or crushed, and they can be stored as dried powder for several months without loss of nutritional value.
It tastes great in fruit smoothies. You can try combining passionfruit, moringa and honey for a tasty, nutritious snack. You can use the dried powder in a curry recipe and serve it over rice. It is also commonly used as a replacement for spinach in almost any recipe.
Connect With a Mesothelioma Specialist
The symptoms of mesothelioma resemble many common conditions and often gets misdiagnosed. A second opinion could result in a much better prognosis.
Get Help Now
Moringa Tree Anti-Cancer Benefits
Not only is moringa highly nutritious, it also has beneficial medicinal uses.
In India, its leaves, fruit, flowers, seeds and roots are medicinal, especially as anti-inflammatory and anti-tumor medicines.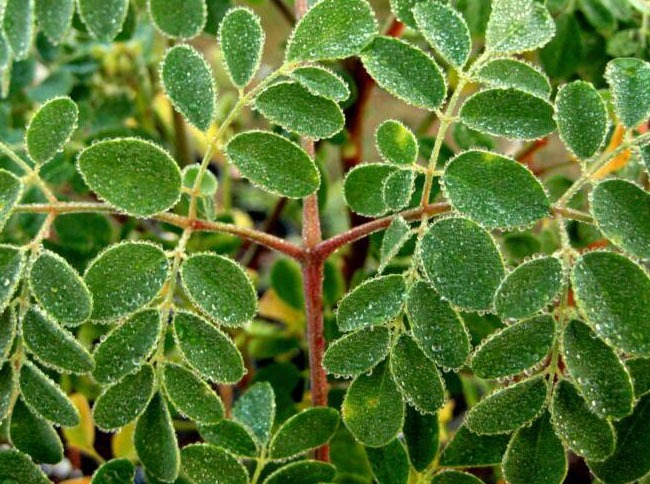 As moringa has long been recognized by folk medicine practitioners, scientists are beginning to research its anti-cancer properties.
The Asian Pacific Journal of Cancer Prevention in 2003 published a study in which researchers examined skin tumor prevention following ingestion of moringa seedpod extracts in mice. Results showed a dramatic reduction in skin papillomas and suggested that moringa has possible cancer-preventing properties.
Another study conducted in 2006 reported that a molecule found in M. oleifera induced cell death in ovarian cancer cells grown in a lab. Based on these findings, researchers want to research if the plant has potential to treat this type cancer.
Research also shows the moringa tree may reduce the following common cancer symptoms:
Chest congestion
Cough
Diarrhea
Difficulty breathing
Fever
Joint pain
Headaches
Respiratory complications
Skin irritations
Sore throat
Weight loss
Because of the side effects of some cancer treatments, patients experience a loss of appetite, which can lead to malnutrition and severe weight loss. Malnutrition occurs when your body does not get enough nutrients.
This can negatively affect their quality of life, treatment response and survival. Moringa provides an easy way to meet your daily nutrient requirements without having to eat a big meal.
Keep in mind that treatment options affect people differently. As with any alternative treatment, it is best to talk with your doctor before adding moringa to your treatment regimen or diet. If you experience any side effects after using these alternative methods, you should seek medical attention immediately.
Moringa Tree Side Effects
Potential side effects of moringa include:
Alkaloids in the plant may lower blood pressure and slow heart rate
Moringa bark can cause uterine contractions
A chemical isolated from roasted moringa seeds causes cell mutations
Moringa tree extract may interfere with fertility
Moringa leaves increased risk of liver and kidney damage in rats
Growing Recognition of the Moringa Tree
The researchers who published their findings in the 2017 study said there was "growing evidence supporting the promising role of moringa extracts as anti-cancer candidates."
The Food and Agricultural Organization of the United Nations recognized moringa as the September 2014 Traditional Crop of the Month.
While the nutritional and medicinal value of moringa is becoming more well known, further scientific research and clinical studies are needed to provide further acknowledgement of this plant as a cancer preventive method.
8 Cited Article Sources
USDA. National Nutrient Database for Standard Reference. (2018)

Abd-Rabou, A. et al. (2017). Moringa oleifera Root Induces Cancer Apoptosis more Effectively than Leave Nanocomposites and Its Free Counterpart.
Retrieved from: https://www.ncbi.nlm.nih.gov/pmc/articles/PMC5697473/
Bharali, R., Tabassum J., and Azad M. Chemomodulatory effect of Moringa oleifera, Lam, on hepatic carcinogen metabolising enzymes, antioxidant parameters and skin papillomagenesis in mice. Asian Pacific Journal of Cancer Prevention, 4(2):131-9. :
Retrieved from: https://www.ncbi.nlm.nih.gov/pubmed/12875626
Deaton, A. and Dreze, J. (2009). Food and Nutrition in India: Facts and Interpretations. :
Retrieved from: http://www.princeton.edu/~deaton/downloads/Food_and_Nutrition_in_India_Facts_and_Interpretations.pdf
Gopalan, C.; Rama Sastri, B. V.; and Balasubramanian, S. C. (1971). Nutritive value of Indian foods. Hyderabad, India: National Institute of Nutrition.

Kalkunte, S.; Swamy, N.; Dizon D.S.; and Brard, L. (2006). Benzyl isothiocyanate (BITC) induces apoptosis in ovarian cancer cells in vitro. Journal of Experimental Therapeutics and Oncology, 5(4):287-300. :
Retrieved from: https://www.ncbi.nlm.nih.gov/pubmed/17024969
Stadlmayr, B. et al. (2012). West African Food Composition Table. :
Retrieved from: http://www.fao.org/docrep/015/i2698b/i2698b00.pdf
MSKCC. (2018, October 31). Moringa oleifera. Retrieved from: https://www.mskcc.org/cancer-care/integrative-medicine/herbs/moringa-oleifera
How did this article help you?
What about this article isn't helpful for you?
Did this article help you?
Thank you for your feedback.
Would you like to speak with a Patient Advocate?
Last Modified August 26, 2019