Get your
free

mesothelioma guide containing crucial information about your legal rights!
Why Is This the Most Complete Mesothelioma Legal Guide?
Our easy to understand mesothelioma legal guide has sections on settlements, trust funds, VA claims and cases that go to trial. Learn the value of your case and how long it will take to receive compensation. Your guide also comes with these customized inserts:

Why You Need a Mesothelioma Attorney
Explains what a mesothelioma attorney can do for you and your family and why finding one quickly gives you the best chance of getting compensation.

Financial Assistance Options
Lists all of the financial assistance options for people affected by mesothelioma and explains why these programs exist.

Compensation Options for Veterans
Outlines the benefits available to military veterans diagnosed with mesothelioma and how to file or appeal a VA claim.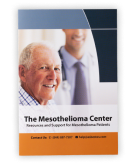 Trifold: Our Services
Explains our services, including access to top doctors and treatment centers, financial support, Patient Advocates and veterans benefits.
Helping People Who Are Like You
Without your guidance, my father would probably have not gotten as far as he did and would have passed not knowing how my mother would be taken care of. Fortunately, he was told about the settlements before his passing and he knew she was going to be OK financially.
The Mesothelioma Center was so helpful. I received so much information on mesothelioma. It really helped me understand how rare and difficult it is to treat.

Brittany G.

Mesothelioma Survivor
Ready to Read Your Free Guide?
Our Patient Advocates are:
Following CDC social distancing guidelines
Wearing gloves while handling any materials we are sending you
Disinfecting any materials before shipping them