Free must-read books about mesothelioma.
We offer four essential books about mesothelioma to help patients, families and caregivers understand and cope with this rare cancer.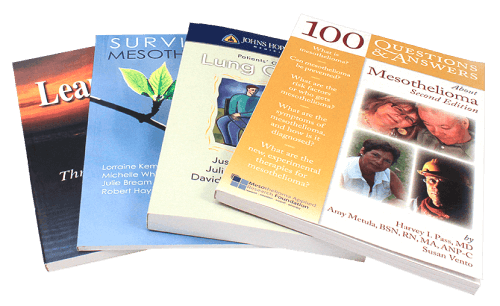 Choose Your Free Mesothelioma Book
Our free mesothelioma books answer all of your questions, provide caregiver perspectives and contain stories from mesothelioma survivors.

100 Questions and Answers About Mesothelioma
A reference guide for all issues relating to mesothelioma, offering practical answers from doctors and patients.

What to Eat if You Have Cancer
A guide to foods that reduce toxicity from chemotherapy and aid in the body's recovery process. Also learn about supplements and meal planning.

Lean on Me: Cancer Through a Carer's Eyes
A personal account of how one couple found strength following a mesothelioma diagnosis.

Surviving Mesothelioma: Making Your Own Miracle
An inspiring story that chronicles the journey of mesothelioma survivor Judy Glezinski.
Testimonials
Thank you so much for the bracelets, the book Lean on Me and talking with me for such a long time. It was such as blessing. I read the book in one afternoon and my heart was broken for her. It is so important for this horrible cancer to be eliminated. It is a cancer no one should ever have gotten.

Pat B.

Mesothelioma Survivor
Snehal Smart, M.D., immediately sent me a packet of general information, a book on Surviving Mesothelioma and offered me assistance in finding doctors, reputable law firms, financial help, support groups and so much more!

Karen F.

Peritoneal Mesothelioma Survivor
I received a FREE information package, including a recipe book, information on the disease, a toll free number to contact for assistance, and a book with the answers to 100 questions that are commonly asked. This information alone was worth my time! I read for hours and hours.

Pamela K.

Wife of a Mesothelioma Survivor