What Is Peritoneal Mesothelioma?
Mesothelioma of the peritoneum is a rare asbestos-related cancer that forms on the abdominal lining. A rare form of this cancer develops in the omentum, a layer of the abdominal membrane that covers the stomach and other organs.
The beginning symptoms of peritoneal mesothelioma include abdominal distension, abdominal pain, swelling or tenderness around the abdomen and constipation or diarrhea.
A peritoneal mesothelioma diagnosis is confirmed only through a biopsy. The cancer is often misdiagnosed as less serious abdominal conditions. Previous asbestos exposure and the presence of ascites can help doctors determine an accurate diagnosis.
Important Facts About Peritoneal Mesothelioma
It accounts for less than 20% of all mesothelioma cases.
Surgery with heated chemotherapy is the most effective treatment.
Immunotherapy for this type is available through clinical trials.
Surgical peritoneal patients live four times longer than the average pleural mesothelioma patient
What Causes Peritoneal Mesothelioma?
Ingesting asbestos fibers causes malignant peritoneal mesothelioma. Researchers do not fully understand how, but they have developed theories about how asbestos fibers reach the abdomen and result in cancer.
Development of Peritoneal Mesothelioma
Swallowed asbestos fibers travel from digestive system to the peritoneum.
Inhaled asbestos fibers reach the lymphatic system and travel to the peritoneum.
Once fibers are in the peritoneum, they irritate the cells and damage DNA.
The irritated cells begin to thicken the peritoneal lining.
Excess abdominal fluid builds.
Over time, tumors begin to form on the damaged peritoneum.
Research on other causes of abdominal mesothelioma is scarce. Evidence shows other fibrous minerals, such as erionite, and radiation to the abdomen trigger some cases of this disease.
Learn More About How Asbestos Causes Mesothelioma
What Are the Symptoms of Peritoneal Mesothelioma Cancer?
Abdominal pain or swelling
Diarrhea or constipation
Changes in bowel habits
A feeling of fullness
Night sweats or fever
Unexplained weight loss
Nausea or vomiting
Fatigue
Anemia
The initial symptoms of peritoneal mesothelioma may mimic less serious gastrointestinal conditions. Anyone with a history of asbestos exposure should monitor their health and make a doctor appointment if they develop any of these symptoms.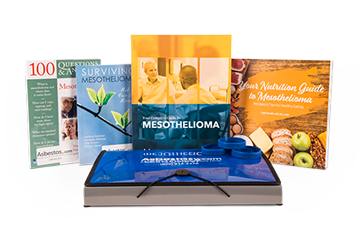 Exclusive 2019 Peritoneal and Pleural Guide
Choose which guide fits your diagnosis. Our free guides include free medical and legal information, mesothelioma books and support wristbands.
How Is Peritoneal Mesothelioma Diagnosed?
Abdominal mesothelioma is diagnosed with imaging scans, blood tests and biopsies.
Imaging scans show the size and location of tumors.
Blood tests reveal certain biomarkers associated with cancer.
Biopsies show what kind of cancerous cells are present.
Patients will also receive a thorough examination of their medical history, occupational history and overall physical condition.
While every test serves a contributing purpose to the diagnostic process, the only way to confirm a peritoneal mesothelioma diagnosis is with a biopsy.
Biopsies are samples of tumor tissue that are examined under a microscope in a lab. Medical professionals called pathologists perform tests on the biopsy sample to reveal what kinds of cancerous cells are within the tumors, which is summarized in a pathology report.
Learn More About How to Test for Mesothelioma
Diagnosing Cell Types of Peritoneal Mesothelioma
The pathology report will contain information about the cellular subtype of your peritoneal mesothelioma.
Common Cell Types
Epithelioid cells are the most common, making up 75% of cases.
The biphasic type, which is a combination of epithelioid and sarcomatoid cells, the second most common. It makes up about 25% of cases.
Epithelioid peritoneal mesotheliomas can grow in four different patterns: Papillary (the most common, which is usually found alongside other patterns), tubular, diffuse and deciduoid.
Pure sarcomatoid tumors are extremely rare in peritoneal mesothelioma. Around 30 cases have been diagnosed since 2006. They usually occur alongside epithelioid cells to form the biphasic subtype.
Rare Cell Types
Well-differentiated papillary mesothelioma
Multicystic mesothelioma
Desmoplastic mesothelioma
Lymphohistiocytoid mesothelioma
Pure sarcomatoid mesothelioma
Additionally, omental mesothelioma is a rare type of mesothelioma that forms in the omentum, a part of the peritoneum that connects the stomach with other abdominal organs.
Misdiagnosis
Because this cancer is rare, doctors lacking experience with the disease often misdiagnose abdominal mesothelioma patients with more common illnesses that share similar symptoms. This can delay proper treatment.
If you have a history of asbestos exposure, the best way to ensure an accurate diagnosis is to schedule an appointment with a specialist. Doctors who specialize in peritoneal mesothelioma have the knowledge and tools needed to make an accurate diagnosis.
Learn More About Mesothelioma Misdiagnosis
Peritoneal Mesothelioma Staging and Life Expectancy
For decades, peritoneal mesothelioma experts developed their own staging system because an official one didn't exist.
In 2011, researchers proposed three stages based on surgical cases. This staging system hasn't been officially adopted because more data is required to confirm it, but many specialists use this system already.
3 Stages of Peritoneal Mesothelioma
Stage 1: Cancerous tissue is minimal, tumors are contained within the abdominal lining, and lymph nodes are free of cancer.
Stage 2: Cancerous tissue is moderate, and tumors have not spread outside the lining or to lymph nodes.
Stage 3: Cancerous tissue is more extensive, and tumors may have spread outside the peritoneal lining, to lymph nodes or both.
A fourth stage is not yet clearly defined. It is generally accepted that patients with extensive tumor spreading are classified as stage IV.
A patient's life expectancy with peritoneal mesothelioma is impacted by the cancer's stage. Patients diagnosed at an early stage tend to qualify for more aggressive treatments that can extend survival by years. Those diagnosed at a later stage may not qualify for aggressive treatment, but they still have treatment options to improve life expectancy.
Learn more about the Stages of Mesothelioma
Peritoneal Cancer Index
The Peritoneal Cancer Index is a diagnostic tool doctors use to assess the location and spread of tumors on the peritoneum. It helps them determine the cancer's stage.
The index divides the abdomen into 13 regions. Doctors assign a number (1-3) to each region based upon the largest tumor in that area. The Peritoneal Cancer Index score is found by adding up the individual scores from the 13 regions for a maximum score of 39 (13×3).
Lower index scores mean the patient may qualify for surgery. Higher index scores mean the cancer has spread too far to be surgically removed. Traditionally, a score higher than 20 indicates the patient won't respond well to surgery.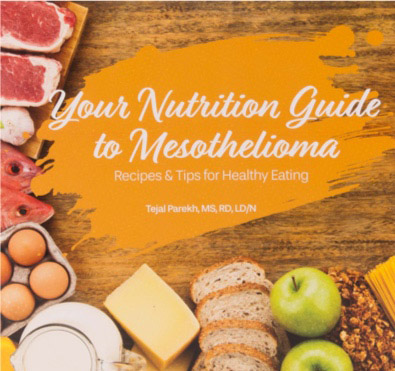 Free Mesothelioma Nutrition Guide
Eating right and balancing your diet while undergoing mesothelioma treatment can help ease your symptoms.
GET FREE RECIPES & TIPS
Peritoneal Mesothelioma Treatment Options
Peritoneal mesothelioma is treated with chemotherapy or a combination of surgery with heated chemotherapy, also known as HIPEC (hyperthermic intraperitoneal chemotherapy).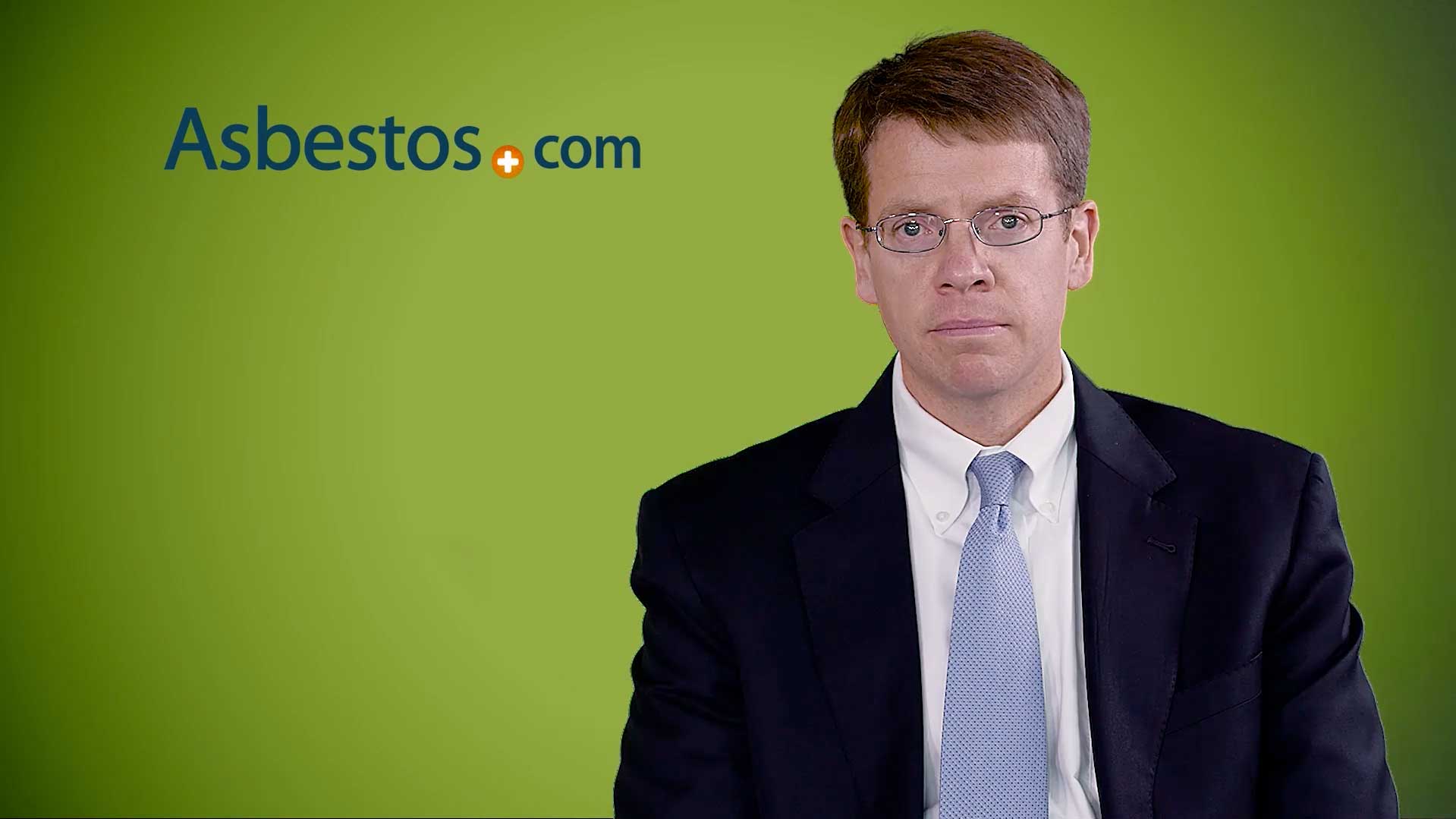 More than 60% patients are diagnosed too late to qualify for surgery with heated chemotherapy, which is the most effective treatment option. Chemotherapy alone is the most commonly received treatment for this type of mesothelioma.
Cytoreductive Surgery with Heated Chemotherapy: Cytoreductive surgery, also known as a peritonectomy, attempts to remove as much cancer as possible, then heated chemotherapy is applied locally to the abdomen before the surgery ends. Doctors only perform this procedure on a case-by-case basis. Around half of patients who undergo the procedure live five years or longer.
Chemotherapy: Patients who don't qualify for surgery with heated chemotherapy can receive systemic chemotherapy alone. Chemotherapy drugs can shrink peritoneal mesothelioma tumors and slow the growth and spread of cancer. Chemotherapy drugs considered effective against peritoneal mesothelioma include pemetrexed, cisplatin, carboplatin and gemcitabine.
Top Peritoneal Doctors
Palliative Treatment Options
In addition to anti-cancer treatments, many peritoneal patients receive palliative care to control symptoms and improve quality of life.
A palliative care specialist prescribes medications to control pain and side effects. They may refer patients to physical or occupational therapy or recommend complementary therapies. For example, a paracentesis procedure may be recommended to certain peritoneal patients to drain excess fluid from the abdomen.
Learn More About Mesothelioma Treatment
Peritoneal Mesothelioma Prognosis
The prognosis for peritoneal mesothelioma is generally poor for patients who don't qualify for surgery. These patients tend to live about one year.
However, the prognosis for surgical candidates is significantly better. About half of those who receive surgery with heated chemotherapy live longer than five years.
The median survival of untreated peritoneal mesothelioma is six months.
Prognostic Factors
Stage at diagnosis
Cell type
Tumor grade (how fast it grows)
Gender
Genetic mutations
Treatments selected
Patients with tumors containing epithelial cells have a longer life expectancy than patients with sarcomatoid or biphasic cells. The tumor's grade also impacts prognosis. Tumor grade is based upon how abnormal the cells appear, which indicates how quickly they are likely to grow and spread.
Women tend to live longer with peritoneal mesothelioma than men. When short- and long-term survival is averaged out, women live an average of 13 months, and men live six months.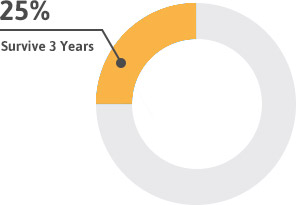 Chemotherapy Survival Rates
The combination of cisplatin and pemetrexed delivered systemically has a response rate around 30% with average progression-free survival around 11.5 months and median survival around 13 months.
Chemotherapy delivered directly, not systemically, to the peritoneum without surgery has a higher response rate of 47%. Meanwhile, heated chemotherapy delivered during surgery has a response rate of 84.6%.
Research Is Improving Prognosis
In 2017, Dr. Paul Sugarbaker reported improved survival among patients who received early post-operative chemotherapy and long-term chemotherapy after cytoreductive surgery with heated chemotherapy.
All chemotherapy was intraperitoneal chemotherapy, meaning it was applied only to the peritoneum. No systemic chemotherapy was used in the study.
Of the 29 patients who had surgery with HIPEC, post-operative chemotherapy and long-term chemotherapy, 75% lived longer than five years.
8 Cited Article Sources
Kim, J., Bhagwandin, S. & Labow, D.M. (2018). Malignant peritoneal mesothelioma: a review.
Retrieved from: https://www.ncbi.nlm.nih.gov/pmc/articles/PMC5497105/
Sugarbaker, P.H., & Chang, D. (2017). Long-term regional chemotherapy for patients with epithelial malignant peritoneal mesothelioma results in improved survival. International Journal of Hyperthermia, 33(5), 582-592. :
Retrieved from: http://dx.doi.org/10.1080/02656736.2017.1291999
Serio, G. et al. (2017). Peritoneal mesothelioma with residential asbestos exposure. Report of a case with long survival (seventeen years) analyzed by Cgh-Array. Int J Mol Sci., 18(8), 1818. doi: 10.3390/ijms18081818

Shavelle, R. et al. (2017). Life expectancy in pleural and peritoneal mesothelioma. Lung Cancer Int., 2782590. doi: 10.1155/2017/2782590

Magge, D. et al. (2014). Malignant peritoneal mesothelioma: Prognostic factors and oncologic outcome analysis. Annals of Surgical Oncology, 21(4), 1159-1165. doi: 10.1245/s10434-013-3358-y.

Bridda, A. et al. (2007). Peritoneal mesothelioma: A review. Med Gen Med., 9(2), 32. :
Retrieved from: https://www.ncbi.nlm.nih.gov/pmc/articles/PMC1994863/
HIPEC. (n.d.). Determining the Peritoneal Cancer Index.
Retrieved from: http://www.hipec.com/knowledge-base/determining-the-peritoneal-cancer-index/
NYU Langong Health. (n.d.). Is your patient a candidate? Retrieved from: http://hipec.med.nyu.edu/physicians/your-patient-candidate
How did this article help you?
What about this article isn't helpful for you?
Did this article help you?
Thank you for your feedback.
Would you like to speak with a Patient Advocate?
Last Modified September 23, 2019