On average, patients with malignant mesothelioma are diagnosed at age 69 and live less than 12 months. This translates to an average drop in life expectancy of about eight years.
However, statistics do not decide your destiny. Improved therapies and emerging drug combinations offer newly diagnosed patients a reason to hope.
Factors Affecting Mesothelioma Life Expectancy
Your life expectancy is affected by factors unique to your cancer and your health.
Mesothelioma Life Expectancy by Stage with Surgery
Stage
Life Expectancy
Stage 1
22.2 months
Stage 2
20 months
Stage 3
17.9 months
Stage 4
14.9 months

Source: Journal of Thoracic Oncology
Stage
The exact stage of the cancer is the greatest predictor of life expectancy.
Staging refers to how far the cancer has progressed at the time of the diagnosis. As the mesothelioma stage increases, life expectancy decreases.
Type of Mesothelioma
Life expectancy differs for surgical patients with pleural and peritoneal mesothelioma.
Peritoneal mesothelioma is currently easier to treat with surgery than pleural mesothelioma. Electing surgery increases the peritoneal mesothelioma life expectancy more than it does for pleural patients.
Both types have a one-year life expectancy among late-stage patients who only undergo chemotherapy.
The rarest types of mesothelioma affect the heart (pericardial mesothelioma) and testes (testicular mesothelioma). Median survival for pericardial mesothelioma is around six to 10 months. People with testicular mesothelioma usually live at least two years on average.
Cell Type
Mesothelioma patients with epithelial tumors live 200 days longer than patients with biphasic or sarcomatoid cells.
This is because the cells that make up a mesothelioma tumor respond differently to treatment.
How Your Body Affects Life Expectancy
Age
Younger people tend to live longer with mesothelioma than the elderly. About 43 percent of patients under 45 live at least five years with mesothelioma.
Only 5.7 percent of patients over 65 live that long.
Younger patients with mesothelioma typically have more treatment options than older patients. That's because as we age, our bodies lose the ability to recover from aggressive therapies and procedures.
Gender
Women with epithelial mesothelioma tend to live longer than male patients.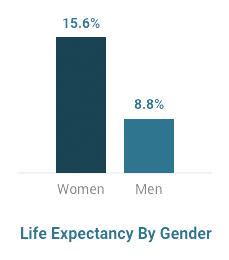 The National Cancer Institute reports 15.6 percent of women with mesothelioma survive for five years. Only 8.8 percent of men live that long.
Researchers are not yet sure why women have better life expectancies.
Blood Biomarkers
Some biomarkers found in the blood appear to have an impact on life expectancy. For example, high platelets and high white blood cells prior to surgery are associated with shorter life expectancy.
Your doctor can explain your blood test results and how they may affect your prognosis.
Improve Your Mesothelioma Life Expectancy
We can help you or a loved one find a top mesothelioma specialist and treatment center.
Find a Doctor
Is Mesothelioma Always Fatal?
There is no cure for mesothelioma, and the median survival time is less than one year. But some people have achieved remission, which means part or all of the cancer is gone at least temporarily. Some people have lived for years with few symptoms.
Living Longer With a Mesothelioma Diagnosis
Today, patients who qualify for surgery are living longer than before. Some patients outlive their prognosis with immunotherapy available through clinical trials.
Those who live for years after a diagnosis provide inspirational mesothelioma survival stories for other potential survivors.
Virginia Beach

Pleural mesothelioma survivor diagnosed in 2005

"When I was originally diagnosed, they gave me a year and a half to live. That was 10 years ago."
Although the disease can change you forever, many survivors continue to lead active lives, traveling and doing activities with grandkids and other loved ones.
Mesothelioma Treatment's Effect on Life Expectancy
Research shows anti-cancer treatment will help you live longer than electing no treatment. For example, mesothelioma life expectancy at stage 4 is around a year with treatment versus seven months without treatment.
Early-stage treatments can extend life expectancy longer than late-stage treatments. Mesothelioma life expectancy at stage 1 is upwards of three years with treatment compared to two years without treatment.
Early-Stage Treatment

Patients with stage 1 or 2 may qualify for multimodal therapy. It is a combination of aggressive surgery, chemotherapy and radiation therapy. This approach has the most positive impact on survival rates.

Some stage 3 patients qualify, too, if they are in good health, are relatively young and have an epithelial or biphasic cell type.

Late-Stage Treatment

Some people with stage 3 or 4 have lived for years because they used a variety of therapies to keep the cancer in control.

While surgery usually is not an option once the cancer has progressed this far, clinical trials are offering immunotherapy. Trials also offer potentially improved forms of chemotherapy and radiation therapy to people with late-stage mesothelioma.

Clinical Trials & Emerging Treatments

There is a chance your best opportunity for extending life expectancy could come from experimental treatment in a clinical trial.

Researchers are investigating several experimental therapies that slow the progress of mesothelioma. Immunotherapy and photodynamic therapy show promise in extending life expectancy. Other new targeted treatments, such as gene therapy, may soon prove effective in killing cancer cells and extending life expectancy.

Mesothelioma Life Expectancy Without Treatment

If left untreated, the average survival for pleural mesothelioma is about eight months and six months for the peritoneal type.

These figures apply to patients diagnosed in later stages of cancer development. Patients diagnosed with the earliest stage of mesothelioma (stage 1A) live about two years without treatment.

Treatment helps late-stage pleural patients live at least a year and helps early-stage pleural patients live about three years. Peritoneal patients who qualify for hyperthermic intraperitoneal chemotherapy (HIPEC) have a 50 percent chance of living longer than five years.

Health & Lifestyle Impacts Life Expectancy

"Performance status" is a technical term that refers to the activity level and general fitness of a patient. Nearly all studies that examine performance status in mesothelioma patients show a significant effect on survival.

The more active and fit you are, the more likely your body will be able to withstand and recover from aggressive cancer treatments.

Registered nurse Karen Selby encourages mesothelioma patients to think beyond the statistics.

Registered nurse Karen Selby encourages mesothelioma patients to think beyond the statistics.

Lifestyle Changes to Enhance Well-Being

Many long-term survivors seem to have a unifying link: They make major life changes to improve their health and well-being. Some take better care of their bodies through nutrition and exercise. Others strengthen their spirituality or find other ways to foster peace of mind.

A number of mesothelioma patients have survived for years because of lifestyle changes that had positive impacts on treatment side effects, stress levels and their bodies' natural ability to heal.

Alternative Therapies and Integrative Oncology

Studies show mesothelioma patients have benefitted from combining traditional cancer treatment with complementary therapies. Examples include acupuncture, meditation, massage and yoga. These therapies may reduce stress and pain and improve quality of life.

Free Mesothelioma Nutrition Guide

Eating right and balancing your diet while undergoing mesothelioma treatment can help ease your symptoms.

Get Free Recipes & Tips

Mesothelioma Life Expectancy Research

Research studies and clinical trials are working to improve the life expectancy of mesothelioma patients.

Studies that involve surgery tend to report higher mesothelioma survival rates. The better outcomes in these studies are attributed to the early diagnosis of the participants and the fact that surgery offers the best chance of long-term survival.

Studies on Mesothelioma Life Expectancy

A 2011 study published in the Japanese Journal of Clinical Oncology found surgery more than doubled survival from less than 10 months to almost two years.

A surgical procedure called pleurectomy and decortication (P/D) improved survival in a 2012 study published in Lung Cancer. Patients with epithelial cells who had a P/D lived 30 months. Those who had the lung-removing extrapleural pneumonectomy procedure (EPP) lived 14 months.
The landscape of mesothelioma treatment is constantly evolving, and treatment is becoming increasingly personalized.
Financial Costs of Improving Your Life Expectancy
Cancer treatment to improve your life expectancy can cost tens of thousands of dollars.
Chemotherapy costs around $7,000 to $30,000
Radiation therapy costs about $10,000 to $50,000
Surgery costs nearly $40,000
Health insurance will help cover a lot of the cost of treatment. But, many patients with insurance are left with co-pays and out-of-pocket costs that amount to thousands of dollars.
Financial assistance from government programs, nonprofit charities and legal claims is the best way to offset the high costs of cancer treatment.
6 Cited Article Sources
Surveillance, Epidemiology, and End Results Program. (n.d.). Table 17.5. Mesothleioma Survival Rates by Year of Diagnosis. All Races, Males and Females. :
Retrieved from: https://seer.cancer.gov/archive/csr/1975_2006/results_merged/sect_17_mesothelioma.pdf
Burgers, J.A. & J.P. Hegmans. (2006). Clinicopathological prognostic factors and scoring systems in malignant pleural mesothelioma. In O'Byrne, K. and Rusch, V. (Eds.), Malignant Pleural Mesothelioma (105-122). Oxford University Press: New York.

Steele, J. & Fennell, D. (2005). Prognostic Factors in Mesothelioma. In Pass, H., Vogelzang, N., & Carbone, M. (Eds.), Malignant Mesothelioma (416-427). New York, NY: Springer.

American Cancer Society. (2017). What are the key statistics about malignant mesothelioma? :
Retrieved from: https://www.cancer.org/cancer/malignant-mesothelioma/about/key-statistics.html
Nowak, A.K. et al. (2016). The IASLC mesothelioma staging project: proposals for revisions of the T descriptors in the forthcoming eighth edition of the TNM classification for pleural mesothelioma. Journal of Thoracic Oncology, 11(12), 2089-2099. doi: 10.1016/j.jtho.2016.08.147

Bovolato, P. et al. (2014, March). Does Surgery Improve Survival of Patients with Malignant Pleural Mesothelioma?: A Multicenter Retrospective Analysis of 1365 Consecutive Patients. : Retrieved from: https://www.sciencedirect.com/science/article/pii/S1556086415302227
How did this article help you?
What about this article isn't helpful for you?
Did this article help you?
Thank you for your feedback.
Would you like to speak with a Patient Advocate?
Last Modified April 8, 2019