About Jacques Fontaine
Accolades

Pleural and Lung Cancer

Top Doctor

Works for Specialty Center

Minimally Invasive Surgery

Board Certified in Surgery

Board Certified in Thoracic Surgery
Dr. Jacques Fontaine, one of America's bright young thoracic surgeons, is part of the newly revamped Mesothelioma Research and Treatment Center at Moffitt, offering patients the latest, most up-to-date, multidisciplinary approach to therapy.
There is a good reason now for Floridians with this cancer to stay close to home.
"It's important to get specialized care and expertise when it comes to mesothelioma. And you can get it right here."
Fontaine, who left Boston and Brigham and Women's Hospital in 2006 as a chief resident in thoracic surgery, is one of a handful of oncologists at Moffitt who meet weekly with other specialists to review their mesothelioma cases.
"Collaboration is key to the treatment of mesothelioma," he said. "It's a team approach. You don't treat it with just chemotherapy, or just radiation. Or just surgery. You need all three under one roof. And we have that here. With our setup, it's almost impossible not to collaborate."
Teaching and Minimally Invasive Techniques
Fontaine joined Moffitt in 2011 as a member of the Departments of Thoracic and GI Oncology. He also holds an appointment as an assistant professor of Surgery at the University of South Florida College of Medicine.
He previously worked at the Brown University Medical School in Providence, R.I., where he was charged with developing a thoracic surgery program at the teaching hospital. He began his thoracic surgery practice at the University of Montreal.
He has developed an expertise in minimally invasive techniques, which includes robotic surgery. His interests include lung and esophageal cancers, mesothelioma and thymoma. He is certified with both the American Board of Thoracic Surgery and the American Board of Surgery.
It was his time as a resident in Boston, though, where his interest in mesothelioma peaked. It's why he ended up as part of the mesothelioma team in Tampa.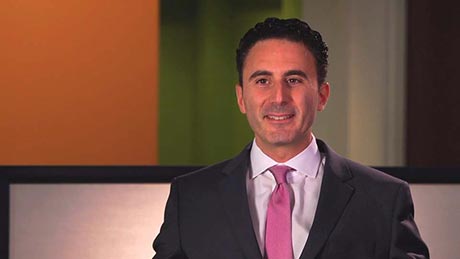 "Not all mesothelioma patients can benefit from this therapy, but that's where the specialist is so important," he said. "You need someone who can recognize it. The ones who can be picked out and recognized early, can really benefit from what is being offered."
Multicultural Background
Fontaine was raised in several different countries, allowing him to become fluent in English, French, Spanish and Arabic. He uses them at different times at Moffitt, depending upon his multicultural group of patients.
Dr. Fontaine

Thoracic Surgeon, Mesothelioma Treatment Center

"When a patient is diagnosed with cancer, he's usually in a fragile, emotional state, and it's nice if you're able to make him feel comfortable, if you can speak his language. It's natural for me."
In a melting pot like Florida, patients often come from varied backgrounds. And there is a good chance that Fontaine has something in common. He travels extensively when he isn't working. He enjoys the dialogue at Moffitt and he loves where he is.
"This was a good fit all around," he said. "A great cancer center and a great place to be."
Interview with Dr. Fontaine
Jacques Fontaine, M.D., didn't learn much about malignant mesothelioma during the six months he spent as a surgeon in Burin, Newfoundland, a small Canadian fishing town where he began his career.
But he did learn something incredibly valuable. He learned how to adapt, to improvise, to do more with less. He learned something well beyond the most technically advanced, most ultra-modern training he previously received at Brigham and Women's Hospital in Boston.
He learned mental toughness – invaluable in becoming a great surgeon – and that no problem is too tough to tackle.
Fontaine, a thoracic surgeon and a major part of the Mesothelioma Program at the Moffitt Cancer Center in Tampa today, credits that early work at Burin Peninsula Healthcare Center in Canada as being instrumental in shaping his career to come.
"I was the only surgeon in a 300-mile radius, at a hospital with very, very limited resources," he said during a recent interview with Asbestos.com. "I grew up quickly as a doctor. You had to stand on your own two feet. There was no backup to consult if you had a problem. You took everything you'd been taught, and you learned how to solve those problems. You had no other choice. You learned how to innovate."
Multidisciplinary Approach
In Tampa, Fontaine is a specialist and part of the latest, multidisciplinary approach to cancer care – second to none in mesothelioma treatment. And Tampa is drastically more urban than Burin, where there was one road in and one road out, except when it often snowed heavily and that road closed.
It was in Burin that he did everything from fixing fractures to delivering premature babies. He would take out an appendix or reattach a finger in a single day. He restarted a heart that failed, then turned around to stitch up the head of a child.
"I learned to think outside the box, which comes in helpful today, particularly with a cancer like mesothelioma," he said. "It has helped me find new ways to treat a very tough disease. There is not one recipe to follow. To make advances in treatment, you need innovation."
He was in Burin, with a population just over 2,000, as part of a Canadian government program to help bring better medical care to citizens in remote areas. He gladly accepted the challenge. Traveling to faraway places was nothing new to Fontaine, who already spoke four different languages after growing up in several different countries. His parents, who were from Lebanon, moved to Canada when he was young.
Fontaine traveled to Algeria in October 2012 to speak at a medical conference about advancements in mesothelioma treatment. His worldly vision was a welcome addition for Moffitt, which was making plans to expand its mesothelioma program. He is carving his reputation as one of the country's bright young surgeons.
"World-wide, we're still seeing this disease on the rise, especially in certain developing countries. In some African countries, mesothelioma will become more rampant 20 to 30 years from now," he said. "It's alarming. We're making advances here, but that's not the case in many countries."
Fontaine still remembers his early medical training at McGill University in Montreal. It was the late '90s, and he was making rounds with a thoracic surgeon. They visited a pleural mesothelioma patient, then stepped outside his room.
Dr. Fontaine

Thoracic Surgeon, Mesothelioma Treatment Center

"I was told, 'Son, the best therapy you could give him would be a fishing rod and tell him to go fishing, because there is nothing you can do for that guy.' It wasn't that long ago, this disease (mesothelioma) was treated with such pessimism. It just isn't that way anymore."
'The Challenge of Mesothelioma'
Fontaine came to Tampa early in 2011, leaving a position with the Department of Thoracic Surgery at Brown Medical School in Providence, R.I. He was charged there with developing a thoracic surgery program for a teaching hospital. He previously performed thoracic surgery at the University of Montreal.
His intense interest in mesothelioma, though, began at Brigham and Women's in Boston, where he worked under renowned surgeon David Sugarbaker, M.D., who started the International Mesothelioma Program.
"I've always been intrigued by the challenge of mesothelioma. It's a very aggressive cancer, but a cancer that can be treated aggressively," he said. "Because of its rarity, it's a cancer that really requires a specialist."
His early experience has helped Fontaine develop a comfort level with difficult situations. His ability to speak multiple languages allows patients from many countries to feel comfortable with him.
"It's important that specialists make themselves known, so patients know what is out there," he said. "Coming to Tampa was a great opportunity for me. It's a big cancer center, but a young cancer center with room for innovation and fresh ideas. It fits me well."
See More Top Mesothelioma Doctors
Disclaimer: Dr. Jacques Fontaine has no professional affiliation with Asbestos.com.

Get Help Contacting this Doctor
Find an Active Mesothelioma Clinical Trial
Find Now
3 Cited Article Sources
The sources on all content featured in The Mesothelioma Center at Asbestos.com include medical and scientific studies, peer-reviewed studies and other research documents from reputable organizations.
How did this article help you?
What about this article isn't helpful for you?
Did this article help you?
Thank you for your feedback.
Would you like to speak with a Patient Advocate?
Last Modified November 12, 2019