Connect with a Top Mesothelioma Doctor
We will help you find doctors and cancer centers that specialize in mesothelioma treatment.
Learn about doctors who can create the right treatment plan for you.
Get help scheduling your appointments.
Access information on financial assistance and available clinical trials.
Rapid treatment from a mesothelioma specialist offers the best chance to improve a prognosis.
Find a Mesothelioma Doctor Near You
How Does the Doctor Match Program Benefit You?
Get Help Finding the Best Mesothelioma Doctor
Provide basic information to start you or a loved one on the path to finding the best mesothelioma doctor.
Receive a Unique Treatment Plan
We review your or your loved one's diagnosis, age and other important factors to find a unique treatment plan.
Connect with a Top Doctor
We recommend the best doctors near you or your loved one and help you schedule a consultation in person or virtually.
Why Choose the Mesothelioma Center at Asbestos.com
Relationships with Top Doctors & Cancer Centers

Gain access to more than 400 of the nation's best mesothelioma oncologists, radiologists and surgeons across the country.

Help Scheduling Appointments

Get help scheduling and expediting appointments with the support of our Certified Oncology Patient Navigator.

Connect with Mesothelioma Specialists

Our Patient Advocates have helped hundreds of patients and loved ones connect with mesothelioma specialists each year.
The Mesothelioma Center Google Reviews
Sharon Deroche
3 weeks ago
Thanks to Dr. Smart and the Mesothelioma Center, I went from knowing nothing about this disease to knowing how it is contracted, what it does to the body, treatments available, etc in just three short weeks. I went from totally overwhelmed to having an understanding of what we were facing and were to go for treatment. I was not very nice the first time Dr. Smart called. I was in a hospital room watching my husband go through 2 surgeries in 4 days. A day later, a shipment of materials arrived from the Center. It was exactly what I needed to help us deal with this terrible disease. We still have a long way to go but I now know I have the support of the center to direct me to the resources we will need. I watched a webinar put on by The Mesothelioma Center. Three weeks ago, doctors where asking us what questions we had. We didn't know enough to even come up with a question. Now, I am able to ask the questions that we need to have answered. We were directed to doctors who are experts in this field. These are doctors that we are very comfortable with handling my husband's care. They are not the team of doctors we started with but the ones that are the best fit for us. We are so grateful to Dr. Smart and the Center. We have many things related to this illness that we have to take care of, such as nutrition and the financial aspects. I know I can turn to the Mesothelioma Center for guidance. Three weeks ago, I didn't know this organization existed. Today, I don't know how we would have moved forward without this support.
R D
a month ago
I found the Mesothelioma Center looking for answers on the internet. I recently found out that i was highly exposed to Asbestos back when I was in the Navy aboard the USS Marvin Shields during dry dock in 84-85. My PFT showed FEV-1 @35% I was looking for anything Asbestos related illnesses. Trying to figure out if I was eligible for the VA PACT ACT. I started communicating with Dennis Prothro. I told him I had a CT scan coming up, and he wanted me to contact him with the results. The was no cancer. I didn't really know what to do. Couple of days after my CT scan @ 6:30 am MST the phone rings and it's Dennis wanting to know those CT scan results. We talked for about 45 mins. I was very emotional (first time in a while....needed). That really meant a lot to me that he took the time out of his day to check on me.
Guinevere Valles
5 months ago
You become accustomed to putting your guard up, and not wanting to to trust especially when it comes to dealing with online help. When I signed up for this, I did not expect the level of care, that was provided to me and my family that Dr. Smart provided. She has really taken a devastating situation and turned it into something that is manageable, and has given us hope, in ways I didn't think possible.
Kimberlin Chaney
2 years ago
I was very grateful and appreciative for Dr. Smart from the Mesothelioma Center. She was very helpful to my husband and I. She educated and walked us through the steps and suggested ideas and questions to ask his doctors. She also provided me with a lot of information that I can read and educate myself regarding this illness. We need more people like Dr. Smart, that is very educated and you can tell that she enjoys the work that she does by the way she assisted my husband and I. We thank the Lord and we are grateful that we met Dr. Smart from the Mesothelioma Center.
Bill Walker
a year ago
My dad was diagnosed with malignant mesothelioma in October 2020.  That same night, with tears in my eyes I searched frantically to learn about this terrible cancer and what we were facing.  I stumbled across the Mesothelioma Center at asbestos.com.  Despite the late hour, I received a call from Karen Selby (on staff nurse) less than a minute after entering my information on their website contact form. That call birthed our very helpful connection with several other persons in this organization who helped us.  Sadly, my dad passed away just 4 months after his diagnosis. Aaron Munz successfully guided my parents and, following my dad's death, me and my mother in the sbestos-related claims to the VA. The process of working with the VA takes time, but the Mesothelioma Center was right there with us every step of the way. Thank you Aaron and everyone at the Mesothelioma Center for the work you do and the help you have been to me in my endeavor to handle this process for my mother.  Thank you for your quick responses to all of my emails and for giving me good information and advice.  My God bless you for the service you render to hurting and scared families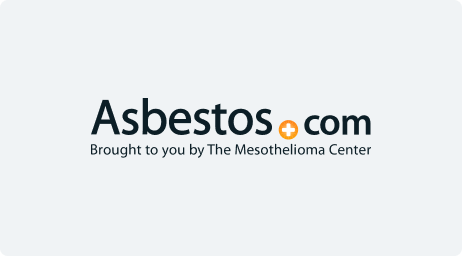 Assisting Mesothelioma Patients and Their Loved Ones Since 2006
The Mesothelioma Center at Asbestos.com is the nation's most trusted mesothelioma resource. Our community of Patient Advocates, doctors, experts and survivors helps guide mesothelioma patients and their families through their cancer journey.
People We've Helped
"We were uncertain where to even start so we reached out to The Mesothelioma Center. They were absolutely amazing. They provided physicians in our area who specialize in this type of cancer because it is so rare. I'm so glad we made the phone call."

Cindy R.

Daughter of a mesothelioma patient
"I was able to ask questions and discuss my concerns with sympathetic, knowledgeable, helpful, and very supportive people. I no longer feel alone in this battle. My sincere thanks to the staff of the Mesothelioma Center. You provide a rare and valuable service."

John D.

Mesothelioma patient
"Contacting The Mesothelioma Center was a game changer. The immediate assistance my parents received through speaking with a patient navigator and triage to a specialist for optimal care allowed them to regain control of their future."

Stephanie C.

Daughter of a mesothelioma patient
Our Patient Advocates are:
Following CDC social distancing guidelines
Wearing gloves while handling any materials we are sending you
Disinfecting any materials before shipping them