Connect with a Top Mesothelioma Doctor
We will help you find doctors and cancer centers that specialize in mesothelioma treatment.
Learn about doctors who can create the right treatment plan for you.
Get help scheduling your appointments.
Access information on financial assistance and available clinical trials.
Rapid treatment from a mesothelioma specialist offers the best chance to improve a prognosis.
Find a Mesothelioma Doctor Near You
How Does the Doctor Match Program Benefit You?
Get Help Finding the Best Mesothelioma Doctor
Provide basic information to start you or a loved one on the path to finding the best mesothelioma doctor.
Receive a Unique Treatment Plan
We review your or your loved one's diagnosis, age and other important factors to find a unique treatment plan.
Connect with a Top Doctor
We recommend the best doctors near you or your loved one and help you schedule a consultation in person or virtually.
Why Choose the Mesothelioma Center at Asbestos.com
Relationships with Top Doctors & Cancer Centers

Gain access to more than 400 of the nation's best mesothelioma oncologists, radiologists and surgeons across the country.

Help Scheduling Appointments

Get help scheduling and expediting appointments with the support of our Certified Oncology Patient Navigator.

Connect with Mesothelioma Specialists

Our Patient Advocates have helped hundreds of patients and loved ones connect with mesothelioma specialists each year.
The Mesothelioma Center Google Reviews
Sunni Harris
in the last week
Extremely communicative and helped my dad get an appointment with one of the top centers in Philadelphia. I'm so grateful for this center. They assisted with information to nutrition to legal help and assisting with scheduling appointments. Special thanks to Danielle!
Hanamel Kayser
a month ago
The Mesothelioma Center provides excellent services/information and are very knowledgeable in their field of expertise. I highly recommend them to anyone seeking help in this area of health.
Brandy Baker
a year ago
I would highly recommend this group! They have been so informative and helpful. We couldn't have asked for a better patient advocate for sure! Danielle has been super awesome and supportive!!
Bill Walker
3 months ago
My dad was diagnosed with malignant mesothelioma in October 2020.  That same night, with tears in my eyes I searched frantically to learn about this terrible cancer and what we were facing.  I stumbled across the Mesothelioma Center at asbestos.com.  Despite the late hour, I received a call from Karen Selby (on staff nurse) less than a minute after entering my information on their website contact form. That call birthed our very helpful connection with several other persons in this organization who helped us.  Sadly, my dad passed away just 4 months after his diagnosis. Aaron Munz successfully guided my parents and, following my dad's death, me and my mother in the sbestos-related claims to the VA. The process of working with the VA takes time, but the Mesothelioma Center was right there with us every step of the way. Thank you Aaron and everyone at the Mesothelioma Center for the work you do and the help you have been to me in my endeavor to handle this process for my mother.  Thank you for your quick responses to all of my emails and for giving me good information and advice.  My God bless you for the service you render to hurting and scared families
Laurence Bassett
5 months ago
On behalf of our entire family we would like to say thank you for the support that we have received from the Mesothelioma Center. Karen Selby and Aaron Muntz have been caring, supportive and professional in all aspects of our journey. We would highly recommend this group for any support that you may need regarding mesothelioma. Thank you for all you do.
Assisting Mesothelioma Patients and Their Loved Ones Since 2006
The Mesothelioma Center at Asbestos.com is the nation's most trusted mesothelioma resource. Our community of Patient Advocates, doctors, experts and survivors helps guide mesothelioma patients and their families through their cancer journey.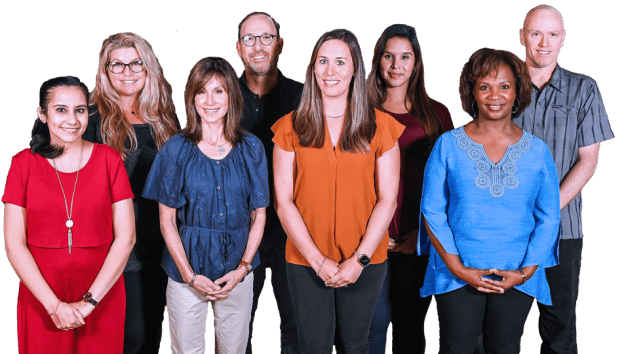 People We've Helped
"We were uncertain where to even start so we reached out to The Mesothelioma Center. They were absolutely amazing. They provided physicians in our area who specialize in this type of cancer because it is so rare. I'm so glad we made the phone call."

Cindy R.

Daughter of a mesothelioma patient
"I was able to ask questions and discuss my concerns with sympathetic, knowledgeable, helpful, and very supportive people. I no longer feel alone in this battle. My sincere thanks to the staff of the Mesothelioma Center. You provide a rare and valuable service."

John D.

Mesothelioma patient
"Contacting The Mesothelioma Center was a game changer. The immediate assistance my parents received through speaking with a patient navigator and triage to a specialist for optimal care allowed them to regain control of their future."

Stephanie C.

Daughter of a mesothelioma patient
Ready to Find a Top Mesothelioma Doctor?
Our Patient Advocates are:
Following CDC social distancing guidelines
Wearing gloves while handling any materials we are sending you
Disinfecting any materials before shipping them