Asbestos is a unique type of mineral that can be pulled apart into flexible fibers. When you inhale or swallow microscopic asbestos fibers, your body may never be able to dissolve or expel them. Over many years, the fibers can cause genetic changes that can lead to cancer.
Lifestyle factors may increase your risk of developing cancer after asbestos exposure. These include smoking, chronic stress, poor dietary habits and poor physical fitness.
Most cases of asbestos-related disease trace back to occupational exposure. The World Health Organization says asbestos causes half of all occupational cancer deaths. Secondhand and environmental asbestos exposure can cause cancer as well.
Asbestos Exposure Causes Four Types of Cancer:
Mesothelioma
Lung cancer
Laryngeal cancer
Ovarian cancer
Symptoms of Asbestos Cancer
People with a history of asbestos exposure should seek regular health screenings and watch out for the following signs:
Shortness of breath, coughing and chest pain are symptoms of pleural mesothelioma, pericardial mesothelioma and lung cancer.
Abdominal swelling and pain, digestion issues, changes in bowel habits and nausea are symptoms of peritoneal mesothelioma, stomach cancer, colon cancer and ovarian cancer.
Menstrual changes, fatigue, back pain and pain during sex can be additional symptoms of ovarian cancer.
Diagnosis and Treatment of Asbestos Cancers
Diagnosing an asbestos cancer is a lengthy process. The patient's primary care physician must refer them to a specialist depending on which part of the body is affected. Doctors can treat mesothelioma and most other forms of asbestos cancer with surgery, chemotherapy and radiation therapy.
Imaging tests, such as X-rays, CT scans and PET scans, help doctors look inside the body for tumors. Blood tests look for other signs of cancer such as abnormal blood cell counts. Biopsies are samples of tissue collected in and around a tumor. They help determine which kind of cancer is present.
These tests are standard when mesothelioma or lung cancer is suspected. Other diseases involve their own tests. A pap smear diagnoses ovarian cancer and a colonoscopy diagnoses colon cancer.
Chemotherapy is the most common treatment for asbestos-related cancer. The specific drugs used vary depending on the disease site. Immunotherapy has been approved for lung cancer. It is being tested in clinical trials for other cancers.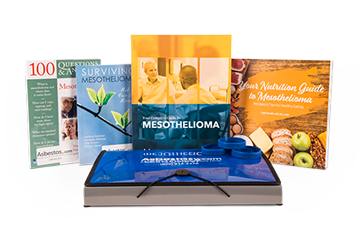 Exclusive 2019 Mesothelioma Guide
Free medical & legal information, mesothelioma books, support wristbands and much more.
Get Your Guide Now
Known Asbestos Cancers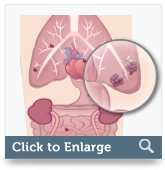 The International Agency for Research on Cancer (IARC) published a review in 2012. They confirmed that asbestos causes four types of cancer: Mesothelioma, lung cancer, laryngeal cancer and ovarian cancer.
Doctors began to document the health hazards of asbestos exposure almost a century earlier in the 1920s and 1930s. Unfortunately, asbestos-industry executives suppressed and manipulated medical research for decades.
Because of the asbestos industry's negligence, thousands of lawsuits have been filed by mesothelioma lawyers on behalf of cancer patients seeking compensation.
Asbestos Cancers and Morbidity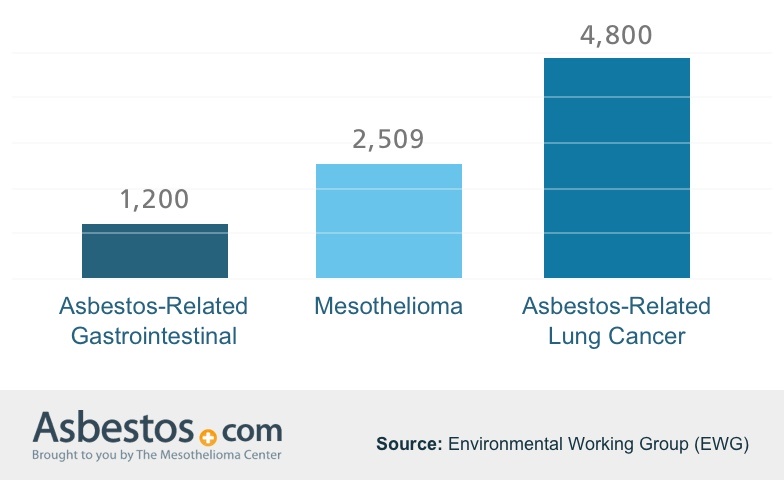 Mesothelioma Cancer
Mesothelioma is the only type of cancer that is almost exclusively caused by asbestos exposure. About 75 percent of mesotheliomas form in the pleura (lining of the lungs). Nearly 20 percent form in the peritoneum (lining of the abdomen). In rare cases, cancer develops in the lining of the heart or testes.
The Centers for Disease Control and Prevention report that more than 3,000 cases of mesothelioma were diagnosed in the U.S. each year between 2003 and 2008.
Researchers predicted the incidence of mesothelioma would peak around 2015-20, but current statistics indicate an increase in cases rather than decline.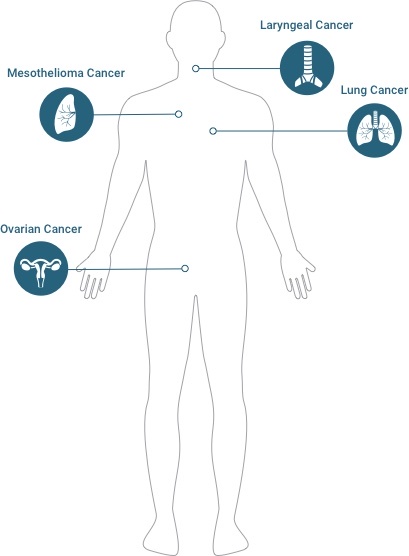 Lung Cancer
Asbestos-related lung cancer kills twice as many Americans each year as mesothelioma. Asbestos exposure is the primary cause of about 4 percent of lung cancer cases.
Most lung cancer cases trace back to smoking cigarettes. The combination of smoking and asbestos exposure greatly increases the risk of developing lung cancer. More than 220,000 lung cancer cases were diagnosed in the U.S. in 2017.
Laryngeal Cancer
Cancer of the larynx, or voice box, is usually linked to smoking and excessive alcohol consumption. However, inhaled asbestos fibers can also lodge in the voice box on the way to the lungs.
More than 13,000 cases of laryngeal cancer occurred in 2017, according to the American Cancer Society. Smoking, drinking and asbestos exposure combined increases a person's risk significantly.
Ovarian Cancer
Ovarian cancer was diagnosed in more than 22,000 American women in 2017. The cause is unknown in many cases. Medical research has established asbestos exposure as a cause of ovarian cancer.
Researchers are still debating how exposure to asbestos dust could cause ovarian cancer. Some cases have been linked to personal hygiene products made from contaminated talcum powder.
Find a Mesothelioma Specialist
Our patient advocates can help connect you or a loved with a top mesothelioma doctor or cancer center near you.
Get Help Now
Potential Asbestos Cancers
The IARC also identified three types of cancer "positively associated" with asbestos exposure. This means there is some evidence of a link. These cancers include pharyngeal cancer, stomach cancer and colon cancer.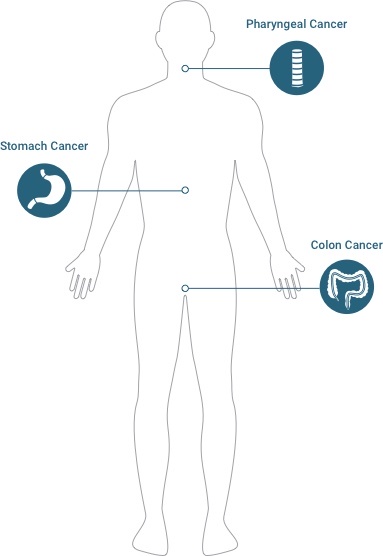 Pharyngeal Cancer
Pharyngeal cancer develops in the throat, between the mouth and the neck. Air passes through the pharynx on the way to the voice box, and food and water pass through on the way to the esophagus. Asbestos fibers can accumulate in the pharynx whether they are inhaled or swallowed.
Pharyngeal cancer afflicted about 17,000 Americans in 2017. The main risk factors are smoking and excessive alcohol consumption.
Stomach Cancer
About 28,000 Americans developed stomach cancer in 2017. Smoking and eating a diet heavy in salt and preservatives are two of the main risk factors. Researchers have suggested asbestos-contaminated water as a cause of stomach cancer and other gastrointestinal cancers.
Water can be contaminated by industrial pollution or crumbling asbestos-cement pipes.
Colon Cancer
The IARC noted a positive association between asbestos exposure and colorectal cancer. The majority of studies have pointed to the colon specifically. There is less evidence linking asbestos to rectal cancer.
Smoking, excessive alcohol consumption and poor physical fitness are other risk factors. A diet high in red meats and processed meats also increases risk.
Cancers with Inconclusive Links to Asbestos Exposure
Asbestos fibers most often lodge in lung tissue and the lining around the lungs. They also migrate into organs and tissues all around the body. For this reason, researchers have studied the connection between asbestos and many types of cancer.
Kidney Cancer
Kidney cancer is one of the 10 most common types of cancer in the U.S. It is already linked to occupational exposure to heavy metals, herbicides and industrial chemicals. Recent studies have provided evidence of a potential link to asbestos exposure as well.
Other risk factors include smoking, obesity, certain medications and advanced kidney disease. More than 60,000 Americans were diagnosed with kidney cancer in 2017.
Esophageal Cancer
About 17,000 cases of esophageal cancer occurred in the U.S. in 2017. This disease arises in the tube between the throat and the stomach.
The main risk factors include smoking, excessive alcohol consumption, obesity and acid reflux disease. Recent research has suggested a link to asbestos exposure as well.
Breast Cancer
Breast cancer is the most common cancer diagnosis in the U.S., affecting more than 255,000 Americans in 2017. Breast cancer risk factors include family history, obesity, excessive alcohol consumption, poor physical fitness and certain hormone-based medications and therapies.
Research has not found a significant link between breast cancer and asbestos exposure.
Prostate Cancer
Prostate cancer is one of the most common types of cancer in men, afflicting more than 160,000 Americans in 2017. Little is known about its causes and risk factors. Research into the link between prostate cancer and asbestos exposure has been inconclusive.
Leukemia
Leukemias are diagnosed in more than 60,000 Americans each year. These cancers develop in the bone marrow and blood. Doctors do not yet have a clear understanding of what causes them.
Although a few case studies have suggested a link between asbestos exposure and leukemia, the medical evidence is very thin.
11 Cited Article Sources
Fortunato, L., and Rushton, L. (2015, May 26). Stomach cancer and occupational exposure to asbestos: a meta-analysis of occupational cohort studies.
Retrieved from: https://www.ncbi.nlm.nih.gov/pmc/articles/PMC4647249/
Li, B., Tang, S., and Wang, K. (2015, March 10). Esophagus cancer and occupational exposure to asbestos: results from a meta-analysis of epidemiology.
Retrieved from: http://onlinelibrary.wiley.com/doi/10.1111/dote.12341/abstract
Wolff, H. et al. (2015). Asbestos, asbestosis, and cancer, the Helsinki criteria for diagnosis and attribution 2014: recommendations.
Retrieved from: https://www.sjweh.fi/show_abstract.php?abstract_id=3462&fullText=1#box-fullText
International Agency for Research on Cancer. (2012). Arsenic, metals, fibres, and dusts volume 100 C: A review of human carcinogens.
Retrieved from: http://monographs.iarc.fr/ENG/Monographs/vol100C/mono100C.pdf
Camargo, M., et al. (2011, September). Occupational exposure to asbestos and ovarian cancer: A meta-analysis.
Retrieved from: https://www.ncbi.nlm.nih.gov/pmc/articles/PMC3230399/
Reid, A., de Klerk, N., and Musk, A. (2011, July). Does exposure to asbestos cause ovarian cancer? A systematic literature review and meta-analysis.
Retrieved from: https://www.ncbi.nlm.nih.gov/pubmed/21610219
Reid, A. et al. (2009). Gynecologic and breast cancers in women after exposure to blue asbestos at Wittenoom.
Retrieved from: https://www.ncbi.nlm.nih.gov/pubmed/19124491
National Academies. (2006, June 6). Asbestos exposure linked to cancer of the larynx.
Retrieved from: http://www8.nationalacademies.org/onpinews/newsitem.aspx?RecordID=11665
Dodson, R., and Hammar, S. (2006). Asbestos: Risk assessment, epidemiology, and health effects. Taylor & Francis: Boca Raton.

Canadian Cancer Society. (n.d.). Asbestos.
Retrieved from: http://www.cancer.ca/en/prevention-and-screening/be-aware/harmful-substances-and-environmental-risks/asbestos/?region=on
National Cancer Institute. (n.d.). Malignant mesothelioma. Retrieved from: http://www.cancer.gov/cancertopics/types/malignantmesothelioma
How did this article help you?
What about this article isn't helpful for you?
Did this article help you?
Thank you for your feedback.
Would you like to speak with a Patient Advocate?
Last Modified May 14, 2019