High Cost of Cancer Treatment
Life-saving surgeries and the latest therapies are extending the lives of cancer patients — but only those who can afford them.
On This Page
As cancer survival rates rise, so do the price tags of life-saving treatments. Monthly drugs costs may reach $100,000, causing many Americans to struggle with the physical and emotional effects of high out-of-pocket medical costs. Even worse, others are completely priced out of the hope for a cure.
According to a 2019 survey conducted by The Mesothelioma Center at Asbestos.com, the nation's most trusted mesothelioma resource,
63% of cancer patients and loved ones
reported financial struggles following a cancer diagnosis.
Source: The Mesothelioma Center at Asbestos.com, 2019
Low-income families, Americans who are uninsured or underinsured, and blue-collar workers who face medical bills more than four times their annual salaries cannot afford the rising costs of cancer treatments.
US Cancer Epidemic at a Glance
1,958,310

estimated new cancer cases will be diagnosed in 2023.

Source: American Cancer Society, 2023

60%

of cancer patients are 65 and older.

Source: American Society of Clinical Oncology

2nd

leading cause of death in US is cancer behind heart disease.

Source: Centers for Disease Control and Prevention

40.1%

probability men in the U.S. will face an invasive cancer diagnosis in their lifetime.

Source: American Cancer Society, 2023

609,820

people are expected to die from cancer in 2023.

Source: American Cancer Society, 2023

$245 billion

is expected to be spent on cancer care costs in the U.S. by 2030

Source: American Association for Cancer Research, 2020
People often only think up to surgery, but post-operative care is where the higher costs are. Dealing with complications and covering costs of scans, home care and follow-up treatments such as chemotherapy is when it gets really expensive.

Missy Miller

Medical Outreach Director at The Mesothelioma Center
Cost of Cancer Care
Although AARP The Magazine shows average total costs of cancer treatment run in the $150,000 range, it doesn't paint an accurate picture.
Total out-of-pocket costs depend on a number of factors, including insurance coverage, types of cancer and treatment, frequency of treatment and costs related to the cancer center.
As a result, it is impossible to accurately estimate the cost of cancer treatment for all malignancies.
Average US Income vs. Cost of Cancer Care
The average monthly income is $4,400 before taxes for a full-time wage or salary worker. This is a third of the cost of some chemotherapy and immunotherapy infusions.
---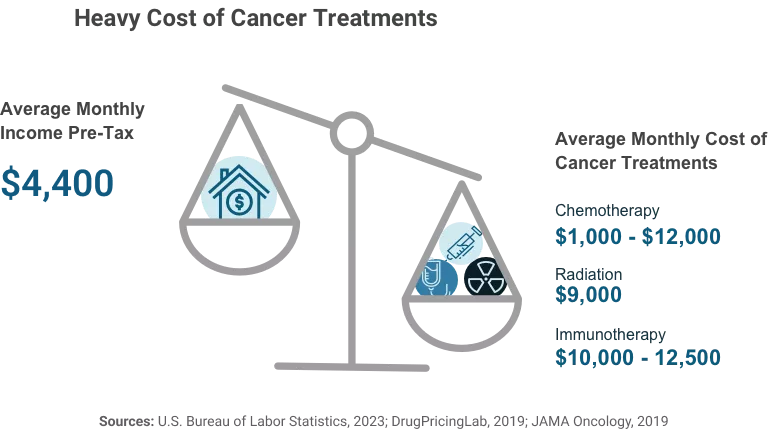 The U.S. Bureau of Labor Statistics reported that the median weekly earnings of the nation's 119.2 million full-time wage and salary workers was $1,100 in the first quarter of 2023. Even with a typical employer-sponsored health insurance plan, a patient with 25% coinsurance would have monthly out-of-pocket costs of $2,500 for a cancer drug that costs $10,000 each month. That's over half of the average American's monthly income.
Lifetime Health Care Costs for Prevalent and Preventable Cancers
Treatment costs are highest among preventable cancers, including lung cancer, colorectal cancer, breast cancer and mesothelioma. Research shows most cancers are preventable. The lifestyle choices we make, the foods we eat, and our physical activity levels impact our cancer risk.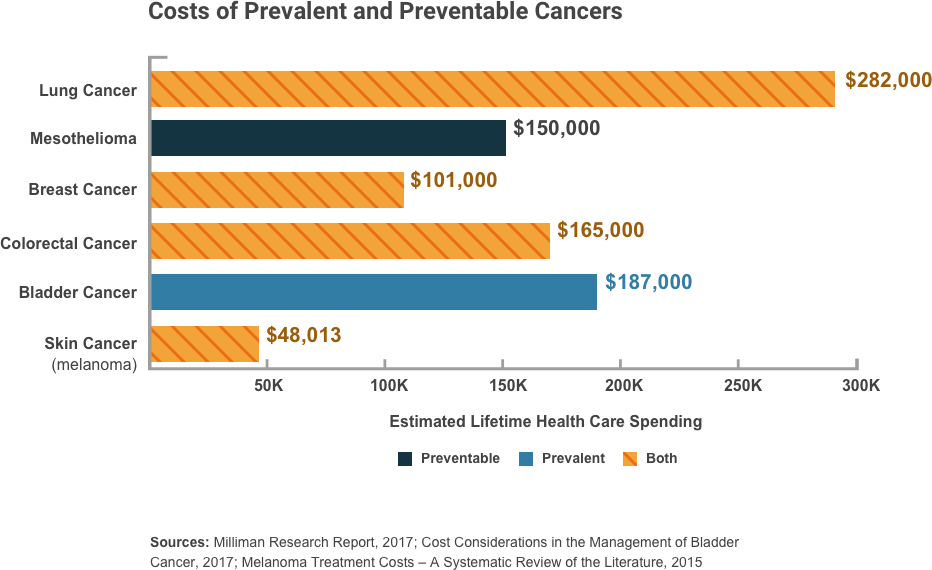 Estimated Yearly Out-of-Pocket Spending
Nearly 20% of cancer patients and their loved ones surveyed by The Mesothelioma Center at Asbestos.com estimated that they spent more than $20,000 each year in total out-of-pocket costs.
---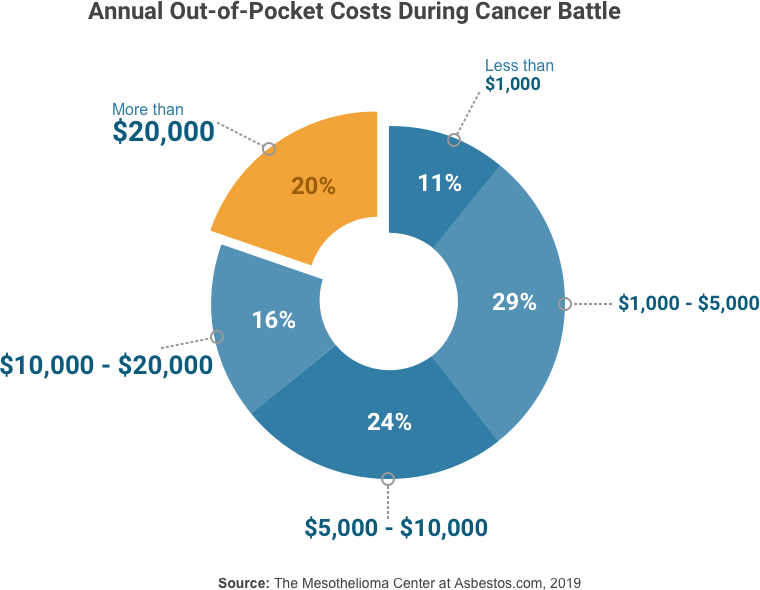 Cancer Expenses That Hurt Financial Situation
Treatments themselves are not the only factor in cancer costs. Nearly 50% of cancer patients surveyed said travel expenses related to treatment hurt their financial situation.
---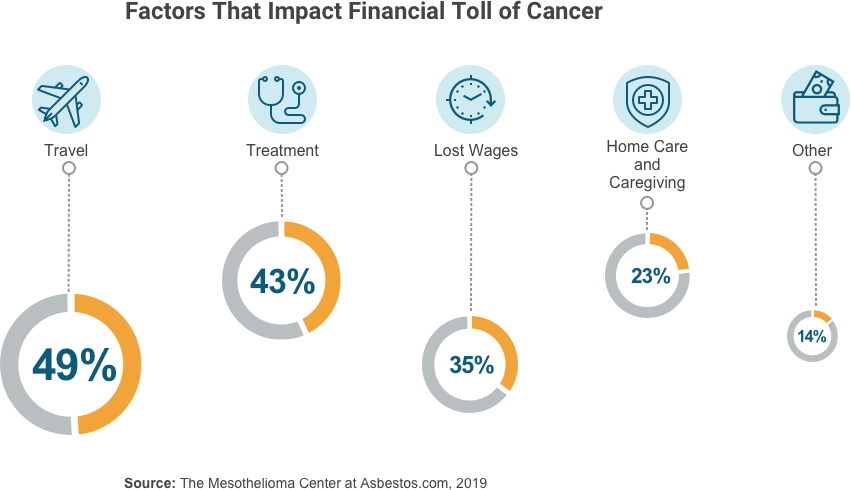 Hidden Costs of Cancer
In 2015, cancer cost Americans aged 16 to 84 a total of $94 billion in lost earnings.
Source: JAMA Oncology, July 2019
Hardships Experienced Because of Out-of-Pocket Costs
Forty percent of cancer patients surveyed had difficulties paying medical bills, while 12% lowered the dose of prescription drugs to make them last longer.
---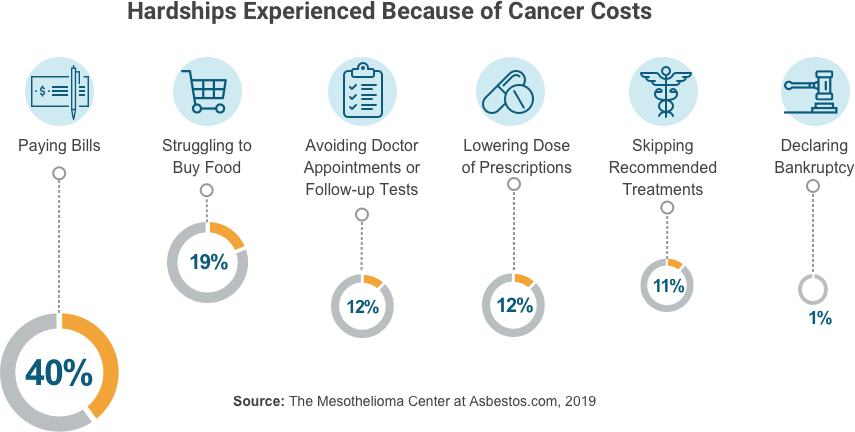 Five Facts About Cancer Costs
Some cancer patients may face out-of-pocket costs of $10,000 to $15,000 annually for one drug.

Source: New England Journal of Medicine, 2022

Cancer patients pay $16 billion out-of-pocket annually for cancer treatment.

Source: American Medical Association, 2022

Newly approved cancer drugs cost an average of $283,000 annually, an increase of 53% from $185,620 in 2017.

Source: Source: Reuters, 2022

12% to 62% of cancer survivors report being in debt because of their treatment.

Source: American Medical Association, 2022.

Cancer patients are 2 ½ times more likely to declare bankruptcy and 71% more likely to experience a severe adverse financial event than healthy people.

Source: Journal of Clinical Oncology, 2022
How Do Other Conditions Stack Up in Price?
At an average total of $150,000, cancer treatment costs are more than four times higher than treatment for other common health conditions.
---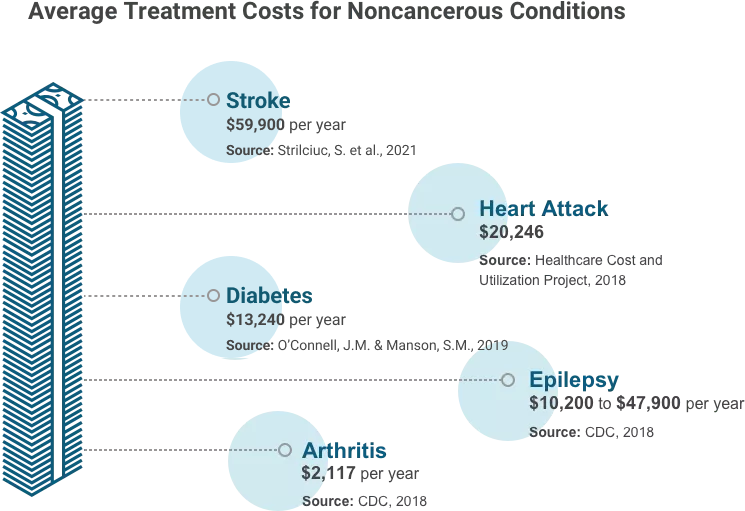 Most Expensive Cancer Drugs
Four of the five most expensive cancer drugs on the U.S. market are types of immunotherapies, according to Memorial Sloan Kettering Cancer Center's Drug Pricing Lab.
According to the latest U.S. Bureau of Labor Statistics data, several of these drugs cost nearly as much or more per month than the average American makes in a year, which is $52,800.
---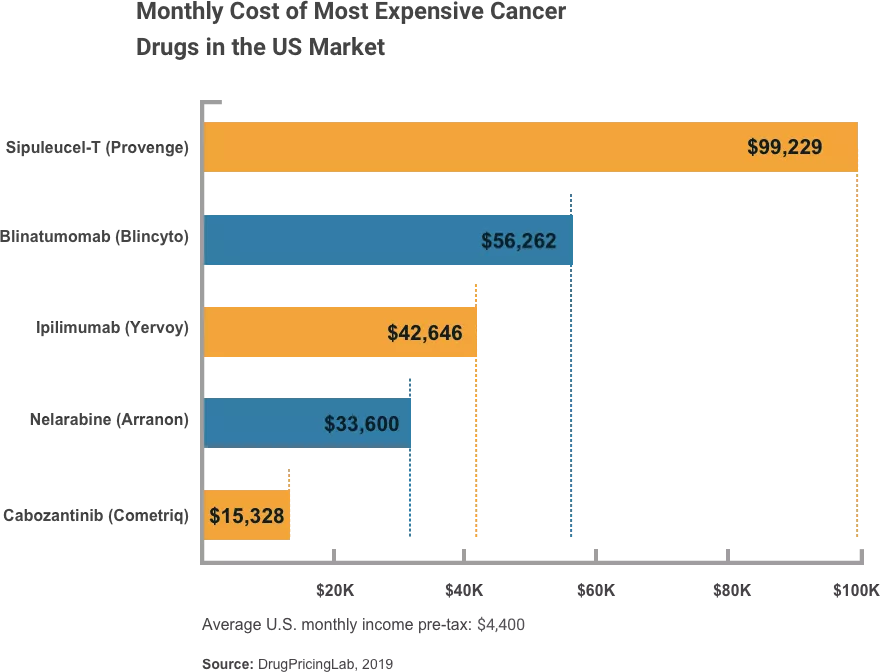 Despite the high price tag and rising promise of immunotherapy, the drugs don't work for most patients. A 2019 study published in JAMA Network shows only 13% of patients who receive checkpoint inhibitors, such as Yervoy, actually benefit from the much-heralded treatment.
Common and Costly Chemotherapy Drugs
Chemotherapy is one of the most common cancer treatments. Depending on the drug and type of cancer it treats, the average monthly cost of chemo drugs can range from $1,000 to $12,000.
If a cancer patient requires four chemo sessions a year, it could cost them up to $48,000 total, which is beyond the average annual income. Even after premiums and deductibles of health insurance are met, this person could be responsible for more than $10,000 a year in out-of-pocket costs with coinsurance.
Large Cost Variations for Radiation Therapy
A study published in the Journal of Oncology Practice shows the large reimbursement variations in Medicare for radiation therapy in cancer care. The study analyzed 55,288 patients with breast, lung and prostate cancer who were treated with radiotherapy.
The findings show the significant cost differences for radiation are largely unrelated to patient or disease factors and based more on geography and rates of individual providers.
Cancer-Specific Radiation Therapy Costs
$8,600

for prostate cancer
Source: Journal of Oncology Practice, 2015
Who Is Most Affected?
The high costs of cancer treatment are especially difficult to overcome among the poor, those who are uninsured or underinsured, and blue-collar workers who may lose wages as a result of their health issues.
---
People Living in Poverty
Cancer death rates are approximately 20% higher among residents of the poorest U.S. counties compared to the most affluent counties. The largest gaps are seen in preventable cancers, including lung, cervical, colorectal and liver cancers.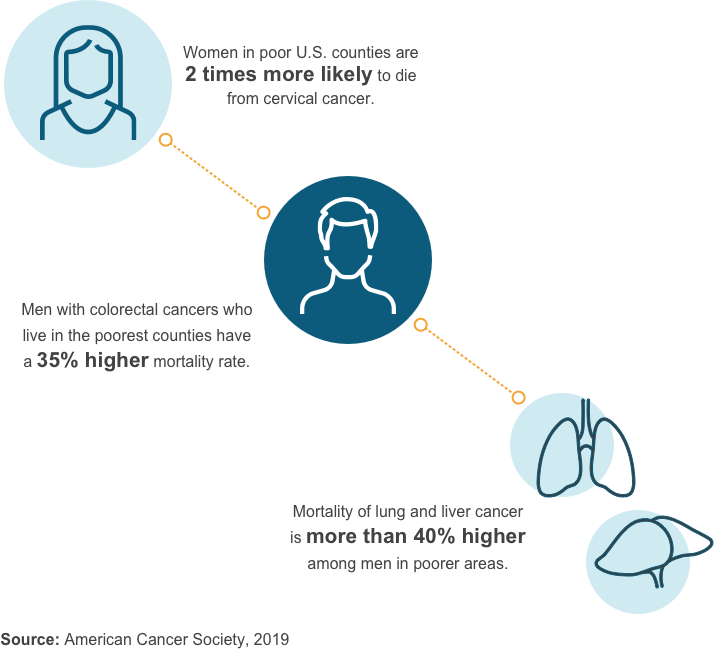 States with the Highest Poverty Rates
States in the Southern, Central and Western regions have the highest poverty rates, according to 2021 statistics from the U.S. Census Bureau.
---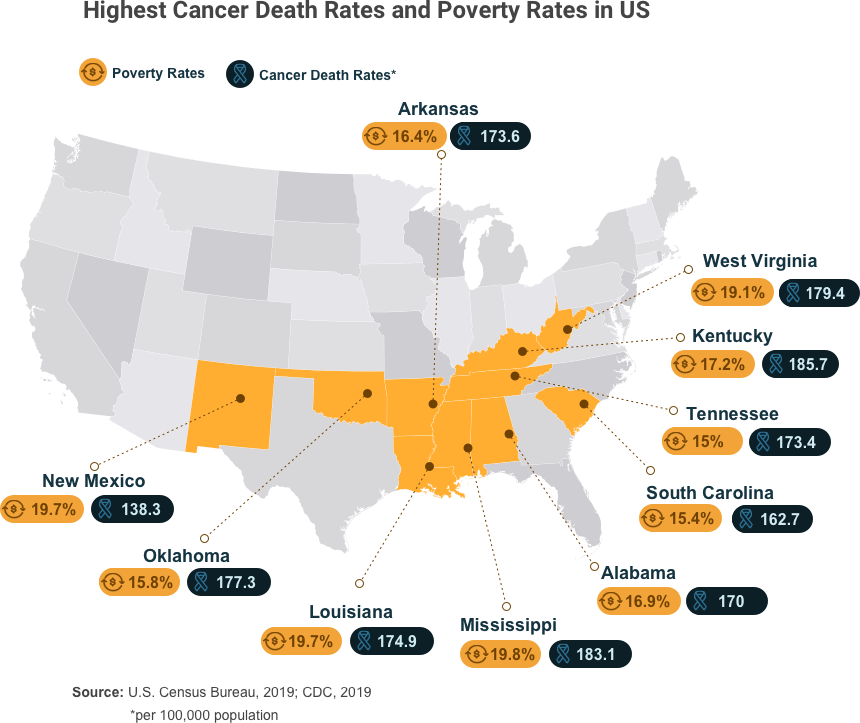 The Uninsured or Underinsured
Many people struggle to pay rising health insurance premiums and copays, or they can't reach high deductibles before insurance coverage begins.
According to the Commonwealth Fund Biennial Health Insurance Survey, 43% of U.S. adults ages 19-64 were "underinsured" in 2022, meaning their out-of-pocket health care costs, excluding premiums, equaled 10% or more of their yearly income.
More than 28 million Americans remain underinsured because of high out-of-pocket costs and deductibles. Most uninsured were men ages 19 to 64 with less than a high school education, lower incomes or both.
In 2022, uninsured nonelderly adults were more than twice as likely as their insured counterparts to have had problems paying medical bills in the past 12 months.
28 million

nonelderly individuals remain without coverage.

45%

of U.S. adults 19 to 64 are inadequately insured.

$1,763

was the average deductible for a single-coverage policy in 2022.

42%

of the $200.7 billion spent on cancer-related health care in 2020 was out-of-pocket expenses.

64% of uninsured adults said they remained uninsured because the cost of coverage was too high.

43%

of U.S. adults ages 19 to 64 are inadequately insured.
Sources: Henry J. Kaiser Foundation, 2022 and Commonwealth Fund Biennial Health Insurance Survey, 2022, Iragorri, N. et al., 2021
Blue-Collar Workers
Blue-collar workers are often exposed to carcinogens at the workplace.
Traditional blue-collar jobs represent a small portion of the U.S. labor force today, according to a 2018 report from Demos, a policy research think tank. Only 8% of the working class, or about 8 million workers, holds jobs in the manufacturing sector.
Annual mean wages for the top blue-collar jobs was around $50,000 in 2018, according to Forbes. That's less than the monthly cost of some cancer drugs.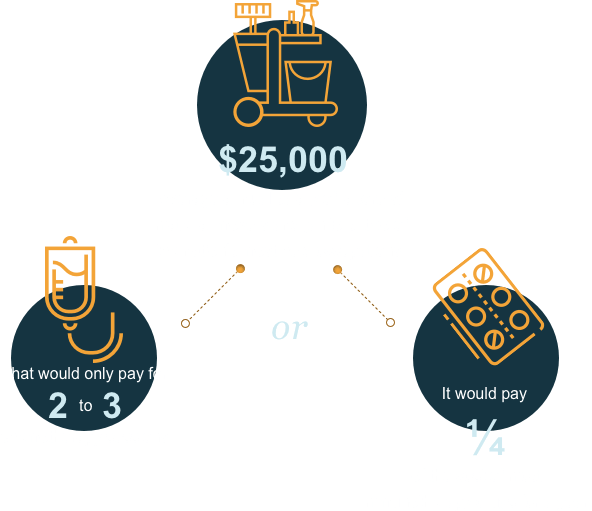 Fast Facts About Blue-Collar Workers
Motor vehicle operators have an obesity rate of 31.7%, which is more than any other occupation.

Minorities now represent roughly 50% of blue-collar workers.

Construction workers are 1.5 times more likely to smoke cigarettes than any other occupation.

Blue-collar workers are less likely to have employer-based insurance coverage compared to white-collar workers.
Sources: CDC, 2018; Gallup-Healthways Well-Being Index, 2014; Journal of Occupational and Environmental Medicine, 2014
Mesothelioma Disproportionately Affects Blue-Collar Workers
Mesothelioma is a rare cancer caused almost exclusively by occupational exposure to asbestos — 85% to 90% of cases — making it the No. 1 occupational cancer in the world.
The cancer carries a long latency period, often developing decades after workers were initially exposed to asbestos. Many mesothelioma patients are diagnosed after retiring from blue-collar jobs and now must pay out-of-pocket treatment costs on fixed incomes.
The Mesothelioma Center at Asbestos.com examined 360 confirmed cases of mesothelioma among blue-collar workers who were diagnosed since 2002.
---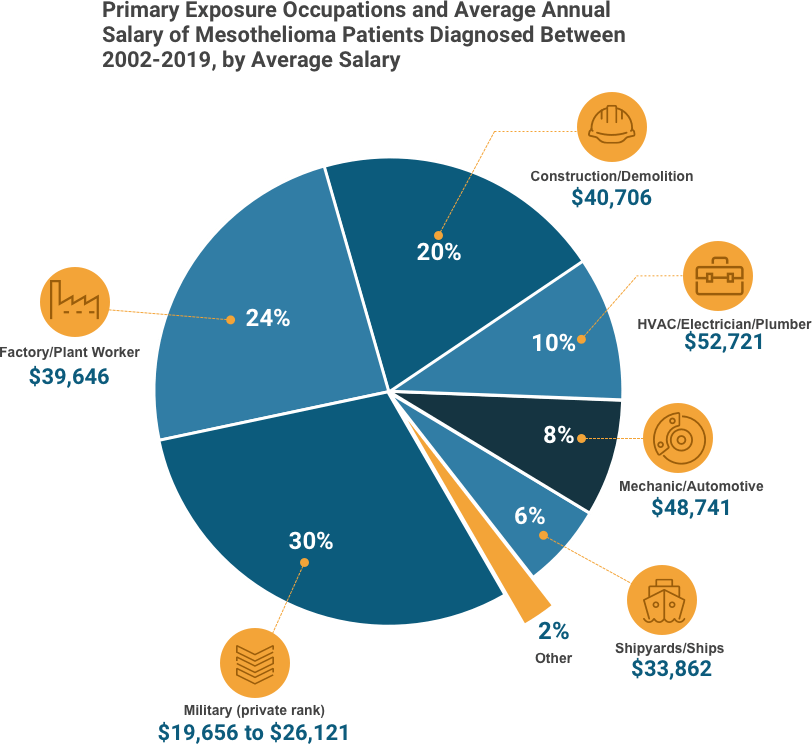 The cost of multimodal treatment of mesothelioma (combination of surgery, chemotherapy and radiation therapy) is comparable to that of lung cancer, which averages between $55,548 and $79,8181 during the initial six months of care, according to a January 2019 study published in Cancer Medicine.
Higher Risk of Occupational Cancer
Blue-collar jobs put Americans more at risk of developing occupational cancers, or cancers caused by exposures to carcinogens in the workplace.
The World Health Organization and the National Institute for Occupational Safety and Health recognize nine main occupational cancers.
Top Occupational Cancers in the US
| Cancer | Percentage of cases related to occupation | Occupations affected |
| --- | --- | --- |
| Mesothelioma | 85% to 95% | Construction, Navy veterans, industrial workers, firefighters, power plant workers |
| Sinonasal and nasopharyngeal cancer (nose) | 33% to 46% | Boot and shoe manufacturing and repair, carpenters |
| Bladder cancer | 7% to 19% | Cable makers, synthetic latex production, industrial workers who manufacture magenta, auramine, p-chloro-o-toluidine, pigment chromate, and dyes; gas-retort house workers |
| Lung cancer | 6.3% to 13% | Production and refining of arsenic, beryllium, cadmium, aluminum and chromium; mining of uranium, copper smelting, iron and steel founding, vineyard workers, roofers, asphalt workers, painters |
| Laryngeal cancer | 1.5% to 20% | Pickling operations |
Survivor Stories: Toll of Cancer Costs
An increasing number of studies show how unaffordable medical bills can impact a person's health as much as the biological effects of cancer treatments. Researchers call this "financial toxicity."
The high costs of cancer treatments add distress, hardships and burden to a patient and their family. Out-of-pocket costs not only deplete checking and saving accounts but also can dictate treatment decisions.
These stories showcase how cancer can alter a person's financial future.
Robert Boseke
Robert was diagnosed with bilateral stage 4 kidney cancer in September 2013.
He underwent an $80,000 surgery to have his left kidney removed. He didn't fully recover before needing 60% of his right kidney removed.
Boseke, a truck driver, was unable to work during recovery. He was completely out of income within three weeks and didn't qualify for FMLA.
"I found myself over $100,000 in debt," he said.
Back to work and slowly chipping away at his debt, Boseke learned in February 2017 that his cancer had returned and spread to various organs.
He started taking a targeted chemotherapy pill that cost $30,000 per month. He missed out on 20 to 30 hours of overtime pay each week because of the side effects.
"I went from making $80,000 a year to $30,000 a year."
In the end, Boseke would go from living in a four-bedroom house to a one-bedroom apartment. He lost a car and had to sell his beloved Harley-Davidson motorcycle. His 401(k) was depleted, and his credit score — which bottomed out at 380 — never fully recovered.
"I couldn't even finance a pack of gum."
Mike Snyder
In 1996, Mike Snyder was diagnosed with chondrosarcoma, a rare cancer that primarily affects the bones. It led to a knee joint replacement and later a full leg amputation.
The cancer metastasized to his lungs in 2009. He turned to clinical trials because conventional treatment was no longer effective.
Out-of-pocket costs were often the primary driver of Snyder's treatment decisions. He was responsible for 20% out-of-pocket costs through his employer's insurance, in addition to copays.
"We were choosing care based on what we thought we could afford, not what would help me the most," he said.
Snyder and his wife went through three retirement accounts, and the inheritance from his mother-in-law. They maxed out several credit cards and most of the $30,000 they had set aside for their children's graduation present from college.
His worry now is affording AG-120, the drug he needs to stay alive. The drug retails for $12,000 per month. Snyder makes about $40,000 annually in take-home pay.
"How in the hell am I going to afford that?" he asked. "And if my insurance covers it, what will the copay be?"
Mike Robinson
Mike Robinson received three cancer diagnoses at once: Non-Hodgkin's lymphoma, lymphocytic predominance Hodgkin's lymphoma and prostate cancer.
Copayments for the diagnostics alone ate up more than a month of his Social Security income. He then was told monthly out-of-pocket costs for treatment would total between $750 to $1,000.
"There was no way to use Western medicine and survive financially," he said.
Medicare covered around 90% of the costs, but the copays were too much.
As the founder of Global Cannabinoid Research Center in Santa Barbra, California, he turned to cannabis oils that he previously used to treat his epilepsy.
"For over a year, I fought and fought to gain remission using various diets and other natural alternatives as the cannabis oils alone aren't the full answer," he said. "This left me financially depleted."
Luckily, he was able to get the costs of the alternative treatments covered through a compassionate use program. After multiple recurrences, he is now enjoying complete remission.
"No longer was I burdened by the outrageous costs of just the copays alone in attempting to gain medical treatment," he said.