Cost of Mesothelioma Treatment
Fact Checked
Our fact-checking process begins with a thorough review of all sources to ensure they are high quality. Then we cross-check the facts with original medical or scientific reports published by those sources, or we validate the facts with reputable news organizations, medical and scientific experts and other health experts. Each page includes all sources for full transparency.
The cost of mesothelioma treatment, including chemotherapy, surgery and radiation, could average between $11,000 to $12,000 a month. Out-of-pocket costs are usually a small fraction of this. But seeking more effective treatment from a mesothelioma specialist may increase costs.
How Much Does Each Treatment Cost?
The cost of each mesothelioma treatment depends on the patient's individual treatment plan, the health care providers they choose, and their insurance coverage.
The following amounts are based on the cost of lung cancer treatment, which is comparable to mesothelioma treatment.
Chemotherapy: A 2013 cost-effectiveness study of Alimta (pemetrexed) plus cisplatin reported a total cost of $40,102 for first-line mesothelioma treatment. The cost varies depending on the exact drugs used, how many rounds are given and other factors specific to each patient.
Surgery: Pleural mesothelioma surgery is comparable to lung cancer surgery. A stage 1 lung cancer patient could pay more than $26,000 in monthly surgery costs. But the cost of surgery depends on the specific treatment center and surgical techniques used.
Radiation Therapy: According to a 2015 study of radiation therapy for cancer patients with Medicare, the median cost of a course of radiation for lung cancer was $9,000.
For most patients, health insurance covers most of the costs of cancer treatment but still leaves major bills for patients to pay out of pocket.

Some treatments may be more affordable than others. An April 2021 study reported on the safety and effectiveness of continuous infusion low-dose Gemcitabine plus cisplatin (CIGC). This chemotherapy regimen may be a more affordable option for patients with unresectable malignant pleural mesothelioma.
What Are the Hidden Costs of Mesothelioma Treatment?
Medical bills are only part of the total financial cost of having mesothelioma.
Additional expenses related to cancer treatment include lost income, caregiving costs and expenses for travel and lodging when your treatment center is far from your home. A mesothelioma patient or their caregiver may not be able to work during treatment. Many American families go into debt after a cancer diagnosis.
When a cancer patient runs out of financial resources, they are at risk of financial toxicity. This is when patients cannot fully benefit from their treatment plan because they are too stressed out and they cannot afford to fill all their prescriptions.
Careful financial planning is vital to the health and happiness of a mesothelioma patient and their family.
Total annual cost of copays, coinsurance, deductibles and insurance premiums for average lung cancer patient: $5,000 to $10,000
Source: American Cancer Society, 2016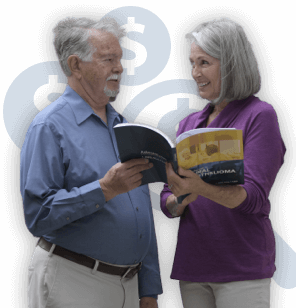 Find Ways to Pay for Mesothelioma Treatment
Gain access to trust funds, grants & other forms of compensation to help pay for treatment & other expenses.
How to Pay for Mesothelioma Treatment
To help pay for mesothelioma treatment and related expenses, patients should investigate government programs, charity resources, clinical trials and the possibility of filing a legal claim for compensation.
Government Assistance
If you are younger than retirement age but unable to keep working, you may be able to receive monthly income through Social Security Disability Insurance. If you are over retirement age and you have very low income, you can apply for Supplemental Security Income.
If you are a U.S. veteran, you may be eligible for low-cost cancer treatment through the VA medical system. If your mesothelioma diagnosis resulted from military asbestos exposure, you can file to receive VA disability benefits and fully covered health care.
Charities
Many hospitals, companies and nonprofit groups provide financial assistance to lower the cost of treatment or provide free travel and lodging for patients who have to go to a faraway medical center. A hospital social worker or mesothelioma patient advocate can help you find these resources.
Clinical Trials
Sometimes patients can receive free treatment by participating in clinical trials of experimental therapies. Not every mesothelioma patient qualifies for clinical trials, but it is always worth it to research what clinical trials are currently recruiting.
Legal Compensation
Mesothelioma is almost entirely preventable. Most cases trace back to asbestos exposure caused by a company's negligence, so it is not fair that patients should have to shoulder the burden of paying for cancer treatment.
An experienced mesothelioma lawyer can help you evaluate your options for seeking legal compensation. In case you decide to file a legal claim, make sure you keep track of all your insurance claims and out-of-pocket expenses. These records can help you build your case later.
---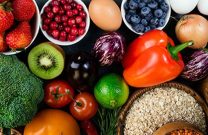 Get Free Recipes for Mesothelioma Patients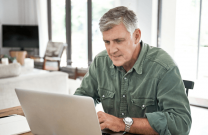 Mesothelioma Case Value Webinar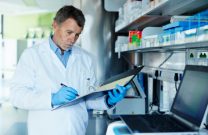 Find Active Mesothelioma Clinical Trials
---
Tell us what you think
Did this article help you?
How did this article help you?
What about this article isn't helpful for you?
Did this article help you?
Thank you for your feedback. Would you like to speak with a Patient Advocate?
---