Malignant Epithelioid Mesothelioma
Fact Checked
Our fact-checking process begins with a thorough review of all sources to ensure they are high quality. Then we cross-check the facts with original medical or scientific reports published by those sources, or we validate the facts with reputable news organizations, medical and scientific experts and other health experts. Each page includes all sources for full transparency.
Medically Reviewed
A medical doctor who specializes in mesothelioma or cancer treatment reviewed the content on this page to ensure it meets current medical standards and accuracy.
This Page was Medically Reviewed By
Epithelioid mesothelioma is the most common mesothelioma cell type, accounting for 50% to 70% of cases. Symptoms include shortness of breath and weight loss. The median survival rate for epithelioid mesothelioma patients is 18 months. Patients with the epithelial cell type have more aggressive treatment plan options and access to innovative clinical trials.
Page Topics
What Is Epithelial Mesothelioma?
Epithelial mesothelioma is the most common of the three cell types of mesothelioma cancer. Epithelial and epithelioid are used interchangeably to refer to this asbestos-related cancer.
More than 50% and up to 70% of cases are epithelioid. It has the best prognosis of the three mesothelioma cell types because it responds best to treatment. This means epithelioid cases tend to qualify for the most effective treatment plans.
Patients with this cell type live about six months longer compared to patients with other cell types.
Regarding the types of mesothelioma, location has a greater impact compared to cell type on the kind of treatments a patient will undergo, but cell type has a greater impact on whether a patient can qualify for aggressive treatment.
Characteristics of Epithelioid Cells
Epithelial mesothelioma cells clump together in groups. Each cell is square, cubed, columnar or squamous (flat) in appearance. The nucleus — the area of the cell that contains genetic material — is clearly visible in each cell.
Because epithelioid cells lack mobility and adhere closely together, they are less likely to spread compared to sarcomatoid cells.
This is one of the reasons epithelial mesothelioma has the best prognosis of the different mesothelioma cell types.
Symptoms of Epithelial Cell Mesothelioma
Symptoms of mesothelioma remain the same regardless of the cells that make up tumors. Epithelioid cells do not cause any unique symptoms, nor does any other cell type.
Initial symptoms of pleural or peritoneal mesothelioma include cough, shortness of breath and lack of appetite. As the disease progresses, more serious symptoms may surface.
Common Mesothelioma Symptoms
Shortness of breath
Persistent, nonproductive (dry) cough
Hoarseness
Coughing up blood
Low blood oxygen levels and anemia (low iron)
Weight loss
Feeling full, even without eating
Lack of appetite and nausea
Fatigue and extreme tiredness
Prognosis for Epithelioid Mesothelioma
Median survival of epithelioid patients is 18 months, compared with 10 months for patients with biphasic cell type and seven months for people with sarcomatoid cells, according to data from the National Mesothelioma Virtual Bank published in 2018.
Compared with other cell types, patients with epithelioid cells had an improved prognosis of around 200 additional days of survival. This improved survival rate can amount to years if the cancer is diagnosed and aggressively treated in an early stage.
According to a 2020 study published in Oncology Reports, the prognosis of epithelioid mesothelioma patients is impacted by a protein called connective tissue growth factor. Patients with lower levels of this protein had a better prognosis and longer survival.
Epithelial cell type allows patients to access more aggressive treatment plans and innovative clinical trials, especially when they are being seen at a mesothelioma specialty clinic.
Epithelioid Mesothelioma Cell Subtypes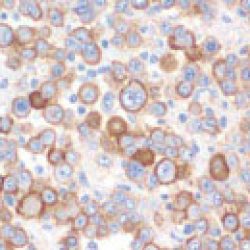 Tubulopapillary
This is the most common subtype of epithelioid mesothelioma. Most tubulopapillary mesotheliomas contain well-differentiated cells. It is possible for doctors without mesothelioma experience to mistake this for adenocarcinoma that has spread to the pleura.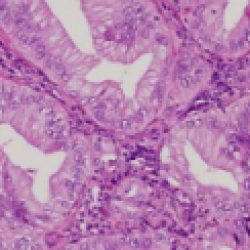 Glandular
Tumors with the glandular pattern are mostly composed of gland-like (acinar) structures. This subtype usually develops in the pleural lining. It may be confused with adenocarcinoma that has spread to the pleura.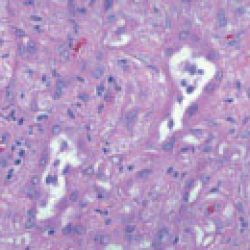 Adenomatoid
Adenomatoid mesothelioma, also known as the microglandular cell type, accounts for 6% of pleural mesothelioma cases. These tumors are made of flat to cube-like cells and are lined by small gland-like structures.
Adenomatoid is sometimes mixed with other kinds of epithelial cells inside a tumor. Doctors may mistake it for benign adenomatoid tumors or metastatic adenocarcinoma of the pleura.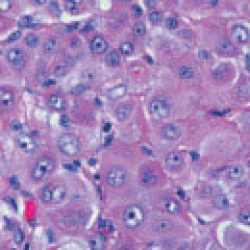 Solid
The solid subtype has two patterns: Well-differentiated and poorly differentiated.
Solid, well-differentiated epithelial type is more common. It has round cells in nests, cords or sheets.
The poorly differentiated pattern has relatively unorganized cells that are polygonal (having straight sides) to round in appearance.
A pathologist without expertise in mesothelioma may mistake solid, well-differentiated mesothelioma for benign reactive mesothelial hyperplasia. The poorly differentiated pattern looks like lymphoma and large cell carcinoma.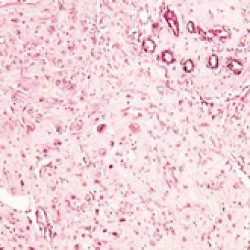 Deciduoid
Deciduoid mesothelioma is a rare epithelial subtype that may be caused by factors other than asbestos exposure. This pattern features large round to polygonal cells with sharp borders.
Deciduoid mesothelioma may be mistaken for squamous cell carcinoma, anaplastic large cell lymphoma, gastrointestinal autonomic nerve tumor, pseudotumoral deciduosis, trophoblastic neoplasia and the oxyphilic variant of ovarian clear cell carcinoma.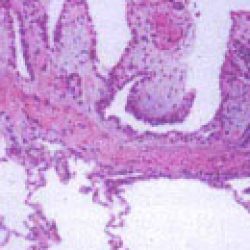 Well-Differentiated Papillary Mesothelioma
This cell type grows slow and features small bumps or protrusions lined by a single layer of flat cells.
This very rare mesothelioma cell type usually affects young women and is not related to asbestos exposure. Most cases are considered benign and respond well to surgery.
Epithelial Mesothelioma Diagnosis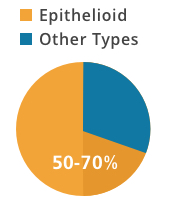 Accurately diagnosing epithelioid mesothelioma requires multiple steps. Many patients experience significant delays between onset of symptoms and receiving an accurate diagnosis.
Epithelioid Mesothelioma Diagnostic Challenges
Initial symptoms, such as cough and fatigue, mimic less serious respiratory conditions, according to a 2019 Expert Review of Respiratory Medicine article.
Primary care doctors want to rule out common causes of symptoms before referring a patient for chest scans.
Even after referral for X-rays, CT scans or an MRI, these tests take time to schedule.
Imaging only reveals abnormalities; it cannot determine the cause of abnormal chest areas.
Even after imaging results are available, it may take time to schedule an appointment for a biopsy.
All these things may get in the way of obtaining a tissue sample. And only a tumor biopsy — often obtained with a fine-needle aspiration, thoracoscopy or video-assisted thoracic surgery — leads to accurate identification of epithelioid mesothelioma.
One of the most important things you can do to minimize diagnostic delays is to share any history of asbestos exposure with your health care provider.
If your doctor knows you've been exposed to asbestos, they are more likely to consider a rare cancer such as mesothelioma or another asbestos-related condition.
Role of Immunohistochemistry in Diagnosis
Immunohistochemistry is a laboratory test to detect proteins on the surface of cells. These proteins help classify cancer cell type.
Pathologists use immunohistochemistry to identify epithelioid mesothelioma and differentiate it from another type of cancer called adenocarcinoma.
According to the 2018 ASCO pleural mesothelioma treatment guidelines, immunohistochemistry is recommended to test for suspected mesothelioma tumors.
This analysis will confirm the absence or presence of mesothelioma cell markers, leading to the most accurate diagnosis possible.
Quick Fact:
Your pathology results will show the specific cell type of your cancer. If you haven't been told your cell type, be sure to ask your doctor and request a copy of the pathology report for your records.
Epithelial Mesothelioma Treatment Options
Patients who seek out specialty mesothelioma care and receive all the treatments for which they are eligible have the best life expectancy. The first step in finding the best mesothelioma treatment is to seek the advice of an expert physician.
Of the three mesothelioma types, epithelial responds best to treatment. Patients diagnosed with it tend to have more treatment and clinical trial options.
Early-stage epithelioid mesothelioma is treated aggressively with a combination of therapies consisting of surgery, chemotherapy and radiation therapy. According to a 2019 report in The Annals of Thoracic Surgery, combination therapy resulted in significantly better outcomes for patients with epithelial malignant pleural mesothelioma.
Late-stage cases respond better to chemotherapy, immunotherapy and Tumor Treating Fields therapy.
Median Survival for Eptihelial Mesothelioma Patients By Treatment Type
| Treatment Type | Median Survival |
| --- | --- |
| No Treatment | 10.2 Months |
| Chemotherapy Alone | 15.4 Months |
| Surgery Plus Chemotherapy | 21.1 Months |
| Multimodal (all three) | 21.7 Months |
Source: The Annals of Thoracic Surgery, 2019
Common Questions About Epithelial Mesothelioma
How does a mesothelioma cell type affect my prognosis and treatment?

Patients with the epithelioid cell type have the most mesothelioma treatment options because their cell type responds the best to all forms of treatment. Epithelioid patients also live an average of 200 days longer than patients with other cell types.

How do I find a doctor who treats epithelial mesothelioma?

Most oncologists are not trained to treat epithelioid mesothelioma. Mesothelioma doctors have trained for years to specialize in the treatment of this cancer. Our Patient Advocates can help you find a top doctor who treats epithelial mesothelioma.
---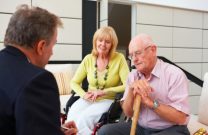 Get the Compensation You Deserve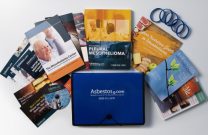 Learn About Top Mesothelioma Treatments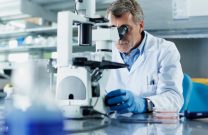 Immunotherapy & Mesothelioma Clinical Trials
---
Tell us what you think
Did this article help you?
How did this article help you?
What about this article isn't helpful for you?
Did this article help you?
Thank you for your feedback. Would you like to speak with a Patient Advocate?
---