Dry coughing
Shortness of breath
Respiratory complications
Pain in the chest or abdomen
Pleural effusion (fluid around the lungs)
Fever or night sweats
Fatigue
Weakness in the muscles
Quick Fact:
A balanced mesothelioma diet can help ease your symptoms and speed recovery. Get a free nutrition guide with quick and easy recipes that can help improve your quality of life.
Request Your Nutrition Guide
A biopsy is the only test that can confirm a mesothelioma diagnosis.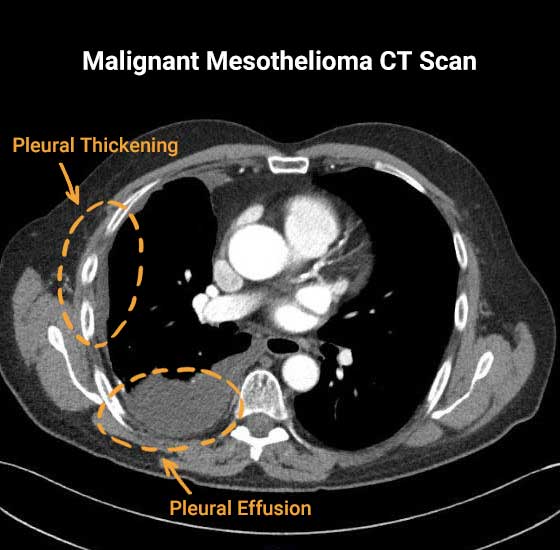 Imaging tests, such as CT scans, PET scans and X-rays, are also used with the biopsy to identify the location of tumors and evaluate their progression and growth, which is known as stage of the cancer.
If tumors are cancerous, doctors will diagnose this as malignant mesothelioma. They may simply call it mesothelioma. Doctors may discover that tumors are noncancerous. In that case, they will diagnose it as benign mesothelioma.
An early mesothelioma cancer diagnosis may increase a patient's eligibility and access to all treatment options.
Asbestos exposure is the primary cause of mesothelioma.
How Mesothelioma Develops
A person inhales or swallows airborne asbestos fibers.
The asbestos fibers become lodged in the lining of the lungs, abdomen or heart.
The embedded fibers damage the mesothelial cells and cause inflammation.
Over time, tumors begin to form on the damaged mesothelium, which is the lining of the abdomen, lung, heart and testes.
Who Is at Risk of Mesothelioma?
Blue-collar Workers

Firefighters, construction workers, power plant workers, shipyard workers and others in blue-collar occupations

Veterans

Primarily military personnel who served in the U.S. Navy, but also those who served in the Army, Marine Corps, Air Force and Coast Guard

Family Members

Spouses, children and others who had secondhand exposure from living with a person who was regularly exposed to asbestos
Diagnosed with Mesothelioma?
You may be eligible for compensation. Connect with a top mesothelioma attorney today to see if you qualify.
Find an Attorney
The stages of mesothelioma, which range from 1 to 4, are based on tumor size and location.
There are four types of mesothelioma cancer based on where it develops in the body: Pleural, pericardial, peritoneal and testicular mesothelioma.
Additionally, there are three types of cells found in mesothelioma tumors: Epithelioid, sarcomatoid and biphasic. Prognosis, symptoms and treatment options vary based on both the location and cell type.
Doctors can diagnose mesothelioma further by identifying the cell type of the tumors. Each cell type reacts differently to treatment. Some are more common and respond well to treatments, while others are rarer and more resistant to therapies.
Most responsive to treatment
Accounts for 70% of mesothelioma diagnoses

Least responsive to treatment
Poorer prognosis and shorter life expectancy
About 10% of cases

Combination of epithelioid and sarcomatoid cells
Response to treatment depends on ratio of cell types

Mesothelioma cancer is treated with conventional therapies such as surgery, chemotherapy and radiation. But not every patient is eligible for each type of mesothelioma treatment. Some patients also opt for emerging cancer treatments, including clinical trials, and alternative therapies.

Conventional Therapies

Offers greatest chance of survival
Used for diagnosing, removing tumors or easing pain
Eligible patients have strong health and limited cancer spread

More than 70% of patients undergo chemotherapy
Strong drugs shrink tumors and kill cancer cells

Reduces pain from growing tumors
Combined with surgery and chemotherapy
Used at any cancer stage

Emerging Treatments

Patients can access experimental therapies
Provide researchers scientific information to develop new treatments

Experimental treatments use the immune system to fight the cancer
Primarily performed in clinical trials

Use herbal medicines, mind-body therapies, holistic healing and other complementary therapies

Find a Mesothelioma Doctor

Specialized doctors are the only people who can treat mesothelioma effectively. Connect with a mesothelioma specialist to develop a unique treatment plan and access emerging treatments.

Get Help Now

The prognosis for mesothelioma is not good. The life expectancy for most patients is about 12 months after diagnosis.

Source: Cancer.org

Key Factors

Factors that most affect mesothelioma prognosis are stage and cell type. Age, gender and exposure history also affect outlook. Younger patients and women have a better mesothelioma prognosis than older men. People diagnosed with the peritoneal mesothelioma type also have a higher chance of survival.

Ways to Improve Prognosis

Patients can improve prognosis by eating a nutrient-rich diet, undergoing cancer treatments like multimodal therapy — which is a combination of two or more treatments — and staying healthy.

Legal and financial options for mesothelioma patients and their families include filing for lawsuits or settlements, qualifying for trust funds and applying for VA claims.

These options can provide financial compensation to pay medical bills, lost wages and other expenses. A mesothelioma lawyer can review your case, so you receive the highest compensation.

A mesothelioma patient can file a personal injury lawsuit against companies responsible for their asbestos exposure. The estate, including family members, of the loved one who died from mesothelioma can file a wrongful death lawsuit.

Bankrupt asbestos companies established trust funds to provide compensation for people who were exposed to asbestos because of the company's negligence. Asbestos trust funds hold more than $30 billion.

Because the U.S. military relied heavily on asbestos, veterans diagnosed with mesothelioma may be eligible for benefits, including VA claims for disability compensation, from the U.S. Department of Veterans Affairs.

Do I Qualify for One of These Options?

Our team of Patient Advocates can quickly determine your or a family member's eligibility for legal action or financial compensation and help connect you with a qualified attorney or certified VA claims agent.

Find Out Now

13 Cited Article Sources

Klabunde, C. et al. (2009, September). The Role of Primary Care Physicians in Cancer Care.
Retrieved from: https://www.ncbi.nlm.nih.gov/pmc/articles/PMC2726889/
Bowker, M. (2003). Fatal Deception: The Untold Story of Asbestos. New York, NY: Simon & Schuster.

Cavette, C. (1994). Asbestos. How Products are Made, 4.

Centers for Disease Control and Prevention. (n.d.). Multiple Cause of Death, 1999-2015 Results.
Retrieved from: https://wonder.cdc.gov/mcd-icd10-archive2006.html
ClinicalTrials.gov. (n.d.). Mesothelioma. First Posted from 01/01/2016 to 10/18/2017. =
Retrieved from: https://clinicaltrials.gov/ct2/results?term=&type=&rslt=&age_v=&gndr=&cond=mesothelioma&intr=&titles=&outc=&spons=&lead=&id=&cntry1=&state1=&cntry2=&state2=&cntry3=&state3=&locn=&sfpd_s=01%2F01%2F2016&sfpd_e=10%2F18%2F2017&lupd_s=&lupd_e
Dodson, R. and Hammar, S. (2011). Asbestos: Risk Assessment, Epidemiology, and Health Effects. Boca Raton: Taylor & Francis. Environmental Protection Agency. (2011, August 22). Asbestos: Basic Information.
Retrieved from: http://www2.epa.gov/asbestos
Environmental Working Group. (2009). The Failed EPA Asbestos Ban: Asbestos manufacturing and sale of asbestos-containing goods in still legal in the U.S.
Retrieved from: http://www.ewg.org/
Johns Manville. (2008). Building on Tradition [PDF document].
Retrieved from: http://www.jm.com/
Kalanik, L., McNulty, M., Stansell, C. (2005, January 1). Johns Manville Corporation. [Abstract]. International Directory of Company Histories.
Retrieved from: http://highbeam.com/doc/1G2-3429100062.html
RAND Corporation - Institute For Civil Justice. (2010). Asbestos Bankruptcy Trusts.
Retrieved from: https://www.rand.org/content/dam/rand/pubs/technical_reports/2010/RAND_TR872.sum.pdf
Spaggiari, L. et al. (2014, June). Extrapleural Pneumonectomy for Malignant Mesothelioma: An Italian Multicenter Retrospective Study.
Retrieved from: http://www.annalsthoracicsurgery.org/article/S0003-4975(14)00330-0/fulltext#tbl2
U.S. Geological Survey. (2005). [Asbestos] statistics, in Kelly, T.D., and Matos, G.R.,comps. Historical statistics for mineral and material commodities in the United States: U.S. Geological Survey Data Series 140 [Data file].
Retrieved from: http://pubs.usgs.gov/ds/2005/140/
American Cancer Society. (2017, December 20). Survival Statistics for Mesothelioma. Retrieved from: https://www.cancer.org/cancer/malignant-mesothelioma/detection-diagnosis-staging/survival-statistics.html

How did this article help you?

What about this article isn't helpful for you?

Did this article help you?

Thank you for your feedback.

Would you like to speak with a Patient Advocate?

Last Modified August 27, 2019