VA Disability Benefits: FAQs About Asbestos Claims
Fact Checked
Our fact-checking process begins with a thorough review of all sources to ensure they are high quality. Then we cross-check the facts with original medical or scientific reports published by those sources, or we validate the facts with reputable news organizations, medical and scientific experts and other health experts. Each page includes all sources for full transparency.
Veterans who get sick from asbestos exposure during their service have questions about VA benefits. We answer questions about eligibility, filing, compensation and general benefits.
Written By: Aaron Munz,
Last modified: March 31, 2021
Asbestos Claims Questions
Many people wonder what it takes to get an asbestos claim approved with the VA. Proof of asbestos exposure and medical paperwork validating the diagnosis are important. A number of asbestos-related conditions qualify for Disability Compensation.
Why should I apply for VA compensation?

Applying may result in monthly benefits and VA health care. You may get lifetime medical care from any facility in the VA network. This includes world-class facilities in Boston and Los Angeles.

In 2019, an article published by the American Medical Association compared average wait times for new patients at VA treatment centers versus private hospitals. Researchers found that wait times at VA facilities are actually shorter than private-sector wait times in many cases.

What information or evidence must I show to substantiate my disability claim?

Evidence is required to substantiate a claim. The evidence must show you have an injury or disease that began or worsened during military service. Or that there was an event during service that caused injury or disease.

In the case of an asbestos claim, the event is the exposure to asbestos while on active duty. The VA will review asbestos exposure during and after military service. A veteran must prove the disease stemmed from exposure during active duty. Medical records that prove a diagnosis of an asbestos illness are required.
What asbestos-related diseases are recognized by the VA?

The VA acknowledges the following cancers that affect a person's:

Lungs
Bronchus
Gastrointestinal tract
Larynx
Pharynx
Urogenital system (except the prostate)
Pleura or peritoneum

The VA also recognizes these conditions:

Fibrosis
Asbestosis
Tumors
Pleural effusions and fibrosis
Pleural plaques

A doctor must state in writing that an illness was caused by asbestos. The exceptions are asbestosis and mesothelioma. These are automatically accepted by the VA as only caused by asbestos exposure.

What factors does the VA consider when deciding on my asbestos claim?

The VA will want to know if records demonstrate an exposure to asbestos in the military. It also will want to determine how much asbestos exposure the veteran had before and after military service. This is based on work history. It also will determine a relationship between exposure and the claimed disease.
Will a lawsuit against an asbestos company affect my VA disability benefits?

No. The VA does not consider any money you may be awarded from a lawsuit or bankruptcy trust fund. The VA's primary financial concern is that you do not "double-dip" on a benefit.

You cannot receive money from the government twice for the same illness. The VA will consider your financial situation when the benefit is based on your income level such as a VA pension. The VA Disability Compensation amount is not based on income level or assets. Any assets acquired through the legal system have no effect on disability benefits.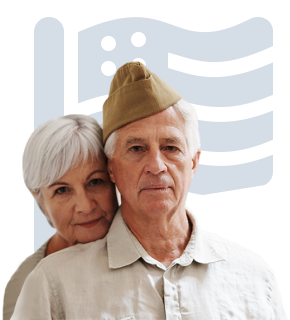 Compensation for Veterans
Our Veterans Department can help you or a loved one file asbestos-related VA claims and access potential benefits.
Eligibility and Filing Questions
Veterans who served full-time and were not dishonorably discharged are eligible for VA benefits. There are specific VA forms that must be submitted. A Claims Agent can help make sure the forms are completed and filed correctly.
How do I apply for VA benefits?

One of the easiest ways to file a VA claim is to reach out to our Veterans Department. After filling out a simple form, Veterans Department Director Aaron Munz will contact you and get you started. Munz, who specializes in asbestos-related claims, can walk you through the VA claims process.

What are the eligibility criteria for veterans to receive benefits from the VA?

VA benefits are available to full-time service members of the Marine Corps, Army, Navy, Air Force and Coast Guard. Commissioned officers of the Public Health Service and National Oceanic and Atmospheric Administration are also eligible.
What is a Veterans Service Organization Accredited Representative and what do they do?

Veterans Service Organization (VSO) Accredited Representatives and Claims Agents are advocates accredited by the VA. They assist veterans in filing for VA benefits. They also help veterans write a detailed exposure summary. These are a necessity when filing claims for asbestos-related diseases.

What paperwork do I need to file a disability claim with the VA?

To apply for Disability Compensation, veterans need to provide the following items:

A completed VA Form 21-526 with an accompanying asbestos exposure summary. Our Veterans Department specializes in helping veterans write their exposure summary.
A copy of their DD 214 (discharge paperwork). If this paperwork has disappeared, a copy can be in obtained from the National Personnel Records Center. Our Veterans Department can assist you in obtaining a copy if you need to request one.
Copies of pertinent medical records (or a signed medical release allowing the VA to request those records)*
If the veteran is married, a copy of the marriage certificate (this proves they have a dependent, which provides for greater disability compensation)

* This document is a VA-21-4142 and is included at the end of the VA 21-526 form.

What does the VA do after it receives my claim?

The VA will send a confirmation letter to the veteran outlining what was received. If the veteran has not provided a detailed exposure history, the VA will ask him about his exposures.

Our Veterans Department can assist you in writing a detailed exposure summary. This will provide the VA with all the answers it needs to understand your exposure history. For asbestos cancers, a medical exam is typically not required. Medical records diagnosing those cancers are often enough.

If my application is refused, can I appeal?

Yes. If you receive a letter from the VA that says your claim was denied, you can appeal the decision. You have one year from the date stamped on the decision letter.

In most cases, you need to file a Notice of Disagreement (NOD) with the VA. Once you fill out the NOD form, you can mail it to the address on the decision letter notice or take it to your local VA regional office.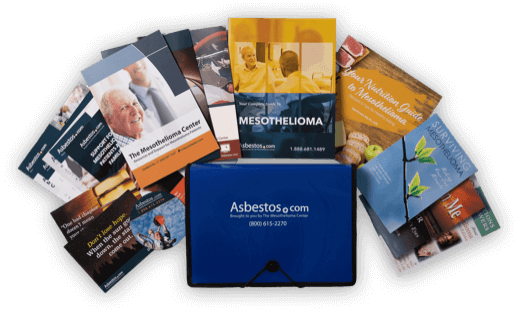 Free Mesothelioma Guide for Veterans
Learn about mesothelioma, asbestos exposure in the military, your treatment options and more.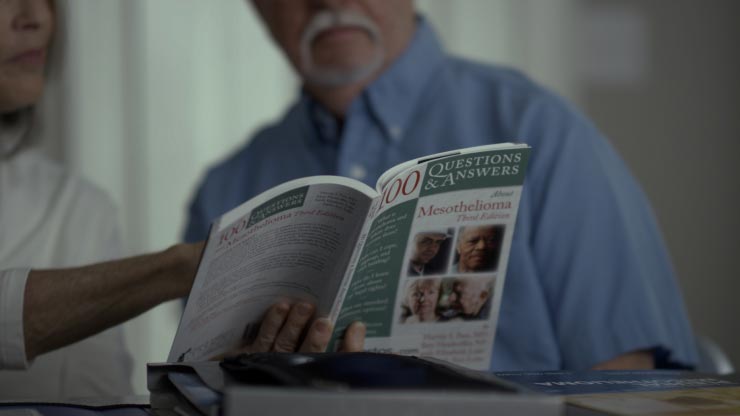 Compensation Questions
The VA offers Disability Compensation to veterans with asbestos-related diseases. Amount of compensation depends upon the severity of the diagnosis. The time it can take to get compensated varies by state.
What kind of compensation are veterans entitled to if they have a disability caused by military service?

Disability Compensation is the primary VA benefit for veterans disabled by their service. Veterans must fill out a VA 21-526 form (known as an Application for Disability Compensation or Pension) and file it with the regional VA office in their state. The regional office is a branch of the U.S. Department of Veterans Affairs. It is not the state's Department of Veterans Affairs.

The Veterans Department at The Mesothelioma Center can assist you in filing for an asbestos-related illness. Our Claims Agents can help you write an asbestos-exposure summary. You must be able to detail your exposure to asbestos with specifics on when and where it happened. You will need to convince the VA that more than half of your lifetime exposure to asbestos occurred on active duty.

What is the amount and payment schedule for VA Disability Compensation?

Payments for a service-connected disability are based on a rating given by the VA. It is expressed in 10-percent increments. Exact disability payments vary. They depend on your level of disability and the number of dependents you have. Other factors play a role including if you are homebound or in need of regular aid and attendance. You can find a breakdown of the current benefit rates on the VA website.

You will receive a payment each month. The basic payment varies between $142 for a veteran with a 10 percent disability rating to more than $3,100 for someone with a 100 percent disability rating. Mesothelioma and lung cancer caused by asbestos is rated at 100 percent. Noncancerous asbestos illnesses are rated anywhere from 0 to 100 percent. The rating is primarily based on the results of a pulmonary function test.

How long will it take for the VA to make a decision on my Disability Compensation claim?

It is different in every state.

The VA has one or more regional offices in each state, and backlogs vary by state. It generally takes six to eight months to get a decision. The VA's Fully Developed Claims (FDC) program now allows veterans, a Veterans Service Organization or Claim Agent to gather necessary paperwork to help expedite a decision. The waiting time can be cut in half.

What is Dependency and Indemnity Compensation (DIC), and who is eligible for it?

DIC is a benefit paid to a surviving spouse, dependent children, or both, of a veteran who died from a service-connected disability. For a survivor to be eligible for DIC, the veteran's death must have stemmed from one of the following:

A disease or injury incurred or aggravated on active duty or training for active duty.
An injury incurred or aggravated during inactive duty training.
A disability or condition directly related to a service-connected disability.

Spouses receive a basic monthly payment. They may receive an additional payment for dependent children if they require aid and assistance, or if they are homebound.
General Benefits Questions
In addition to Disability Compensation, the VA offers a pension benefit. But, veterans can't receive both. Health services are also available.
Are there benefits available for veterans based on income?

Most benefits are based on whether a veteran has a service-connected disability. It is possible to receive benefits, such as a VA pension, and qualify for VA health services even if you do not have a service-connected disability.

You must show that your income and personal assets prevent you from enjoying a minimum quality of life, or affording your own health care insurance. Veterans can either receive VA Disability Compensation or pension. They cannot receive both. If a veteran qualifies for both, they will be awarded the higher-paying monthly benefit — typically Disability Compensation.

Veterans who qualify for VA health care based on income have copays for VA prescriptions and health care services.

Are veteran disability benefits taxable?

No. You don't need to pay taxes on disability benefits you receive from the VA. When you file your taxes, do not include the VA benefits you receive in your gross income.

Can I work and still receive VA disability benefits?

Most veterans receiving disability benefits from the VA can continue to work, with some exceptions. Those who received a higher disability rating because they are considered unemployable cannot work while receiving VA benefits.

Can I continue my military service while receiving VA disability benefits?

Veterans receiving disability benefits can continue to serve in the military if they can get medical clearance. There is no specific disability rating that will prevent you from joining the military. It all depends on the condition you have and how severe it is. The VA does not allow people to receive military pay and disability payments at the same time.
---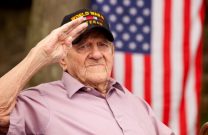 Access Free VA Claims Assistance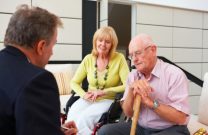 Get the Compensation You Deserve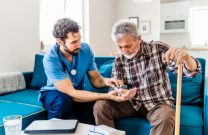 Connect with Top Mesothelioma Doctors
---
Tell us what you think
Did this article help you?
How did this article help you?
What about this article isn't helpful for you?
Did this article help you?
Thank you for your feedback. Would you like to speak with a Patient Advocate?
---