Determine Eligibility & Navigate Paperwork

Our Veterans Department reviews your eligibility for all possible benefits. We walk you through the paperwork and make sure it's complete before you submit.

File or Appeal Your VA Benefits Claim

Our Veterans Department has personal experience navigating the VA benefits system. We continue to work with you until you get the benefits you deserve.

We Train Veteran Service Officers

We provide Veterans Service Officers (VSOs) with training, guidance and assistance to help them connect veterans with medical, financial and legal resources.
---
Meet Our Team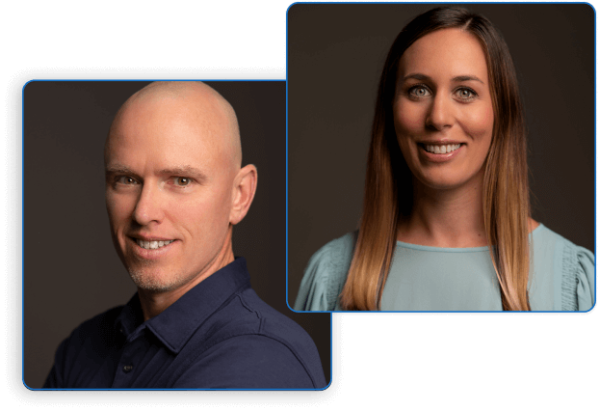 Aaron Munz
Director of Veterans Department
Former U.S. Army Capt. Aaron Munz is a VA-accredited claims agent who uses his experience to help fellow veterans understand and file for VA benefits. He'll walk you through the process from start to finish.
Danielle DiPietro
VA-Accredited Claims Agent
Danielle DiPietro is a VA-accredited claims agent and the granddaughter of two U.S. Army veterans. She provides support to make sure every person who works with our Veterans Department gets the benefits they deserve.
---
 Why Choose The Mesothelioma Center
We have a team of VA-accredited staff who specialize in assisting veterans affected by service-related asbestos exposure.
We know how to navigate the VA benefits system and are professionally trained and certified to represent VA claimants.
We build relationships and collaborate with Veterans Service Organizations across the country.
We train VSOs to help veterans cut through the red tape at the Veterans Health Administration.
---
What People Are Saying
Asbestos.com helped us with getting through the red tape at the VA and getting the necessary forms for us. We would probably still be battling without their help.

John Conway

Navy Chief, Diagnosed in 2012
Thank you and commend you on your role as an advocate during the process of filing a claim with the military. Positively you made all the difference for the entire process.
I just wanted to thank you for all of your assistance in helping obtain the necessary documents for my father Gerald Nichols to apply for VA benefits. You have been extremely helpful, not to mention very kind throughout this process. God Bless.
---
Common Questions
What are the benefits of applying for VA compensation?

Veterans and families affected by mesothelioma may be eligible for a variety of benefits including VA disability compensation, health care, aid and attendance and caregiver benefits.

Who is eligible for VA benefits?

To receive veterans benefits based on asbestos exposure, you must have been honorably discharged from the military, be able to provide medical records that confirm you have an asbestos-related illness and compile a detailed history of your occupational exposure to asbestos, both during your time in the military and after the fact.

What is the time limit for filing a mesothelioma claim with the VA?

The VA has no time limit for filing post-service claims, but the process can get complex. VA-accredited claims agents can help veterans and their families navigate the process.
Ready to Get Help with Your VA Claim?