Our Patient Advocates
The Mesothelioma Center is the nation's most trusted mesothelioma resource. Our team of Patient Advocates is committed to helping anyone affected by mesothelioma or other asbestos-related illnesses.
Help find the best doctors and treatment facilities near you
Connect you with local support groups
Connect you with our on-staff nurse
Provide custom literature and books on your diagnosis
Help veterans receive their VA benefits
Assist with financial and legal options
Watch How We Help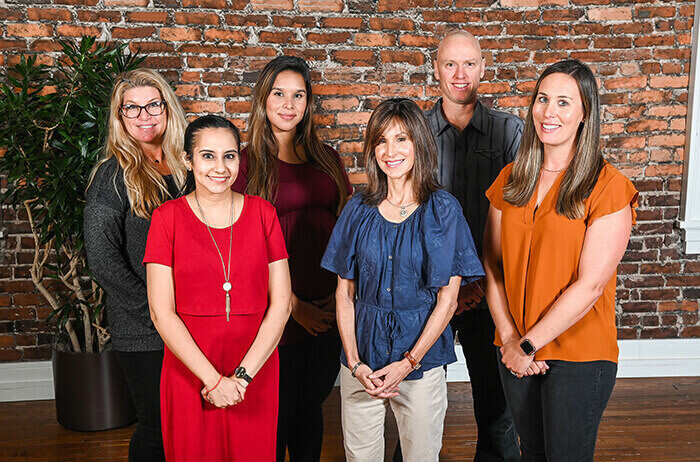 I am a registered nurse with specific background in general, vascular and thoracic surgery. I also was a director of a tissue bank prior to joining Asbestos.com as a Patient Advocate nurse.
I have been a nurse for many years and have had the pleasure to work in several subspecialties within the field. My surgical and oncologic background has been a true asset to understanding the needs of mesothelioma patients and how to help guide them through their journey. This is not a perfect science and every patient is unique and has specific requests. My goal is to determine how I can help each patient best and then provide them with the tools they need: knowledge, hope, and continuing emotional support.
Snehal Smart, M.D.
Medical Doctor and Patient Advocate
I pursued my medical degree because of my interest in helping patients better educate themselves about their diagnosis and treatment. In my journey throughout undergraduate and graduate studies, I enjoyed teaching, tutoring and mentoring other students who were studying science and medicine. I connect with patients and their caregivers to better understand their questions, worries and doubts. I take time to explain the types of testing they must undergo and treatments to discuss with their doctor. I also have an interest in clinical trials, alternative therapies and nutrition.
Vanessa Blanco
Patient Advocate and Oncology Patient Navigator
I have a Master of Science degree in Health Service Administration, and I have always wanted to help others facing medical challenges. My experience with losing family members to illness, however, led me to patient advocacy. The journey of having a loved one suffer through a terminal illness can be one of the most trying times, but with the appropriate tools and knowledge it becomes manageable to deal with. My experiences dealing with patients also put me on the path to becoming an Oncology Patient Navigator – Certified Generalist with the Academy of Oncology Nurse & Patient Navigators (AONN+). I am very grateful for the advocates at the hospitals that assisted my family through our difficult times, and aim to provide the same compassion and empowerment to others that was provided to me.
CERTIFICATIONS
Oncology Patient Navigator – Certified Generalist
I love people, and that's why I have my degree in psychology. I love the human experience and meeting new people. I also love connecting mesothelioma patients with a specialist nearby. As the Medical Outreach Director here at The Mesothelioma Center, I communicate with these doctors regularly to discuss treatment options for each patient. If you need someone to listen to you or someone to guide you along your journey with mesothelioma, I am always happy to help.
I have the opportunity to travel to specialty cancer centers across the country to meet with world-class physicians who help patients affected by mesothelioma. By establishing relationships with these specialists, we can confidently send patients to see an excellent doctor. My degree in Health Services Administration and my 13+ years in Pharmaceutical/ Medical Sales prepared me well for my role at The Mesothelioma Center. I am also a VA-Accredited Claims Agent and can help veterans affected by asbestos file a claim.
I also work to create mesothelioma awareness and make a positive impact by giving back to the mesothelioma community. I attend meetings and symposiums related to mesothelioma on behalf of Asbestos.com to support any efforts that are being made to help patients.
After graduating with my marketing degree, I joined the Public Outreach Department at The Mesothelioma Center. As I learned about the disease and what we do here, I soon decided I wanted to help patients and families directly. I moved over to Patient Advocacy because I love working with people.
I have lost two uncles who were under the age of 55 to cancer, and I wish my family had an organization like ours to help get them to top specialists. Here at Asbestos.com, we don't just talk to patients once; we build a relationship and help them through every step of their journey with mesothelioma. That is what I truly love about this job.
As director of Hospice Care at The Mesothelioma Center, my goal is to educate patients and caregivers about hospice and palliative care programs. It's important that everyone involved in a patient's cancer journey understands the nuances of hospice care and end-of-life choices, especially at such a critical time in their lives. I am a compassionate listener, which is a skill that helps me bring a strong level of comfort when I'm discussing these sensitive topics with patients and their loved ones. In addition to being well versed in holistic therapies, I am a licensed massage therapist and have associate degrees in pre-nursing, health and science.
I am a former U.S. Army Captain, and I served nine years in leadership, combat and strategic training in the Army before leaving active duty in 2006. During that time, I served in Operation Iraqi Freedom and led more than 300 combat operations in Iraq. My military experience helps me understand the unique needs of veterans diagnosed with service-related mesothelioma. As a VA-accredited Claims Agent, I assist veterans with the complicated paperwork they need to gather when filing their VA disability claims. I am there to answer their questions, help them understand VA benefits and what they need to do in order to access VA health care.