The asbestos exposure that U.S. Coast Guard veterans experienced is like that of Navy veterans. The Navy is the U.S. military branch with the highest risk of developing asbestos-related diseases.
The Coast Guard is a tenth of the size of the Navy. As a result, the Coast Guard has much fewer cases of mesothelioma.
Coast Guard members who served during WWII faced the highest risk of exposure. Many worked in shipyards where the mineral was used to insulate and fireproof ships and boats.
Asbestos was an ideal material for the shipbuilding industry because it resists corrosion and high temperatures. It is also inexpensive, incredibly light and durable.
Unfortunately, it is also highly toxic. For many years, the U.S. government failed to acknowledge the health hazards of the deadly mineral.
Coast Guard personnel who worked around asbestos-containing materials (ACMs) were vulnerable to exposure. Exposure was the worst in poorly ventilated areas such as boiler rooms and engine rooms.
Veterans who served at the Curtis Bay Coast Guard Yard were at risk during shipbuilding and repair activities. Asbestos was also found in the barracks at the shipyard, known as Fleet Hall. Each of the building's wings had roofs made from shingles containing the mineral.
The Coast Guard continued to use asbestos in vessels through the 1970s, when the federal government began regulating its use.
Many Coast Guard veterans were exposed while serving their country. Veterans exposed many years ago are now being diagnosed with asbestos-related diseases.
These diseases, including asbestosis, mesothelioma and asbestos-related lung cancer, have a latency period of 10 to 50 years. This means decades pass before these conditions even begin to develop.
Compensation for Veterans
Our Veterans Department can help you or a loved one file asbestos-related VA claims and secure potential benefits.
Get Help Now
Marine Inspectors and Asbestos Exposure
Many studies have documented the harmful effects of asbestos on members of the U.S. military.
In the 1970s, the Coast Guard and the National Cancer Institute collaborated on a study. The study evaluated the mortality rate of marine inspectors between 1942 and 1970. A follow-up study published in 2009 in the journal Military Medicine extended the cohort by 14 years.
The studies found Coast Guard marine inspectors have a much higher mortality rate compared to other officers in the branch.
Marine inspectors were exposed to asbestos during inspections of merchant vessels in the U.S. and abroad. They inspected cargo tanks and pump rooms, which are areas known for their asbestos-containing products.
Many of these exposures occurred inside Liberty Ships. These ships were the primary vessels used to transport war materials to places of conflict. They were loaded with ACMs in pipes, ducts, insulation and heating systems.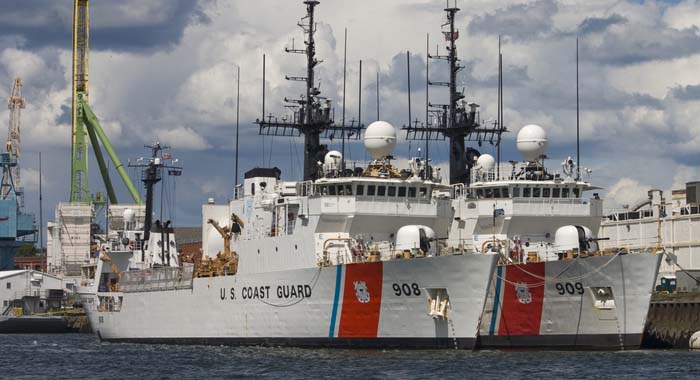 Coast Guard Vessels That Likely Contained Asbestos
The Coast Guard has some of the oldest ships in the world. Cutters, the largest ships in the Coast Guard, are the only vessels in the branch with a permanently assigned crew.
These ships were much smaller than many of the battleships and aircraft carriers used by the U.S. Navy. But, cutters had large engine rooms that used asbestos products for insulation and fireproofing.
Other large Coast Guard ships used asbestos in pipes, deck-coating materials and electrical wiring. Polar-class icebreaker ships are a prime example.
Coast Guard veterans assigned to these larger vessels may have been continuously exposed to asbestos.
Curtis Bay Coast Guard Yard
The Curtis Bay Coast Guard Yard, also known as the Coast Guard Yard, was established in 1899 as a training academy and boat repair facility.
It is located southeast of Baltimore, Maryland. It operated as a shipbuilding and repair site by 1910 and later became part of the shipbuilding effort when the U.S. entered WWII.
The facility was responsible for vessel repair, overhaul, manufacturing activities and buoy construction. Operations lasted well into the 1970s.
These activates led to contamination of the facility with toxic substances. These substances included asbestos, polychlorinated biphenyls (PCBs), pesticides and dioxin.
In 2008, the U.S. Environmental Protection Agency (EPA) signed an agreement with the Coast Guard to clean the yard. The location had been designated an EPA Superfund in 2002.
The Coast Guard had to identify environmental impacts associated with its past activities. Then, they took the necessary actions to protect the community and the environment.
The Curtis Bay Coast Guard Yard now provides industrial support for the Coast Guard. This includes the design, construction, overhaul, repair and modification of ships.
Civilian Employees Exposed at Curtis Bay
Civilian workers also have a history of exposure at U.S. Coast Guard shipyards. A 2007 study published in the journal Occupational & Environmental Medicine analyzed 4,702 civilian workers who were employed at Curtis Bay between 1950 and 1964. They were followed through 2001.
The workers had a higher mesothelioma mortality rate compared to the average population. Workers employed at the shipyard for more than 10 years were roughly 33 percent more likely to die from mesothelioma than those employed less than 10 years.
"Employment in this Coast Guard shipyard revealed a small but significant excess mortality from all causes, lung cancer and mesothelioma, most of which is probably related to asbestos exposure," the study concluded.
There is at least one known mesothelioma-related lawsuit involving the Curtis Bay Coast Guard Yard. In 2003, the estate of Harry Hunter sued Owens-Illinois Glass for providing Kaylo insulation, an ACM used at Curtis Bay.
Hunter, who died from mesothelioma in 2001, worked as an electrician at Curtis Bay for 33 days during the summer of 1956 while he was in college. The jury awarded Hunter's estate $4.2 million for his wrongful death. The amount was later reduced because Maryland state law mandated a liability limit of $600,000.
Legal Rights and VA Resources
It is important for Coast Guard veterans to understand the ways they could have been exposed to asbestos while serving. They should also know what resources are available if they are diagnosed with an asbestos-related disease.
Coast Guard veterans are eligible to file a claim with the U.S. Department of Veterans Affairs (VA) for benefits. VA benefits offer veterans compensation for treatments and other medical expenses.
Veterans also have the option to speak to a lawyer specializing in mesothelioma to file a lawsuit against the companies that manufactured the asbestos products used by the Coast Guard.
5 Cited Article Sources
How did this article help you?
What about this article isn't helpful for you?
Did this article help you?
Thank you for your feedback.
Would you like to speak with a Patient Advocate?
Last Modified June 7, 2019