Talcum Powder and Asbestos Exposure
Fact Checked
Our fact-checking process begins with a thorough review of all sources to ensure they are high quality. Then we cross-check the facts with original medical or scientific reports published by those sources, or we validate the facts with reputable news organizations, medical and scientific experts and other health experts. Each page includes all sources for full transparency.
Scientifically Reviewed
An occupational scientist or another expert who specializes in occupational hazards reviewed the content on this page to ensure it meets current scientific standards and accuracy.
This Page was Scientifically Reviewed By
Asbestos in talc could increase the risk of mesothelioma cancer because various talc products are naturally contaminated with asbestos fibers, which put consumers and industrial workers at risk for exposure.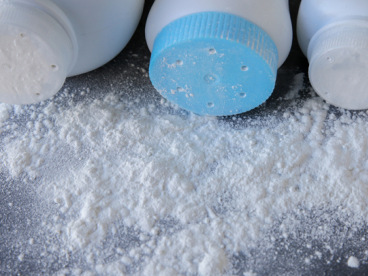 Page Topics
Quick Facts
Talc and Asbestos
Talc is the softest mineral on earth. It is used in industrial products and consumer products. The most widely used consumer talc product is talcum powder.
Finely crushed talcum powder is valued for its ability to absorb moisture and provide lubrication at the same time. People have used talcum powder products to dry, protect and perfume their skin for more than a century.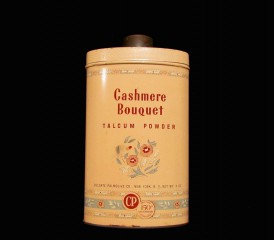 Industrial talc is used in the production of ceramics, plastics, paper, roofing, flooring and rubber.
But in modern times, controversies over talc's safety have marred its reputation.
There is an ongoing debate over whether pure talc is associated with health risks. Researchers agree to breathe the dust from talc mines and processing facilities is unhealthy, but so far, studies on the link between exposure to talc and cancer have been inconclusive.
On the other hand, there is no doubt asbestos exposure through contaminated talc products can cause cancer. In this case, the controversy arises over which industrial talc products and brands of talcum powder were contaminated with asbestos.
The controversy extends to which companies are now liable when people develop asbestos-related cancers such as mesothelioma. In recent years, asbestos talc lawsuits have resulted in several multimillion-dollar verdicts and settlements.
Talc and Mesothelioma
Current research indicates that pure talc does not cause mesothelioma. But talc that is contaminated with asbestos and asbestiform minerals has led to the development of mesothelioma.
In 2019, a study published in the Journal of Occupational and Environmental Medicine presented case studies of 33 people with mesothelioma whose only exposure to asbestos was through the use of asbestos-contaminated talcum powder.
The term "asbestos" refers to six different minerals. The term "asbestiform" refers to minerals with a crystal-like structure that resembles asbestos and shares properties with asbestos. Examples of asbestiform minerals include erionite, richterite, winchite and taconite.
Geologically, talc and asbestos can naturally form alongside each other. Not every talc deposit is contaminated with asbestos. The ones that are contaminated tend to contain tremolite or anthophyllite, both forms of amphibole asbestos, rather than chrysotile, which is the serpentine form of asbestos.
Like talc, the mineral vermiculite commonly forms alongside asbestos and asbestiform minerals. The infamous vermiculite mine in Libby, Montana, was contaminated with tremolite asbestos and the asbestiform minerals richterite and winchite.
Whether a particular talc product contains asbestos has everything to do with its geologic source. If the talc deposit contains asbestos or asbestiform minerals, the products made with that talc are likely contaminated with asbestos.
Different grades of talc may contain varying degrees of asbestos contamination. Medical-grade talc is around 99 percent talc and is used in a procedure called talc pleurodesis to treat pleural effusion caused by mesothelioma. Talc used in medicine is a special grade of talc, reportedly asbestos-free, that is sterilized before use.
Cosmetic-grade talc is approximately 98 percent pure talc.
Industrial-grade talc contains a variety of other minerals in varying quantities depending upon the geologic source. For example, the industrial talc product known as Nytal 100 contains 30 percent talc, 40 percent tremolite, 20 percent serpentine and 10 percent anthophyllite.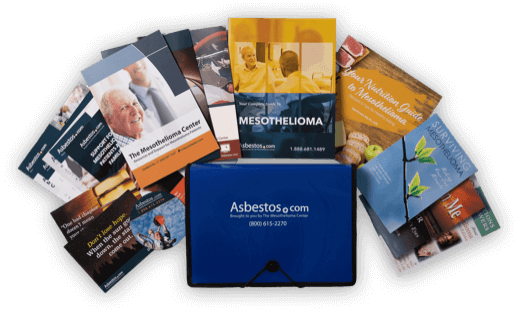 Free Mesothelioma Guide
Our latest guide for patients and loved ones is shipped overnight and includes treatment information, legal resources, mesothelioma books and support wristbands.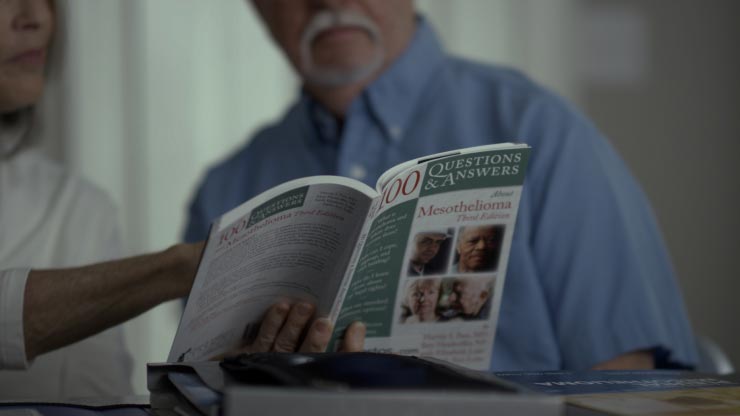 Industrial Talc
Industrial talc is used in a variety of industries to manufacture many modern products.
The agricultural industry uses it as an anti-caking agent in animal feed. The ceramics industry uses it to make ceramic tiles, artware and finishing glazes. Industrial talc is added to coatings, such as paint and glazes, to improve texture, enhance matting and paint adhesion.
The paper industry uses talc to improve printability and reduce surface friction. The plastics and rubber industries use talc as filler and to improve molding ability. Industrial talc is even used in wastewater treatment plants to purify water.
These industries incorporate industrial talc into many different products including:
Clay
Pottery
Ceramic tiles
Crayons
Chalk
Electrical switchboards
Electric cables
Paper
Ink
Sinks
Toilets
Rubber gloves
Plastic automotive parts
Rubber sealants and gaskets
Jointing compounds, putties and adhesives
Household appliances such as stoves, dishwashers, washing machines and dryers
The workers who use industrial talc to manufacture these products are at risk of handling talc contaminated with asbestos. The miners and millers who work with raw talc ore are also at risk of asbestos exposure.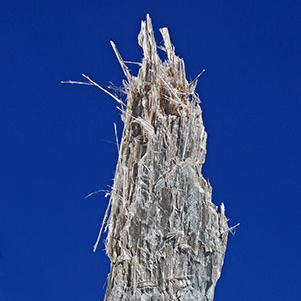 Several scientific studies have shown that mining and milling asbestos-contaminated talc causes asbestos-related diseases and talcosis, which is a pulmonary disorder similar to asbestosis and silicosis.
A 2002 exposure study published in the Annals of Work Exposures and Health found excess cases of mesothelioma and other asbestos-related lung diseases among talc miners in upstate New York.
The mines involved in the study are located in the counties of St. Lawrence and Jefferson, the hub of which was a town called Gouverneur, where R.T. Vanderbilt Company Inc. operated a talc mine. Researchers say the talc mines in this area contain asbestos and asbestiform minerals.
Vanderbilt is known for a particular industrial talc product called Nytal, which is used by many industries, including the painting and plumbing industries, to make a variety of products. It was widely used in the art industry to make pottery, ceramic wall tiles and artware.
There is much controversy around whether Nytal contains asbestos. Numerous scientists claim it does contain asbestos and other asbestiform minerals. Vanderbilt and its scientists claim Nytal contains fibers that may look similar to asbestos but are not a harmful form of asbestos.
Vanderbilt stopped selling Nytal in 2008 because of the controversy. They also shut down their talc mining operations in New York in 2008. Several courts have held Vanderbilt liable for cases of mesothelioma that developed among people who worked with Nytal.
Talc in Cosmetics
Talc used in cosmetics also has a history of asbestos contamination. The contamination has primarily involved talcum powder products. Several cases of contamination have involved children's makeup sold by national retailers Justice and Claire's.
In 2017, Justice and Claire's recalled the children's makeup products that were found contaminated. An additional three Claire's products tested positive for asbestos in a March 2018 report from U.S. PIRG, a consumer and public interest research group.
On March 19, 2018, Claire's filed for bankruptcy, citing $2 billion in debt as the reason for filing. A year later, the FDA confirmed the asbestos contamination in the three of Claire's products listed in the U.S. PIRG report. The retailer announced a recall of the products soon after.
"Out of an abundance of caution, we have removed the three products identified by the FDA from our stores, and are also removing any remaining talc-based cosmetic products," the retailer said.
In addition to talcum powder, cosmetic-grade talc is used in many different cosmetic products.
Foundation
Creams and moisturizers
Eye shadow
Blush
Mascara
Lipstick
Deodorant
Loose and compressed makeup powders
The controversy around asbestos in makeup only recently became a public concern. The controversy around asbestos in talcum powder has been known since the 1970s.
Asbestos in Talcum Powder
Companies began selling talcum powder in the late 1800s to alleviate and prevent skin irritations such as chafing and diaper rash. Pulverized talc became known by many names, including "medicated powder" and "foot powder." But its most famous branding came with the introduction of Johnson's Baby Powder in 1893.
As generations of Americans grew up with talcum powder in their nurseries, talc companies took advantage of the powder's low cost and good reputation by marketing a wide range of talcum powder products for adults.
Numerous companies sold perfumed talcum powder as a face-dusting powder for women and after-shave powder for men. Johnson & Johnson maintained its prime position in the industry with its Shower to Shower line of body powder products.
During the first half of the 20th century, asbestos also had a positive reputation with the American public — because of the industry cover-up of the mineral's terrible health effects. The asbestos industry spent decades denying the mineral's toxicity, giving talcum powder manufacturers no reason to think asbestos-contaminated talc was a problem.
Unfortunately, talc and asbestos often occur in the same geological formations. Many companies sourced their talc from asbestos-contaminated mines, including sites in North Carolina, Alabama, Vermont and northern Italy.
In the 1970s, mounting medical evidence began to turn the tide of opinion against asbestos. Then in 1976, researchers at Mount Sinai Hospital examined 19 samples of American talcum powder products and found asbestos in 10 of them, with the asbestos content ranging from 2 percent to as much as 20 percent, depending on the brand.
Because of the long latency period associated with asbestos-related diseases, though, many people who routinely used contaminated talcum powder in the 1960s may only just now develop symptoms.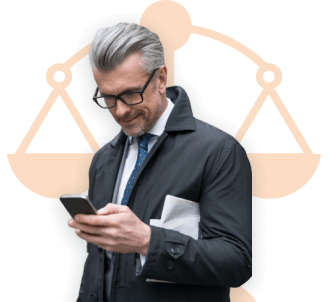 Get Connected to an Asbestos Lawyer
If you think you were exposed to asbestos using talc, we can help match you with an attorney. Get the compensation you deserve.
Talcum Powder Products Associated with Asbestos
The 1976 study did not find asbestos in the talcum powder samples acquired from Johnson & Johnson. However, according to recently unsealed company documents, officials at Johnson & Johnson did suppress reports of asbestos contamination at one supplier's mine in the early 1970s.
A December 2018 investigative report from Reuters News Service revealed Johnson & Johnson knew for decades that its iconic baby powder could be contaminated with asbestos. The consumer goods giant saw shares of stock plummet after the news. The company continues to face thousands of lawsuits alleging its talc products caused cancer.
Imerys North America, a major talc supplier for Johnson & Johnson, filed for Chapter 11 bankruptcy protection in February 2019 amid mounting claims that asbestos contamination in its talc caused mesothelioma and ovarian cancer.
Today, body powder products may be made of pure talc, cornstarch or various other alternatives.
In response to lingering concerns over asbestos contamination, the U.S. Food and Drug Administration (FDA) conducted a study of American talcum powder products in 2009-2010. The FDA found no asbestos contamination, though the report cautions the sample size was limited.
Cosmetic products and ingredients do not have to undergo FDA review or approval before they go to market, with the exception of color additives. However, talcum powder and other cosmetic products must be properly labeled and must be safe for use by consumers under labeled or customary conditions of use.
The FDA monitors potential safety problems with cosmetic products and can take action if sound scientific evidence shows a product is harmful under its intended use.
While no federal regulations exist, the Cosmetic, Toiletry and Fragrance Association (now known as the Personal Care Products Council) in 1976 asked its members to use asbestos-free talc in their products.
Talcum powder brands associated with past asbestos contamination include:
Bauer & Black Baby Talc
Cashmere Bouquet Body Talc
Coty Airspun Face Powder
Desert Flower Dusting Powder
English Leather After Shave Talc
Faberge Brut Talc
Friendship Garden Talcum Powder
Kings Men After Shave Talc
Old Spice After Shave Talc
Pinaud Clubman Talc Powder
Rosemary Talc
ZBT Baby Powder
Common Questions About Talcum Powder
---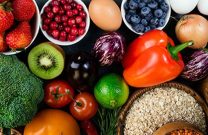 Get Free Recipes for Mesothelioma Patients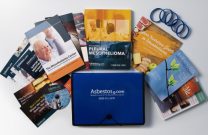 Read the Top Mesothelioma Guide for Free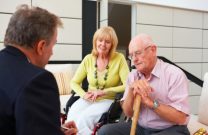 Get the Compensation You Deserve
---
Tell us what you think
Did this article help you?
How did this article help you?
What about this article isn't helpful for you?
Did this article help you?
Thank you for your feedback. Would you like to speak with a Patient Advocate?
---