Talc Lawsuits Involving Asbestos & Mesothelioma
Fact Checked
Our fact-checking process begins with a thorough review of all sources to ensure they are high quality. Then we cross-check the facts with original medical or scientific reports published by those sources, or we validate the facts with reputable news organizations, medical and scientific experts and other health experts. Each page includes all sources for full transparency.
Asbestos-contaminated talc has caused many cases of mesothelioma cancer. Companies who exposed workers to contaminated industrial talc or consumers to unsafe baby powder are liable in personal-injury and wrongful-death lawsuits. Plaintiffs have won millions of dollars in jury verdicts and settlements.
File a Mesothelioma Claim
Connect with a mesothelioma lawyer to find out if you or a loved one is eligible for compensation for:
Treatment costs
Travel expenses
Lost wages
Wrongful death
Get Help Filing a Claim
Page Topics
Talc and Asbestos Contamination
Talc is the softest mineral on earth, and manufacturers use it in a variety of products. Talc is a common ingredient in paints, ceramics and many construction and farming materials. Finely crushed talc is a popular personal hygiene product, widely known as baby powder.
Asbestos naturally occurs in many talc deposits. When people inhale contaminated talc dust on a regular basis, toxic asbestos fibers may accumulate in the lining of their lungs. Over many years, this can cause aggressive diseases such as lung cancer and mesothelioma.
Talc Lawsuit Facts
Exposure to asbestos-contaminated talc can cause cancer
Legal compensation is available through lawsuits
Multimillion dollar settlements and verdicts have been awarded
Experienced mesothelioma lawyers are essential
Before the dangers of asbestos were brought to light in the 1970s, companies using talc were not concerned with asbestos contamination. Even after the government began to regulate asbestos, the talc industry was left to police itself. People had to simply trust companies to use asbestos-free talc.
Unfortunately, asbestos-related diseases have a very long latency period, so it took decades for cancer diagnoses to reveal the talc industry's negligence.
Asbestos-contaminated talc has repeatedly been a major source of toxic exposure for American workers and consumers.
Mesothelioma Lawyers for Talc Lawsuits
It is challenging to hold a company accountable for asbestos exposure when that company did not officially make or use asbestos products. A person's best hope of receiving compensation to cover cancer-treatment costs is to work with an experienced mesothelioma attorney.
Mesothelioma is a rare form of cancer that is almost exclusively caused by asbestos exposure. Historically, the people most at risk were men who spent their careers working with asbestos products such as insulation or cement.
But in recent years, the incidence of mesothelioma began to rise among people with no apparent connection to the asbestos industry. In many cases, these people had one thing in common: They used talcum powder on a daily basis.
Since making that connection, law firms specializing in asbestos cases have found success getting mesothelioma patients and their families the legal compensation they need.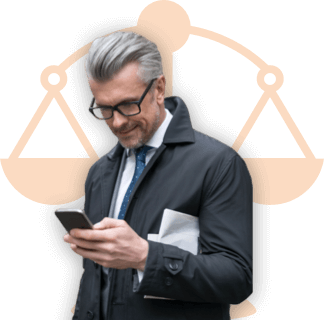 Connect with a Top Lawyer & Pay Nothing Unless You Win
Mesothelioma lawyers typically work on a contingency fee basis, which means they get paid only if you receive compensation from your claim.
Mesothelioma Lawsuits over Industrial Talc
Industrial talc lawsuits brought by mesothelioma patients have gone to trial in the U.S. for nearly two decades. They've primarily involved talc suppliers R.T. Vanderbilt Company Inc. (also known as Vanderbilt Minerals) and Imerys Talc America.
Vanderbilt Minerals
In 2018, Vanderbilt settled a mesothelioma lawsuit filed by Robert Lord while a Florida state court jury was deliberating. In the 1970s, Lord worked with ceramic tiles made from asbestos-contaminated industrial talc.
Lord filed suit in 2017 against several defendants, including Vanderbilt Minerals. By the time the case went to trial in February 2018, Vanderbilt was the only remaining defendant. The settlement amount was not disclosed, but Lord had been seeking up to $11.5 million in damages.
In 2012, the family of Richard Chisholm filed a mesothelioma talc lawsuit against Vanderbilt. In the 1970s, Chisholm used Vanderbilt's industrial talc to make ceramic products.
Chisholm was diagnosed with mesothelioma in 2010 and died in 2012. A New York Supreme Court jury found Vanderbilt at fault and awarded $10.55 million to Chisholm's family.
Imerys Talc America
In 2017, a California jury awarded $22.17 million to Richard Booker. He used asbestos-containing industrial talc to make paint while working at Dexter Midland Chemical Co. and Walter N. Boysen Paint Co.
The talc Booker used was supplied by Vanderbilt Minerals and Imerys Talc America. Testimony presented to the jury from Imerys executives revealed the company had reblended its talc in an attempt to hide the asbestos content.
Mesothelioma Lawsuits Over Consumer Talcum Powder
Asbestos talcum powder lawsuits are a more recent development. These cases involve manufacturers such as Colgate-Palmolive and Johnson & Johnson.
Talc suppliers such as Imerys and Whittaker, Clark & Daniels are also liable.
Johnson & Johnson
In May 2018, a jury in California awarded $21.7 million to mesothelioma patient Joanne Anderson and her husband. Anderson connected her diagnosis to Johnson's Baby Powder.
The lawsuit was filed against Johnson & Johnson and several talc suppliers including Imerys, Cyprus Amax Minerals and Honeywell International.
A month earlier, a New Jersey court ordered Johnson & Johnson and Imerys to pay a total of $117 million to Stephen Lanzo III and his wife. Lanzo's case was Johnson & Johnson's first loss in an asbestos-related talcum powder lawsuit.
Lanzo linked his mesothelioma to asbestos in Johnson & Johnson's Shower to Shower and Baby Powder products.
Whittaker, Clark & Daniels
In 2017, a New York jury ordered Whittaker, Clark & Daniels to pay $16.5 million to Florence Nemeth. She developed peritoneal mesothelioma after using Desert Flower Dusting Powder.
That same year, Colgate-Palmolive opted to settle a mesothelioma talc lawsuit filed by Pennsylvania resident Carol Schoeniger. She used Cashmere Bouquet for more than 20 years. The financial terms of the settlement were not made public.
In 2016, a jury awarded Philip Depoian $18 million in a lawsuit against Whittaker, Clark & Daniels. He had been exposed to the company's contaminated talc in products at his father's barbershop and was diagnosed with mesothelioma in 2015.
Colgate-Palmolive
Judith Winkel won $13 million in a 2015 mesothelioma lawsuit against Colgate-Palmolive and four other companies. She used Cashmere Bouquet brand talcum powder from 1961 to 1976 and was diagnosed with cancer in 2014.
Lawsuits over asbestos-contaminated talcum powder should not be confused with lawsuits over pure talc. Many lawsuits have been filed on the basis that pure talcum powder may cause ovarian cancer, but that matter is unsettled at this time.
---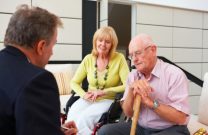 Get the Compensation You Deserve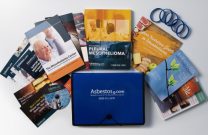 Get Your Free Mesothelioma Legal Guide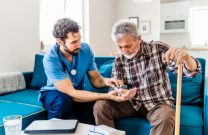 Find a Top Mesothelioma Doctor
---
Tell us what you think
Did this article help you?
How did this article help you?
What about this article isn't helpful for you?
Did this article help you?
Thank you for your feedback. Would you like to speak with a Patient Advocate?
---