The Only Nutrition Guide for Mesothelioma Patients and Families
Unique information you can't find anywhere else
Written by a licensed oncology dietitian
Free overnight shipping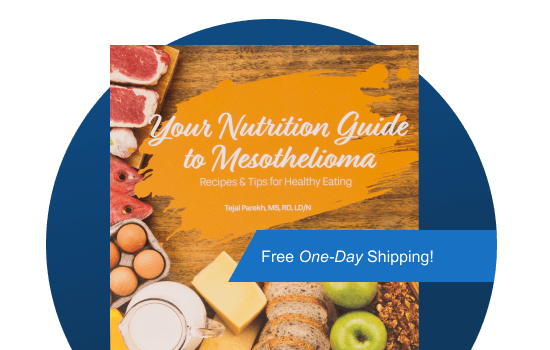 Get Your Free Mesothelioma Nutrition Guide
Why You Need this Exclusive Nutrition Guide
Nutrition plays a vital role in mesothelioma treatment. Get quick and easy recipes designed to ease mesothelioma symptoms.

Take Control of Your Diet
Eating the right diet can help your body heal faster. Learn to manage weight loss and other treatment side effects by eating the right protein and calories.

Get Advice from a Nutrition Expert
Our guide was written by licensed dietitian Tejal Parekh. She has hosted conferences on oncology nutrition and taught cooking classes designed for cancer survivors.
Also Receive a Free Nutrition Journal
Our free mesothelioma nutrition journal contains dozens of pages to help you track the types of meals you're eating and the amount of calories you're consuming.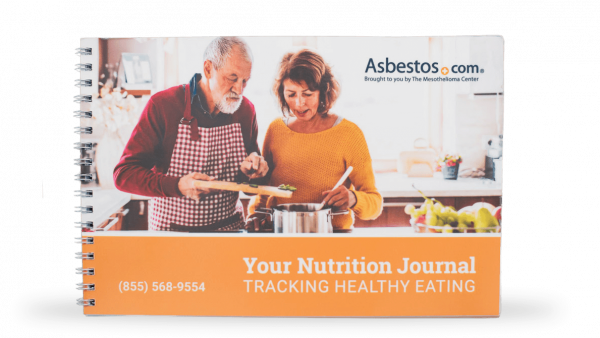 Track Your Healthy Eating
Food journaling can be a useful tool for mesothelioma patients to ensure they're getting enough nutrients and monitor how they're feeling. Keeping a food journal will allow you to identify which foods make you feel good and which foods make you feel nauseous or bloated.

Learn How to Get More from Your Meals
As our bodies cope with cancer and its treatment, they require more nutrients. Eating small, frequent meals, adding healthy fats and regularly eating protein-rich foods can help you get more from your meals as you undergo mesothelioma treatment and recovery.
What People Are Saying About Our Guide
I contacted this organization via internet to request a book on nutrition with recipes. The very next day, I received my dietary book in an organized folder with other valuable information.

Rochelle H.

Mesothelioma Survivor
Working with those diagnosed with mesothelioma has been such a rewarding experience, as they gain a better understanding of how powerful nutrition can be.

Tejal Parekh

Registered & Licensed Dietitian, Author of "Your Nutrition Guide to Mesothelioma"
---
How to Receive Your Free Nutrition Guide
Fill Out the Form

Please complete the form above and provide us with your preferred contact method so we know how to best reach you.

Prepare for Our Call

One of our Patient Advocates will call to learn more about your diagnosis so they can provide you the best assistance.

Look Out for Your Guide

We offer free overnight shipping of our mesothelioma nutrition guide. Be sure to look out for your guide in the mail.
Frequently Asked Questions
Has your mesothelioma nutrition guide been reviewed by an expert?

Yes! Our exclusive guide was written by nutrition expert Tejal Parekh, a registered dietitian with 10+ years helping cancer survivors.

What can I expect to find in my nutrition guide?

Inside, you'll find quick and easy recipes designed to ease mesothelioma symptoms, tips for meal planning, strategies to increase appetite and maintain weights, lists of cancer-fighting foods and more! Along with your guide, you'll also receive a food journal, which includes tips for meal planning and dozens of pages to help you log your meals.

How soon will I receive my nutrition guide?

Mesothelioma patients and families can expect free next-day delivery of our nutrition guide. Once you fill out the form above and verify your request with a Patient Advocate, we will prepare your guide for delivery.
Ready for Free Recipes and Diet Tips?