Center of Excellence
Treatment center that utilizes a tumor board consisting of surgeons, radiation oncologists, pathologists, dietitians and other health care professionals who evaluate individual mesothelioma patients.
Brigham and Women's Hospital
Brigham and Women's Hospital combines the expertise of its well-known mesothelioma specialists, such as Dr. Abraham Lebenthal, and the knowledge of medical partners at the Dana-Farber Cancer Institute to offer patients a well-rounded multidisciplinary team in charge of providing the best treatment in Massachusetts.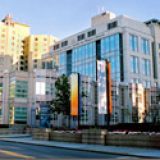 75 Francis St, Boston, MA 02115
About Brigham and Women's Hospital
Mesothelioma patients at Brigham and Women's Hospital (BWH) in Boston access first-class cancer care. The hospital offers the promise of unrivaled diagnosis and treatment of cancer with a major emphasis on mesothelioma and related pleural conditions thanks to its partnership with the Dana-Farber Cancer Institute and Harvard Medical School family.
BWH is home to the prestigious International Mesothelioma Program (IMP), which places a special emphasis on the latest effective treatments for pleural mesothelioma that significantly extend patients' lives.
Founded in 1832 as the nation's first all-maternity hospital, BWH emerged from the 1980 merger of three prestigious Harvard teaching hospitals. Every year, this 793-bed facility with locations throughout the Boston metropolitan area admits an estimated 46,000 inpatient admissions.
In addition, the hospital employs more than 15,000 people, including 3,000 physicians, fellows and residents, more than 1,000 researchers and 2,800 nurses.
BWH has long been hailed as a leading medical destination, as evidenced by its continuous ranking for 24 straight years in U.S. News & World Report's "Honor Roll of America's Best Hospitals." The publication also ranked the Dana-Farber/Brigham and Women's Cancer Center fourth best cancer center in the nation for 2016-17.
A World-Class International Mesothelioma Program
The International Mesothelioma Program treats 180 patients and offers 310 consultations annually, making it the world's largest program of its kind.
IMP prospered under the leadership of its founder Dr. David Sugarbaker, an internationally well-known innovator in mesothelioma treatment and the former chief of thoracic surgery at BWH.
Sugarbaker pioneered the extrapleural pneumonectomy (EPP) surgery for pleural mesothelioma a primary treatment option that has helped extend the lives of thousands of patients. He left Brigham and Women's in 2014 to serve as director of the Lung Institute at Baylor College of Medicine.
A key member at IMP is Dr. Raphael Bueno, a specialist in lung and esophageal cancers, mesothelioma and minimally invasive surgery. Bueno, who took over Sugarbaker's role as chief of the division of thoracic surgery, decided to dedicate every Friday solely to mesothelioma patients. Dr. Abraham Lebenthal, an esteemed surgeon on Bueno's team, specializes in mesothelioma, diseases of the gastro-esophageal junction, esophageal cancer and lung cancer.
The treatment team at the IMP embraces a multimodal approach, offering multiple treatment options and combinations for mesothelioma and other conditions. Specialists from the hospital's affiliates contribute to patient care. IMP has made great strides in the biology and target discovery of mesothelioma, including growth control, over-expressed genes and the expression of specific antigens. The program also stresses the need for improved approaches to mesothelioma diagnosis, pathology and treatments, and a better understanding of patient outcome and patterns of recurrence.
Besides treatment advances, the IMP is also a center for mesothelioma research.
Researchers from multiple backgrounds collaborate to improve future therapies and learn more about the cancer and its causes. Since 1993, these research collaborations have resulted in an array of individual and joint publications.
At the time I was diagnosed, Brigham was the place to go. It still is.

Emily Ward

Diagnosed with pleural mesothelioma in 2012
Brigham and Women's Partnership with Dana-Farber
In 2003, Brigham and Women's promoted its close affiliation with the Dana-Farber Cancer Institute by creating the Dana-Farber/Brigham and Women's Cancer Center (DF/BWCC), a new name for the integrated cancer services provided at both facilities. Today, the center is a national leader in cancer care and research.
Mesothelioma patients at the joint center can expect the highest quality of care from leading cancer specialists at Dana-Farber and Brigham and Women's. The affiliation between both centers allows them to collaborate and share crucial knowledge and resources. This level of teamwork not only bolsters research, but also helps many patients meet with all of their specialists in one visit.
Dana-Farber is located just across the street from Brigham and Women's.
Patients often have appointments at both facilities for treatment, depending on the procedure. Those who opt for surgery are treated at Brigham and Women's IMP. Other services offered there include post-surgical care, radiation therapy and treatments for pain and palliative care.
Most treatments and procedures that don't require a hospital stay, such as chemotherapy, are provided by Dana-Farber at the Yawkey Center for Cancer Care. Clinical trials take place at both centers.
Clinical Trials for Mesothelioma and Lung Cancer
Brigham and Women's is a top recipient of National Institutes of Health research grants and internationally known for its clinical, translational, bench and population-based research studies.
The hospital has more than 150 on-staff lead researchers investigating pressing issues in cancer care with the help of more than 200 funded grants.
These studies aim to improve the treatment and prevention of many cancers, including mesothelioma and lung cancer.
Clinical trials for asbestos-related cancers at Brigham and Women's include:
Defactinib in Pleural Mesothelioma Patients Eligible for Surgery
This phase II study will explore the safety and effectiveness of defactinib, an experimental drug that targets mesothelioma stem cells. These cells cause tumors to grow resistant to chemotherapy over time, and researchers suspect defactinib can prevent this resistance and block the cancer's ability to grow.
Everolimus as Second Line Therapy
Everolimus is an immunosuppressant drug that works by blocking a protein that helps cancer grow. It received FDA approval earlier in 2016 for tumors of gastrointestinal (GI) or lung origin with unresectable metastatic disease. The purpose of this study is to find out if everolimus can shrink or slow the growth of pleural mesothelioma tumors. Researchers also are studying the drug's safety and possible use as a second-line treatment when standard chemotherapy stops working.
CB-839 to Stop Various Cancers
Glutaminase Inhibitor CB-839 will be studied for effectiveness in various tumors, including pleural mesothelioma. Others include non-small cell lung cancer, renal cell cancer and triple-negative breast cancer. This is a phase I dose-escalation study of patients with solid tumors. Patients will be treated in combination with standard chemotherapy. This is a selective inhibitor that targets glutaminase, the first enzyme in glutamine, an amino acid that produces energy for growth and survival in tumors.
Immunotherapy Drug Pembrolizumab
Pembrolizumab, also known by its brand name Keytruda, will be studied on multiple types of unresectable or solid tumors that progressed beyond standard-of-care therapy. Pembrolizumab successfully speeds a cancer patient's own immune system, allowing it to attack the tumor cells without harming the healthy ones. The study will include mesothelioma, small cell lung cancer, thyroid carcinoma and anal carcinoma, among others.
Completed Clinical Trials
Past clinical trials at BWH that improved our understanding of mesothelioma and lung cancer include:
Pleurectomy/Decortication Followed by Intrathoracic/Intraperitoneal Heated Cisplatin for Malignant Pleural Mesothelioma
Extrapleural Pneumonectomy with Intraoperative Intrathoracic/Intraperitoneal Heated Cisplatin with Amifostine and Sodium Thiosulfate
National Lung Screening Trial (NLST) Screening
Video-assisted Surgery in Treating Patients with Non-Small Cell Lung Cancer