NCI-Designated Cancer Center
Cancer center recognized by the National Cancer Institute as one that meets rigorous standards for multidisciplinary, innovative research focused on developing new and improved approaches to preventing, diagnosing and treating cancer.
Dana-Farber Cancer Institute
The Dana-Farber Cancer Institute in Boston is known for its cancer research program and its affiliation with Brigham and Women's Hospital, home to the renowned International Mesothelioma Program.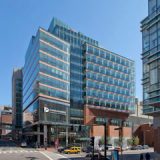 450 Brookline Ave, Boston, MA, 02215
Mesothelioma Treatment Options at Dana-Farber Cancer Institute
Patients at Dana-Farber Cancer Institute have access to the acclaimed International Mesothelioma Program, the world's largest treatment center specializing in this rare and aggressive cancer caused by asbestos exposure.
IMP has more than 20 years of clinical and research experience focused on improving survival and making progress toward a mesothelioma cure. The program originated with famed thoracic surgeon and mesothelioma specialist Dr. David Sugarbaker, who died in 2018.
The program takes a coordinated team approach to treatment for mesothelioma, incorporating oncologists from a wide range of specialties into each patient's course of treatment. In addition to medical oncologists, the team of cancer specialists may include thoracic surgeons, radiation oncologists and pulmonologists.
Thoracic surgeons Dr. Raphael Bueno, Dr. Abraham Lebenthal and Dr. Hassan Khalil, along with thoracic oncologist Dr. Scott Swanson and radiation oncologist Dr. Elizabeth Baldini, are key members of the International Mesothelioma Program.
Bueno succeeded Sugarbaker as program director. Lebenthal was recruited by Sugarbaker, trained under him and has cemented his reputation as one of America's most acclaimed mesothelioma specialists.
All the physicians work closely together to provide patients with the care and resources they need throughout the course of treatment. They may also benefit from a wide range of support services at IMP, including nutrition, palliative care and social work services. Many patients are able to see all of their specialists in one visit.
Multimodal Therapy Key at Dana-Farber
The team at IMP develops a treatment plan tailored to your specific diagnosis and needs. For many patients, a multimodal approach works best. Multimodal therapy involves some combination of surgery, radiation therapy and chemotherapy, and also may include one or more experimental therapies accessed through mesothelioma clinical trials. Treatment decisions vary depending on the tumor's size and location, as well as a person's age and general health.
Surgery aiming to remove all visible mesothelioma tumors often extends the life expectancy of early-stage patients who are healthy enough for aggressive treatments. Cancer experts at IMP have pioneered a technique that combines surgery with a heated chemotherapy bath, which is delivered directly to the chest cavity after surgery. Heating the chemotherapy drugs improves the effectiveness of therapy, killing more of the cancer cells unavoidably left behind after surgery.
Surgery and other procedures that require you to be admitted to the hospital are offered at Brigham and Women's Hospital. The Dana-Farber Brigham Cancer Center team provides post-surgical care and radiation therapy. Chemotherapy and other procedures that don't require a hospital stay are offered at Dana-Farber's Yawkey Center for Cancer Care. Housing for you and your family during treatment is provided by Thornton & Naumes Mesothelioma House, located across the street from Brigham and Women's.
Dana-Farber Cancer Institute's History of Excellence
Located in Boston, the Dana-Farber Cancer Institute is a founding member of the Dana-Farber/Harvard Cancer Center, a consortium that combines the research efforts of seven Harvard-affiliated medical institutions. It's also the largest National Cancer Institute-designated Comprehensive Cancer Center in the country. The DF/HCC receives more than $500 million per year in research grants sponsored by the National Institutes of Health. This funding is used to help scientists develop new treatments and therapies to continually improve the outlook for cancer patients.
According to U.S. News and World Report, the Dana-Farber Brigham Cancer Center ranked fourth on the publication's list of top 10 U.S. cancer centers for 2021-2022.
Dana-Farber's history of excellence in cancer treatment began in 1947, when Dr. Sidney Farber founded the Children's Cancer Research Foundation. That same year, Farber discovered an innovative new therapy for leukemia, which at the time came with a poor prognosis and had no effective treatments. He tested the new therapy on 16 children diagnosed with the cancer, and helped 10 of them achieve temporary remission.
In 1969, the foundation extended its state-of-the-art treatments to cancer patients of all ages. To honor Farber and his compassion for patients, the foundation changed its name to the Sidney Farber Cancer Center in 1974. It became the Dana-Farber Cancer Institute in 1983 to commemorate the Charles A. Dana Foundation and its long-term support for cancer research.
Despite changes to the treatment center's name and focus over the years, one thing has remained constant: A strong commitment to improving cancer care. Dana-Farber sets itself apart from other leading cancer centers by dedicating an equal amount of effort to scientific research and patient care. Close collaboration in these areas laid the foundation at the facility for future progress in treating and preventing cancer.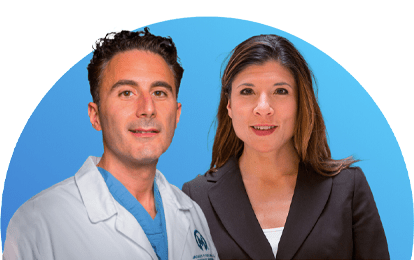 Find a Mesothelioma Specialist
Get specialized treatment from experienced mesothelioma doctors.
Dana-Farber Cancer Institute Excels at Research
Research endeavors at the Dana-Farber Cancer Institute convert laboratory findings into noteworthy improvements in cancer education, prevention, diagnosis and treatment. What most distinguishes Dana-Farber's research is the extent of its researchers' collaboration. Resources are shared among the DF/HCC, which includes Dana-Farber, Brigham and Women's and several other hospitals and learning facilities. These institutions pool resources and advanced technology to improve cancer prevention, test experimental treatments and perform clinical and basic research.
As a principal teaching affiliate of Harvard Medical School, Dana-Farber's 19 core research facilities offer countless improvements in research, training and outreach opportunities for students, fellows and scientists alike. A large series of collaborative programs are organized based upon the study of specific diseases or research disciplines.
Medical oncologists, such as mesothelioma specialist Dr. Pasi A. Jänne, are breaking ground in the study of genetic factors that cause cancers to grow and spread. Jänne performs innovative laboratory studies at Dana-Farber Brigham Cancer Center to help scientists better understand mutated epidermal growth factor receptors. Jänne believes that investigating ways to inhibit these receptors can prevent cancerous cells from resisting therapy. The research also may lead to more effective treatments for malignant mesothelioma and lung cancer.
Mesothelioma Clinical Trials at Dana-Farber Cancer Institute
A randomized phase II clinical trial comparing the effectiveness of pembrolizumab (Keytruda) against using pembrolizumab with anetumab ravtansine for patients with mesothelin-positive pleural mesothelioma.
A phase III clinical trial for unresectable cases of pleural mesothelioma, comparing the use of standard chemotherapy, either cisplatin or carboplatin and pemetrexed, with chemotherapy and durvalumab, an immunotherapy drug.
A clinical trial designed to evaluate a new method of determining the stage of disease and prognosis for mesothelioma patients. Investigators would use biopsied tissue samples from each patient.