Center of Excellence
Treatment center that utilizes a tumor board consisting of surgeons, radiation oncologists, pathologists, dietitians and other health care professionals who evaluate individual mesothelioma patients.
NCI-Designated Cancer Center
Cancer center recognized by the National Cancer Institute as one that meets rigorous standards for multidisciplinary, innovative research focused on developing new and improved approaches to preventing, diagnosing and treating cancer.
The H. Lee Moffitt Cancer Center in Tampa is among Florida's top hospitals specializing in mesothelioma. Its surgeons, radiologists, oncologists and other medical professionals are part of a multidisciplinary team involved in some of the nation's ongoing mesothelioma clinical trials.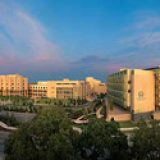 12902 Magnolia Drive, Tampa, FL 33612
Moffitt Cancer Center Excels at Mesothelioma Research and Treatment
The H. Lee Moffitt Cancer Center & Research Institute in Tampa unveiled its Mesothelioma Research and Treatment Center in 2012, providing an official umbrella to the outstanding multidisciplinary work Moffitt has been doing with this disease for many years.
Moffitt is the third-largest cancer center in the United States. It is one of only two NCI-designated Comprehensive Cancer Centers in Florida. Regarded as one of the top cancer care facilities in the country, Moffitt began this specialized program within its department of thoracic oncology, trumpeting a group of physicians with expertise in the treatment of malignant pleural mesothelioma.
The belief is that patients throughout Florida don't have to travel to Boston or New York anymore to get the best possible care for mesothelioma. It's already close to home.
Some of these well-known facilities are very good and have decades of outstanding experience in treatment of mesothelioma. But there are now other centers around the country doing innovative things, too. We're one of them.

Dr. Jacques Fontaine

Director of the Mesothelioma Research & Treatment Center at Moffitt
Thoracic surgeon and professor at University of South Florida Dr. Jacques Fontaine joins medical oncologist Dr. Michael Shafique, radiation oncologist Dr. Brad Perez, and Dr. Bela Kis in interventional radiology, to form a core group of mesothelioma experts at Moffitt Cancer Center.
Together, they provide the multidisciplinary approach that is imperative in successful treatment mesothelioma, which is diagnosed in an estimated 3,000 patients annually in the United States. The group meets regularly to discuss each individual case, making sure every patient receives a well-coordinated treatment plan.
"We function as a team. And that's absolutely key in providing the best possible care," Fontaine said. "Under one roof, everyone is pulling in the same direction with the same goal." The team also includes pathologists, pulmonologists, nurses, nutritionists and social workers.
Among the wide range of cutting-edge mesothelioma treatment options available to patients at Moffitt, the following are commonly used at the center:
Novel Clinical Advancements at H. Lee Moffitt Cancer Center
Moffitt's Mesothelioma Treatment and Research Center also puts a strong emphasis on developing novel treatment options through clinical research.
In October 2012, Moffitt joined the National Cancer Institute (NCI) in a phase Ib study involving a CRS 207 vaccine and immunotherapy for mesothelioma patients. Moffitt also is in the midst of a phase III study of NGR-TNF, a treatment engineered to kill mesothelioma tumor cells.
Moffitt has been a leader in cancer research for many years. The center is designated by the NCI as one of the country's select Comprehensive Cancer Centers, a testament to the research and clinical programs, along with its high standards for excellence in cancer prevention, education, patient care and basic science.
For 15 consecutive years, U.S. News and World Report listed Moffitt as one of the nation's best hospitals for cancer treatment. Moffitt's peer-reviewed grant funding exceeds $75 million, which includes a prestigious Specialized Programs of Research Excellence (SPORE) grant in lung cancer. Since first opening its doors in 1986, Moffitt has partnered with the University of South Florida in Tampa to provide teaching opportunities.
Moffitt Cancer Center Leads the Way with Innovation
The ultimate goal at Moffitt is the prevention and cure of all cancer types, providing leadership in the field.
Perez is considered a pioneer in the application of Intensity Modulated Radiation Therapy (IMRT) for mesothelioma. It allows safe delivery of high doses of radiation to cancerous tumors while reducing any harmful effects of surrounding healthy tissue – even if the lung is not surgically removed.
In 2019, Perez opened a multi-institutional clinical trial at Moffitt to study the efficacy of IMRT in mesothelioma patients who did not undergo surgical removal of their lung, and preliminary results are very encouraging.
"To make advances in the treatment of mesothelioma, you have to be willing to innovate," Fontaine said. "And our patients benefit from this approach. Collaboration is so key to what we do. Mesothelioma is a very aggressive cancer, but we can treat it aggressively now."
Mesothelioma Clinical Trials at H. Lee Moffitt Cancer Center
A phase II clinical trial to evaluate the safety and efficacy of transarterial chemoperfusion treatment with cisplatin, gemcitabine and methotrexate for patients with unresectable pleural mesothelioma.
A phase II clinical trial studying the effectiveness of an immunotherapy combination of nivolumab (Opdivo) and ramucirumab (Cyramza) for previously treated patients with mesothelioma.
A phase II clinical trial studying the safety of using both chemotherapy and Intensity Modulated Radiation Therapy (IMRT) after aggressive pleurectomy and decortication surgery.