What Is a Peritonectomy?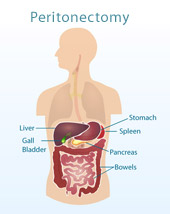 A peritonectomy is a procedure used to remove cancerous tumors from the lining of the abdominal cavity.
During a peritonectomy, an involved procedure called cytoreductive surgery is performed, which aims to remove as much cancerous growth as possible from multiple sites in the abdomen. When the mesothelioma involves many areas of the abdominal cavity, the cytoreductive surgery may involve removing portions of various organs, including the stomach, intestines, liver, pancreas, and spleen, among others.
When performed as stand-alone procedures, peritonectomy and cytoreductive surgery can give patients relief from abdominal pain and loss of appetite. However, doctors often perform cytoreductive surgery in combination with other treatments. When used with chemotherapy, the surgery has the ability to kill cancer and extend life span. This combination has helped some patients to live seven years or longer after diagnosis.
Cytoreductive Surgery Procedure
Cytoreduction is a complex procedure that generally lasts 10 to 12 hours. Because this mesothelioma surgery is so lengthy, patients are sometimes admitted to the hospital a day before the surgery. Doctors use the extra day for preoperative testing (X-rays, blood tests and other preparatory measures).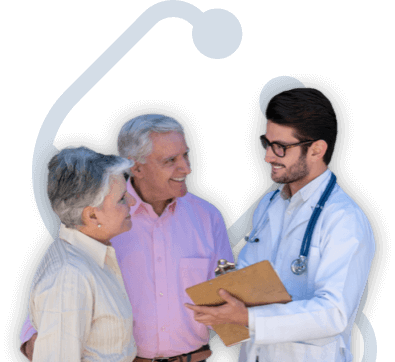 Find a Mesothelioma Cancer Center
Top mesothelioma cancer centers have cutting-edge technology and multidisciplinary teams with experience treating this rare disease.
Get Help Now
Hospital Stay
After surgery, patients can expect an extensive recovery period in the hospital and at home. Many patients have a post-op hospital stay of more than a week. While there, they can have chemotherapy as potentially curative care.
Heated Chemotherapy
A heated chemotherapy regimen – administered into the abdominal cavity for direct contact with cancer cells – is most commonly delivered after the tumor cytoreduction is complete. This generally lasts 90 minutes, while the patient is still under general anesthesia.
Home Recovery
Once discharged from the hospital, patients should expect another two or three weeks of recovery at home. A large part of this recuperation depends on the recovery of the digestive system, which can experience significant complications after cytoreduction.
Completeness of Tumor Removal Impacts Prognosis
Mesothelioma experts consider peritonectomy and cytoreductive surgery critical to successfully treating peritoneal mesothelioma with a curative intent. Reducing the amount of visible cancer through surgery allows chemotherapy to better penetrate the cancerous cells that are invisible to the naked eye.
The more cancer a surgeon can remove the better chemotherapy will work for a patient, and this is why electrosurgery is used by surgeons instead of traditional scissor and knife tools. The margins around the removed tumor often contain microscopic cancerous cells. Surgical margins are assessed after surgery according to the Completeness of Cytoreduction Score, which evaluates the amount of potentially remaining cancerous tissue. Based on a scale of zero to four, lower scores indicate further removal of cancer in the margins.
Effect on Life Span
A combination of cytoreductive surgery and chemotherapy can help some patients become long-term survivors. In general, when peritoneal mesothelioma patients follow this treatment regimen, doctors report a median survival of approximately three years. One study of 49 patients achieved a median survival of 92 months (about 7.5 years). This is a drastic difference from the typical mesothelioma prognosis of one year or less.
Another study, published in Anticancer Research in 2019, reported a 50 percent five-year survival rate among peritoneal mesothelioma patients who underwent cytoreductive surgery and heated chemotherapy. However, the same study also reported a 75 percent five-year survival rate among patients who underwent radiacal surgery similar to cytoreductive surgery along with traditional systemic chemotherapy that wasn't heated.
If you have peritoneal mesothelioma, proper treatment can help you become a survivor. Treatments such as cytoreduction may add years to your lifespan. Discuss your situation with a mesothelioma specialist and create a personalized treatment plan.
Access More than $32 BIllion in Trust Funds
Learn How
10 Cited Article Sources
The sources on all content featured in The Mesothelioma Center at Asbestos.com include medical and scientific studies, peer-reviewed studies and other research documents from reputable organizations.
Bridda, A., MD, Padoan, I., MD, Mencarelli, R., MD, & Frego, M., MD. (2007). Peritoneal mesothelioma: A review. Medscape General Medicine, 9(2), 32. Retrieved from: https://www.ncbi.nlm.nih.gov/pmc/articles/PMC1994863/#R49
Cancer Research UK. (2010). Peritoneal mesothelioma treatment. Retrieved from: http://cancerhelp.cancerresearchuk.org/type/mesothelioma/treatment/types/peritoneal-mesothelioma-treatment
Carroll, N.M., Mohamed, F., Sugarbaker, P.H., & Alexander, H.R. (2005). Surgery, Hyperthermic Chemoperfusion, and Postoperative Chemotherapy: The National Cancer Institute and Washington Hospital Cancer Experience. In Pass, H.I., Vogelzang, N.J., & Carbone, M. (Eds.), Malignant Mesothelioma (732-754). New York, NY: Springer Science+Business Media.
Center for Surgical Oncology at the Washington Cancer Institute, Washington Hospital Center. (2011). Specialty Section for the Treatment of Peritoneal Mesothelioma. Retrieved from: http://www.surgicaloncology.com/meso.htm
Center for Surgical Oncology at the Washington Cancer Institute, Washington Hospital Center. (2011). Your Surgery & Hospitalization: What to Expect. Retrieved from: http://www.surgicaloncology.com/soaexpec.htm
De Pangher Manzini, V., et al. (2009). Malignant peritoneal mesothelioma: a multicenter study on 81 cases. Annals of Oncology, 21: 348-352. Retrieved from: http://annonc.oxfordjournals.org/content/21/2/348.full.pdf
Hassan, R., et al. (2006). Current treatment options and biology of peritoneal mesothelioma: meeting summary of the first NIH peritoneal mesothelioma conference. Annals of Oncology, 17: 1615-1619. Retrieved from: http://annonc.oxfordjournals.org/content/17/11/1615.full.pdf
Institute for Cancer Care at Mercy (2011). IPHC/HIPEC Booklet. Retrieved from: http://www.mdmercy.com/centerExcellence/cancer_services/surgical_oncology/iphchipec_booklet.html
Sugarbaker, P. (2013). Cytoreductive surgery using peritonectomy and visceral resections for peritoneal surface malignancy. Translational Gastrointestinal Cancer 2(2):54-74. doi: 10.3978/j.issn.2224-4778.2013.01.02
Salo, S.A.S. et al. (2019). Malignant Peritoneal Mesothelioma: Treatment Options and Survival. Retrieved from: https://www.ncbi.nlm.nih.gov/pubmed/30711965
How did this article help you?
What about this article isn't helpful for you?
Did this article help you?
Thank you for your feedback.
Would you like to speak with a Patient Advocate?
Last Modified February 18, 2021