Virtual Relationships While Social Distancing
Staying connected to loved ones without spending time with them in person can be difficult. Whether you're separated for health reasons or simply by distance, it can be a challenge to find ways to be together and make meaningful connections when you're limited to doing so virtually.
Thanks to the wonders of technology and human ingenuity, we now have dozens of ways to connect online, from a simple face-to-face phone call to fully integrated game nights with friends. But when you or a family member are ill, it can feel like there's an elephant in the (chat) room that makes it hard for conversation to flow naturally.
If you're having a hard time having the easy, natural conversations you're used to, here are a few tips that can help.
Page Topics
Address the Elephant in the (Chat) Room

Sometimes, the thing that's causing awkwardness is the fact that one or both people are reluctant to address the illness, or don't know how to do so. But pointedly avoiding it often makes the conversation more uncomfortable than if you'd just mentioned the topic outright.
A good way to loosen up conversation is to mention details about treatment in ways that don't relate directly to the person's illness. Once your conversation starts to flow, you and your loved one will both feel more comfortable delving into specifics (if you want — if not, that's okay too).
For example, you might mention something you saw on the news in the hospital waiting room, or ask if your loved one has been reading anything good during chemotherapy treatments. These casual references to treatment help reinforce that what the patient is experiencing is normal and acceptable to talk about.
Find the Right Conversation Topic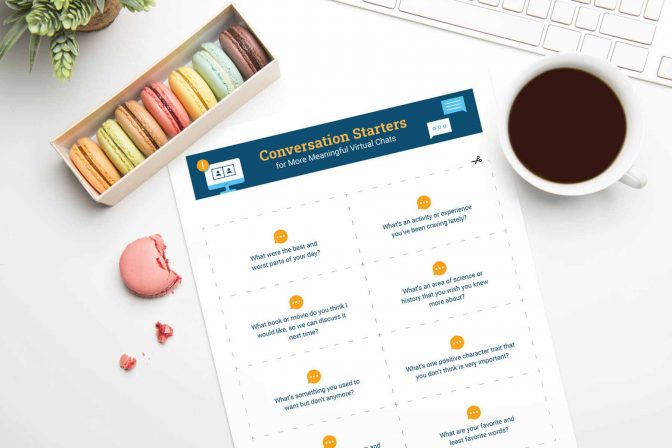 Even when illness isn't a part of the equation, getting a conversation off the ground can be more difficult virtually than it is in person. Use these printable conversation starters to generate some ideas. You can start with the general topics or get more specific with questions for kids, teens or seniors.
We also included a page of conversation starters specifically for chatting with people in treatment, which you can use with the tips above to get more comfortable talking about their illness and medical experiences. Questions like, "Have you picked up any new hobbies?" give your loved one the opportunity to mention how they've been passing the time in treatment if that's something they feel comfortable with.
It might seem a bit odd to need conversation starters to chat with family and friends, but rest assured that bridging the uncomfortable digital divide that comes with virtual relationships is something everyone has to overcome.
Try an Activity

Another way to ease into conversation quickly is to pair it with an activity you can do together, even while you're separated by a screen. Giving both people something to do with their hands can help eliminate awkward silences and propel the conversation forward.
Here are some activities that are easy to do while video chatting. Try one or use them to inspire ideas of your own.
Pick a recipe for both people to make and chat while you're cooking.
Get facial masks and nail polish and have a miniature spa session.
If you have little ones, try BookChat, which lets you read picture books to nieces, nephews or grandkids even when they're far away.
Watch a movie together. This is an especially good choice for days when patients want company but are too exhausted to do anything particularly active.
Pick up a hobby you've both wanted to try, like knitting or embroidery, and work on your projects while you chat.
If you're feeling energetic, try following along to the same online yoga video.
The key, of course, is to set realistic expectations and be prepared for things to go awry the first few times you try. If young ones run off after a few minutes or your microphone cuts out mid-call, try not to get too frustrated — just call it a day and try again another time.
Avoid Tricky Topics

When a loved one has a serious illness, it's easy to put your foot in your mouth by saying something unintentionally insensitive. Luckily, it's not difficult to avoid these topics as long as you're aware of them ahead of time. You don't need to walk on eggshells when chatting with your loved one; all you need to do is remain sensitive to their experiences.
Gear the conversation toward things that are easy to feel good about, like movies, sports, hobbies and pets, instead of stressful things like politics or negative news.
Be realistic in your optimism. It's important to stay positive, but making untrue or exaggerated statements just to sound cheerful will feel disingenuous.
Allow your loved one to express their emotions. Don't try to solve their frustrations or fears or distract them by changing the subject — just be there to listen and support them.
Share details about your life, whether via funny stories about work or asking their opinion on a tricky problem at home. Help them be present in your life even when they're not physically nearby.
Don't try to "fix" things for them, especially their illness — remember that their doctor knows what's right for them, and recommending things like lifestyle or diet changes isn't helpful.
Don't change your personality in order to be unnaturally cheerful or energetic simply because your loved one is sick. Being your normal self is the best thing you can do to give them the comfort and support they need.
There are many organizations that offer support for cancer patients and their families, including virtual options. The key to finding meaningful connection online is to be creative, stay flexible and anticipate some awkwardness along the way. These tips and conversation starters will ease the process, but maintaining relationships from afar is always going to be a little difficult, no matter the situation.
As long as you approach the challenge with an open mind and a good sense of humor, you'll find something that works for you. Having a condition, like mesothelioma cancer, that makes in-person interactions risky can be incredibly difficult, which is exactly why maintaining those supportive relationships is so important. Finding workarounds to distance is a little tricky, but well worth the effort.
---