Hospice Care for Mesothelioma Patients
Fact Checked
Our fact-checking process begins with a thorough review of all sources to ensure they are high quality. Then we cross-check the facts with original medical or scientific reports published by those sources, or we validate the facts with reputable news organizations, medical and scientific experts and other health experts. Each page includes all sources for full transparency.
For more than 40 years, hospice has provided compassionate care for patients whose illnesses have stopped responding to treatment. It is designed to offer physician and nursing care services, pain management, medical appliances and supplies, dietary counseling and spiritual support for terminally ill patients.
Page Topics
When to Consider Hospice Care
Hospice care is a type of health care that aims to relieve symptoms and improve quality of life for people with terminal conditions. Patients and their families may consider hospice once the patient is given six months to live.
The typical life expectancy for mesothelioma is about one year. Many families facing mesothelioma come to rely on hospice care to access excellent health care and supportive services.
As a patient, choosing this type of care does not mean you are giving up. As a caregiver, it does not mean you are abandoning a loved one. Hospice is about providing comfort and preserving quality of life.
Hospice offers levels of care that range from basic care provided at home to complete care provided at inpatient medical facilities. While these services are not intended to improve a mesothelioma prognosis, some patients outlive their initial prognosis thanks to the high-quality care that hospice provides.
Your hospice care team may include the following professionals:
Doctors
Medical specialists
Nurses
Home health aides
Occupational or physical therapists
Mental health counselors
Bereavement specialists
Social workers
Chaplain, clergy members or spiritual leaders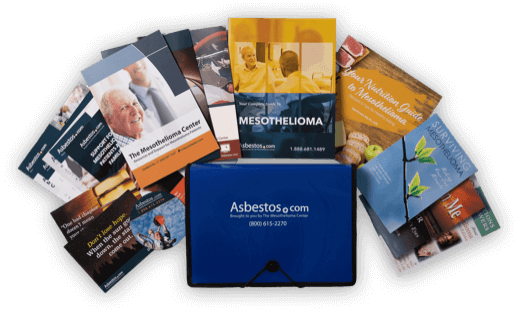 Free Mesothelioma Guide
Our latest guide for patients and loved ones is shipped overnight and includes treatment information, legal resources, mesothelioma books and support wristbands.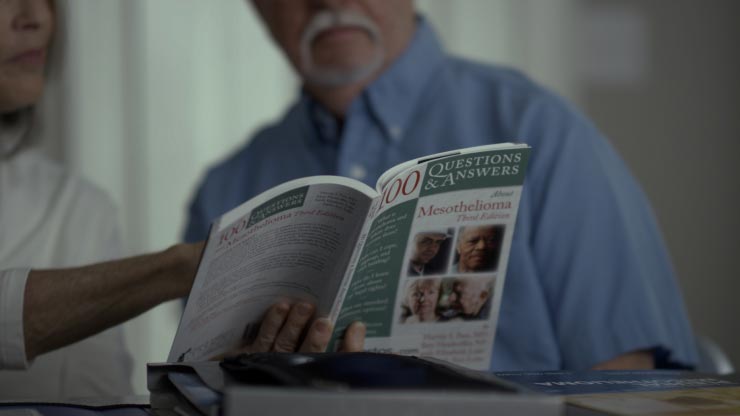 Hospice Care Options for Mesothelioma Patients
Hospice care is equipped to meet the unique needs of mesothelioma patients, including:
Facilitate Breathing: Mesothelioma cancer can weaken several major bodily systems. The respiratory system is typically the most heavily affected, and many patients experience shortness of breath or difficulty breathing. Hospice workers know about breathing techniques and specific positioning techniques that can help a patient stand, sit or lie down in a way that would optimize airflow.
Diet and Nutrition Plans: A compromised digestive system may make it difficult for a mesothelioma patient to intake adequate nutrients and fluids. This is a primary concern for peritoneal mesothelioma patients experiencing digestive issues. Hospice teams can create customized plans to ensure patients are appropriately nourished and hydrated.
Pain Relief: Hospice workers may administer additional medications to help reduce the pain caused by late-stage mesothelioma. Because of its ability to reduce breathing stress for patients with lung diseases, morphine is commonly prescribed to pleural mesothelioma patients. Hospice can also offer alternative painkillers to reduce related discomfort. Doctors and nurses can review the medications a patient is taking to determine the most appropriate way to control pain.
Support: This type of care extends beyond the physical aspect and incorporates emotional, social and spiritual support when requested. Support groups are open to patients and their families, while counselors can help a patient and loved ones come to terms with the realities of a terminal disease.
End-of-Life Arrangements: Hospice professionals can help with end-of-life arrangements, such as wills and advance directives. Hospice also offers nondenominational spiritual counsel for patients who wish to participate. After a patient dies, the program continues to offer support groups, counseling and bereavement services to the family for an extended period of time.
Tips on Choosing a Hospice Program for Mesothelioma
Consider the following tips when choosing a hospice program for your loved one:
Get a Referral: If you are a mesothelioma patient expected to live fewer than six months and have discussed the hospice option with your family and medical team, you may initiate the process by asking your doctor for a referral. An oncologist can sign the necessary paperwork indicating that the patient's condition makes them eligible for this type of care.
Decide on a Level of Care: Depending on your location, you may have multiple choices for where to receive hospice care. Mesothelioma patients may be treated on either an inpatient or outpatient basis. Outpatient care offers the traditional services in the comfort of the patient's home, while inpatient care is given to patients at residential facilities, nursing homes or specific hospice communities.
Interview the Medical Director: There are more than 4,700 hospice programs in the United States, many of which are certified by Medicare as upholding specific standards of care. With so many options, you will want to discuss the care you can obtain from a program with its medical director or admissions department.
Take a Tour: Be sure to ask about their experience with mesothelioma or lung cancer patients. Just like choosing a mesothelioma doctor, you will want to choose a facility that is familiar with the complex aspects of caring for someone with mesothelioma.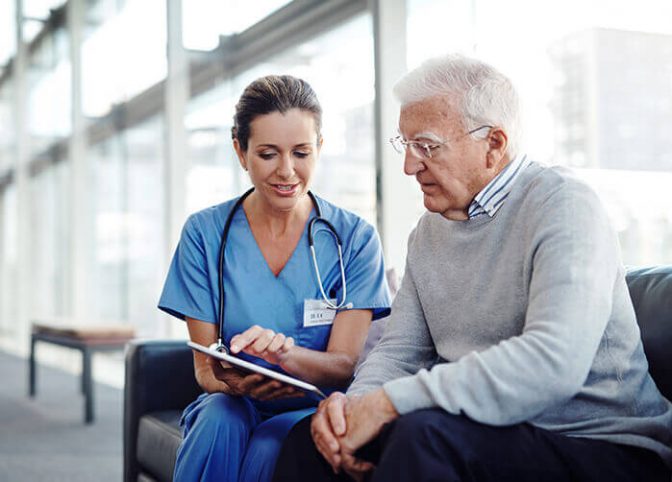 How to Find Care
Use the following tips to locate the right hospice program for your family:
Talk to a Hospice Representative: Hospitals and treatment centers have local hospice contacts for patients and family members who want to look into end-of-life care. A hospice representative is often on staff at hospitals and cancer centers to educate families about their community's hospice providers.
Search Online: To research hospice options on your own, consider Hospice Compare, which provides a list of recognized providers in the United States. Using the search is easy, and the website also has additional information about what to look for in a provider.
Support for Mesothelioma Caregivers
From the beginning of their treatment, mesothelioma patients require specialized medical attention. Hospice can relieve some of the stress of caregiving and ensure that a patient receives optimal end-of-life care.
Because mesothelioma is resistant to treatment, compassionate palliative care can bring relief to the patient and to their loved ones who don't want to see them suffer.
It may be difficult for some caregivers to suggest hospice to their loved one with mesothelioma. Some doctors will suggest the program to the patients when their clinical symptoms and progress indicate that it would be the most beneficial mode of care.
Hospice care takes a heavy burden off caregivers' shoulders by providing high-quality, personalized health care at home or at a hospice facility. Respite care also benefits caregivers by giving them a true break from caregiving.
The bereavement services offered also support caregivers through the grieving process, which is especially hard for those losing a spouse or parent to mesothelioma.
Hospice workers are also able to help caregivers with these end-of-life services:
Completing paperwork for advance directives, including the patient's medical wishes and do-not-resuscitate orders.
Designating power of attorney for health care to a loved one.
Designating power of attorney for financial affairs to a loved one or someone you trust.
Creating a will that ensures the patient's estate is distributed as they wish.
Deciding on how burial and funeral services will be arranged.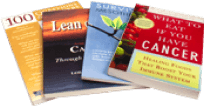 Three Free Must-Read Mesothelioma Books
Get your free must-read mesothelioma books mailed to you overnight!
Paying for Hospice Care
The vast majority of people who enter hospice care are covered by Medicare Part A. The Medicare Hospice Benefit covers care related to the terminal illness, but does not cover all aspects of care.
For example, patients can expect copays for prescriptions and they can expect to pay a portion of fees related to respite care. Any type of complementary care a patient elects on their own that isn't recommended by the hospice care team will not be covered by Medicare.
Mesothelioma patients are eligible for financial aid, such as medical grants and Social Security Disability, to help cover the costs of health care not covered by hospice.
In 2006, more than 965,000 hospice patients were granted access to their care through Medicare, but other insurance companies may also contribute to the out-of-pocket cost for the program.
Hospice Care Resources
These resources will help your family understand and access hospice care in your community.
Stories from Mesothelioma Survivors Entering Hospice
Many mesothelioma survivors have benefitted from hospice care and recommend it to other families facing the same diagnosis. Some of them entered hospice care and left it soon after because their cancer stopped progressing.
Virginia Beach was diagnosed with pleural mesothelioma in 2005 and underwent eight rounds of chemotherapy that put her cancer into remission for nearly 10 years. In 2014, she developed shortness of breath and her oncologist recommended hospice care.
A hospice nurse and social worker began visiting her regularly. Her primary care physician and the hospice chaplain also came by, but her health began to improve suddenly and she was dismissed from hospice care.
"After a while, the doctor told me my lungs were clear. I didn't need them to do much, but the nurse did help me understand my iPad, and how to use it better," Beach said. "That was a big help to me."
Rich DeLisle was diagnosed with pleural mesothelioma in 2012 and underwent aggressive surgery and other mesothelioma treatments, which put his cancer in remission for several years. When the cancer returned in 2017, DeLisle tried several treatments before deciding he wanted hospice care.
"My body is gone. I was tired of being sick," DeLisle said. "I couldn't take any more of those treatments. We've cried together enough. It was just time for something else."
DeLisle and his wife informed their family and friends of the decision and invited everyone to visit to spend quality time together.
"We didn't invite anyone here to sit around and mope over me," Rich said. "I have to get ready for the party tonight."
Randy Sloan was diagnosed with late-stage pleural mesothelioma in 2016. He underwent chemotherapy and radiation therapy, and the side effects were difficult to live with. Within six weeks of his diagnosis, his condition was rapidly declining.
Sloan decided against further treatment and chose to enter a hospice care facility called the Zen Hospice Project in San Francisco.
"I knew he needed much more care than we could provide him and much more care than he wanted a family member to give him," said his mother, Melany Baldwin. "Going to a place like he did, he felt unburdened, and it was unburdening for everyone."
Sloan chose the Zen Hospice Project because he had a personal relationship with the former director and because they take a unique approach to carrying out the dying wishes of the people under their care. The day before he died, Zen organized a sailing trip across San Francisco Bay for Sloan and his friends and family.
"He was himself until the end," Baldwin said. "And that was how he wanted it. He had the best possible medical care, and the best possible dying care. At the end, he opted for a shorter, better life."
---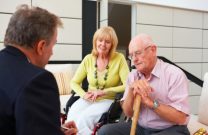 Get the Compensation You Deserve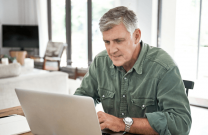 Mesothelioma Case Value Webinar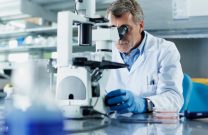 Immunotherapy & Mesothelioma Clinical Trials
---
Tell us what you think
Did this article help you?
How did this article help you?
What about this article isn't helpful for you?
Did this article help you?
Thank you for your feedback. Would you like to speak with a Patient Advocate?
---