Can Man-Made Pink Pineapples Fight Cancer?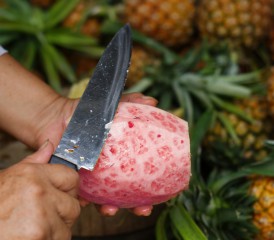 Mom always said to eat your fruits and veggies, but she never told me about eating pink pineapples and purple tomatoes.
That's because those fruits were created in a lab in the last 10 years.
In 2012, Fresh Del Monte Produce Co. developed the new pineapple in Costa Rica and called it Rosé for its rosy tint. A U.K. research center created the purple tomatoes in 2008. Neither can be imported to the U.S. until they are granted FDA approval.
While genetically modifying these fruits added some colorful flair, it also boosted their cancer-fighting benefits — a definite bonus for manufacturers interested in marketing their unique products to health-conscious consumers.
Despite these health claims, genetically modified organisms (GMOs) usually sound alarms among consumers, nutritionists, dietitians and others. It also appears consumers will see more of these man-made foods at their local grocers.
The Science Behind Pink Pineapples & Purple Tomatoes
Scientists at Del Monte overexpressed a pineapple gene, also common in tangerines, and suppressed other genes to achieve the pink hue.
The pink pineapple also contains lycopene, an antioxidant that gives tomatoes their red color. Lycopene may play a role in preventing cancer.
While some gardeners already grow conventional purple tomatoes, the U.K. version developed by scientists at the John Innes Centre, an independent plant and microbial science research and training group, contains high levels of anthocyanins.
These compounds are found in blueberries and can lower the risk of cancer and cardiovascular disease.
"With these purple tomatoes you can get the same compounds that are present in blueberries and cranberries that give them their health benefits — but you can apply them to foods that people actually eat in significant amounts and are reasonably affordable," said Cathie Martin, the British scientist who developed the deep purple tomatoes.
Michael Firko, who oversees the U.S. Department of Agriculture's regulation of GMOs, is fully supportive of these new foods. In a recent New York Times article, he said, "I think once people see more of the benefits, they will become more accepting of the technology.
Not Everyone Stands Behind GMOs
Critics argue there should be tougher regulation when it comes to approving GMOs, as well as mandatory labeling of these foods.
Tejal Parekh, one of the first dietitians in Florida to be board-certified as a specialist in oncology nutrition, isn't so sure pink pineapples and purple tomatoes will receive the warm welcome their manufacturers are anticipating.
"I think that, personally, they won't be as much of a hit as the companies that produce them hope they'll be," she told Asbestos.com. "The concern will be the issue of GMOs and price."
Parekh said she would try them, but she prefers naturally formed fruits and vegetables that contain the high level of antioxidants.
Research on the correlation between cancer and a diet heavy in antioxidants has shown that antioxidants might boost the negative effects of chemotherapy in people with cancer.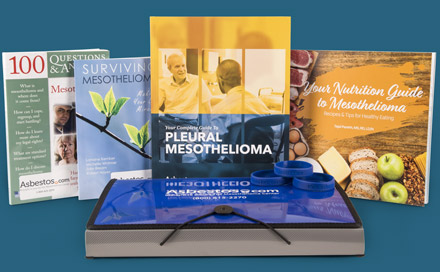 Get Your Free Alternative Treatment Guide
Free information about alternative mesothelioma treatment, books, support, wristbands & more.
More GMOs Will Appear at Local Grocers
Genetically engineered fruits and vegetables, such as Hawaiian papaya, some zucchini and squash and a small amount of sweet corn, already appear in local supermarkets.
However, Monsanto and Dow AgroSciences are creating modified canola, sunflower and soybean oils with increased Omega-3 fatty acids and fewer saturated fats.
Southern Gardens, a Florida-based citrus company, is genetically engineering orange trees with a spinach gene that resists a devastating citrus disease. Also, the company that created the non-browning apples, Okanagan Specialty Fruits Inc., is considering genetically engineering pears, cherries and peaches to improve their quality and resistance to disease.
Genetically engineered soybeans and corn have faced criticism from environmental groups and consumers because there are too many unknowns. That's why these groups have requested GMOs be labeled, so people know exactly what they're consuming.
In fact, 66 percent of Americans prefer these types of labels on foods, according to an AP-GFK poll conducted December 2014.
Regardless of whether you're in favor of or opposed to GMOs, it's important that you always remember to eat a well-balanced diet filled with antioxidant-rich foods, which may help prevent or slow the growth of cancer cells.
If you have any questions about whether you should be incorporating cancer-fighting GMOs into your diet, please consult with your doctor.
5 Cited Article Sources