Simmons Hanly Conroy
With more than 70 attorneys and six offices across the United States, Simmons Hanly Conroy is one of the nation's top firms fighting for victims of asbestos exposure. Since 1999, the firm has assisted thousands of clients and recovered billions of dollars in mesothelioma verdicts and settlements.

1 Court Street Alton, Illinois 62002
Key Facts About Simmons Hanly Conroy
Asbestos Compensation Recovered: $8.9 Billion
Rankings: U.S. News & World Report – Best Law Firm in 2022, 2021 and 2020 Tier 1 in "Mass Tort Litigation/Class Actions – Plaintiffs."
Regional Rankings: Houston – Tier 1 in Personal Injury Litigation – Plaintiffs; New York City: Tier 1 in Product Liability Litigation and Mass Tort Litigation/Class Actions – Plaintiffs; San Francisco: Tier 1 in Product Liability Litigation – Plaintiffs
Satellite Office Locations: El Segundo, CA, San Francisco, CA, Chicago, IL, St. Louis, MO, New York, NY, College Station, TX
Mesothelioma Law Firm Based Near St. Louis
Simmons Hanly Conroy is deeply committed to advocating for the rights of those affected by asbestos exposure. As one of the nation's top mesothelioma law firms, Simmons Hanly Conroy has recovered nearly $9 billion in compensation for thousands of asbestos victims.
The firm ranked as the top law firm for mesothelioma filings in 2021. Simmons Hanly Conroy has more than 70 attorneys working across the United States, supported by a legal staff of more than 150 employees, including experienced paralegals, investigators and nurses.
Simmons Hanly Conroy's partners founded the firm to help those affected by mesothelioma and other asbestos-related illnesses. It handles approximately 300 asbestos-related cases a year and was among the top three firms filing asbestos lawsuits in 2020 and 2021.
Featured In
Better Business Bureau
U.S. News & World Report
Super Lawyers
Martindale-Hubbell
Mesothelioma Verdicts and Settlements
$60 Million: Simmons Hanly Conroy helped its client, a New York laborer diagnosed with mesothelioma, claim the most significant single-plaintiff verdict in New York City asbestos litigation history.
$40 Million: A judge awarded the largest pure compensatory verdict in New York City asbestos litigation history to a Washington Navy veteran. Simmons Hanly Conroy assisted with the case against Goodyear.
$34 Million: A California mechanic diagnosed with mesothelioma won this multimillion-dollar judgement against Ford Motor Company.
$20 Million: A St. Louis mechanic diagnosed with mesothelioma sued the Ford Motor Company and was awarded the largest compensatory asbestos verdict in Missouri.
Reasons to Work With Simmons Hanly Conroy
The experienced attorneys at Simmons Hanly Conroy know how to secure the maximum compensation for mesothelioma patients and their families.
Working with Simmons Hanly Conroy means:
Working with a firm that consistently files hundreds of asbestos claims year after year.
Having a team that has helped over 6,000 other families affected by asbestos.
Access to a massive database of evidence about the asbestos industry to build your case.
Assistance from over 60 attorneys at multiple offices in several states.
A history of successful asbestos verdicts up to $250 million.
Client testimonials exemplify the benefits of working with Simmons Hanly Conroy and the significant impacts an experienced firm can have on your case.
[My lawyer] didn't do it by phone. He came and saw me and talked to me personally. He knew what kind of a man I was and how involved I was with my job in the Navy. I couldn't stop thinking to myself, 'Oh, wow! These boys know what they're doing.'
I appreciate the hard work of the Simmons firm. This outfit is something else. I did not expect to hear from them after everything was done, but they still call to check up on me.
Simmons Hanly Conroy fought for and beside us during the darkest time in our lives. They brought hope to my dad, who found peace in the knowledge that after he left us, Mom and I would not truly be alone.

Jill W.

daughter of Bruce W.
What you guys do matters. Once the financial weight is off your brain, it's easier to worry about the things that matter: my treatments, getting better and quality of life. Simmons has been a super huge blessing to us.
Simmons Hanly Conroy is dedicated to providing compassionate care for its clients. Client testimonials speak to the impact of rewards for those affected by asbestos-related illnesses.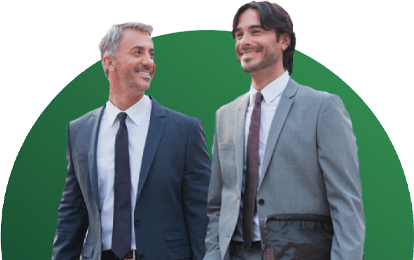 Find a Mesothelioma Attorney
Get help finding a top attorney who can get you the compensation you deserve.
Filing an Asbestos Claim with Simmons Hanly Conroy
Money can't alleviate the pain inflicted on mesothelioma victims. However, filing a mesothelioma claim with Simmons Hanly Conroy can provide much-needed financial benefits and peace of mind during a difficult time. 
Working with a skilled law firm is essential because asbestos claims are complex, and a knowledgeable and experienced firm will simplify the process. When deciding on a firm, ask questions about past results with mesothelioma claims, such as success rate and average time to resolve a claim.
Attorneys at Simmons Hanly Conroy will perform extensive research and interview parties related to your asbestos exposure to determine the best options for your case. As your team builds and strengthens your case through evidence, past work and medical history, they will ensure you receive the compensation you deserve.
Often, the best mesothelioma attorneys will secure an asbestos settlement after the investigation period or during the early parts of the trial. If your case proceeds to trial, Simmons Hanly Conroy attorneys are prepared to argue and win your case in a trial.
The legal teams at Simmons Hanly Conroy have proven they can hold large corporations and businesses accountable for their negligence and wrongdoing. Their ability to successfully handle asbestos and mesothelioma litigation is unrivaled.