Practice Thankfulness on Thanksgiving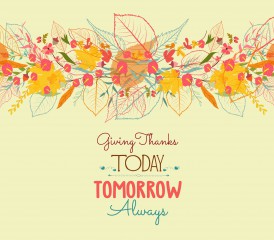 One of those hard seasons of life descended on me a couple months ago. Throughout life they come and go as if we're riding a bike on a span of road through rolling hills.
Weeeee! We speed down the hill in exhilaration. Ugh. We struggle to peddle up hill. You may be able to relate if someone in your family faces a mesothelioma diagnosis.
As I prepare to celebrate Thanksgiving, I'm going uphill right now. My nest just emptied as my two sons are on their own now. The house is quiet, too quiet, except for my handicapped daughter who will always live at home.
Although hard, it's a normal season of life. But at the same time, Mom isn't doing well.
I'm not sure how much longer I will have her. This is the gal I call the 'cheerleader of my life.' Your cheerleader might be in jeopardy, too.
Thanksgiving Is Approaching
This year, when I think of my favorite holiday, a pall comes over me. Will Mom be there?
Without her, cardboard might as well be served for dinner.
I picture my family grimly sitting across the table from each other, not much in the mood for celebration.
An Unexpected Surprise
This type of gloom enveloped me yesterday as I set out walking behind my daughter and her big three-wheeled bike for a little fresh air and exercise.
I prefer the couch and an afghan, but I forced myself up so my daughter could stretch her legs. I pushed her out into the street as negativity swirled in my brain. At first wrapped in my sorrow, the crisp air of fall and warm sunshine escaped my notice.
Within minutes we turned a corner on the street, and my eyes immediately met a towering maple tree washed in golden leaves with just the tip highlighted by glowing sunlight.
Magnificence.
Thankfulness welled up as a first reaction. What a gorgeous sight.
My awareness expanded to feel the crisp autumn air on my face as I watched a few puffy clouds floating across the blue backdrop of the sky.
Around me a blanket of crimson leaves covered a lawn. A fat, jolly, orange pumpkin greeted a passer-by on a porch.
My turmoil evaporated.
It reminded me of a dear friend, who only days after her son died unexpectedly, spoke about the beauty of the birds chirping in her window in the morning.
Thankfulness Can Coexist with Heartache
Further into the walk, I noticed a woman in her driveway brushing sauce on something sizzling on her grill.
Earlier this summer I passed her on a similar walk. She sported the telltale sign of chemotherapy: Baldness. Signs of a cancer walk dotted her lawn.
This time, with her hair barely grown out, she chirped a happy greeting to another neighbor who came out. I saw and heard thankfulness.
Can thankfulness be a decision I choose to make when life is hard? For the remainder of the walk, I lingered on this thought.
As the stunning tree caught me by surprise, I realized that beauty bombards pain unexpectedly.
Thankfulness Lifts Your Mood
It's interesting that the feeling of thankfulness resulted in my heart involuntarily after seeing nature's beauty. What I didn't know until I researched the topic is that thankfulness actually stimulates a chemical reaction in the brain.
"If [thankfulness] were a drug, it would be the world's best-selling product with a health maintenance indication for every major organ system," Dr. P. Murali Doraiswamy, head of the division of biological psychology at Duke University Medical Center, said in an ABC News report.
Doraiswamy explains that when one feels thankful, the brain emits the chemical dopamine, which has a positive impact on emotional well-being.
"Gratitude helps us counteract the negativity bias by focusing our attention on the good stuff," Renee Jain, a certified positive psychology coach, said.
She suggests writing down three good things that happened during your day. Studies reveal those who practice the exercise increase their happiness and decrease depressive symptoms for up to a six-month period.
A Heart Change
Mom, Dad and I sat outside our special ice cream shop just last week after I drove over to spend the day with them. We've actually experienced some pretty special times since my mom's condition declined.
If you think about it, you probably can recall treasured moments you've had since your loved one got sick. Nature's beauty or the beauty of relational connection may have touched you amidst the darkness of a grim prognosis.
Like shifting into first gear on your bike while ascending the steep hill, these times provide that little bit of relief as you keep struggling to the top.
That walk with my daughter opened my eyes or perhaps my heart.
The holiday of Thanksgiving remains an unknown right now for my family, and maybe yours this year. But I'm betting, regardless of the situation, thankfulness will be one guest that shows up.
1 Cited Article Sources