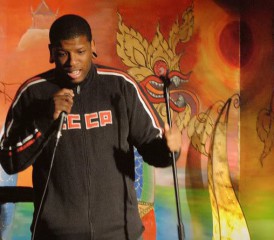 Mesothelioma patients often talk about leaving something behind for family and friends to remember them.
Comedian Quincy Jones, who was diagnosed with mesothelioma, will leave his legacy, too, but in a rather unique way. He will leave everyone laughing.
Later this spring, HBO will broadcast Jones's one-hour stand-up special that will be taped April 4.
It was his dying wish.
Jones, not to be confused with the legendary music producer of the same name, was diagnosed in July with peritoneal mesothelioma, a rare and aggressive cancer that starts in the thin lining around the abdomen. It is caused typically by ingesting or inhaling toxic asbestos fibers. There is no cure.
His prognosis: One year.
"When you're faced with your mortality, you start looking at all your friends who are getting married and having kids. You reflect. 'What do I have? What have I done?' Well, I don't have kids. I don't have a wife," he said. "I do comedy. That's what defines me. I'm a comedian, so I want to leave a special behind."
 Quincy Takes Regular Chemotherapy Treatments
Jones, whose cancer was diagnosed stage IV, has been undergoing regular chemotherapy treatments, leaving him nauseous and exhausted but then surprisingly motivated.
The comedian is from the Seattle area, where he started doing comedy at unpaid, open-mike nights at various clubs around town. He moved to Los Angeles four years ago, hoping to ignite his budding career. He was still working days as a coffee shop barista and nights in various comedy clubs throughout LA to pay the bills.
He had just signed a break-out deal to do an East Coast comedy tour when he received the diagnosis. There was nothing comedic about it. And it shocked him.
"One of my biggest fears when I was in the hospital was that I wasn't going to be able to perform again," he said during an interview with KPCC-FM show 'The Frame.' "So when people asked me, 'What do you want to do?' I said, well, the next step in my career would be a special. An hour special."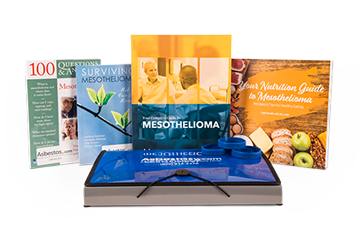 Get a Free Mesothelioma Guide
Free information, books, wristbands and more for patients and caregivers.
Get Your Free Guide
Securing His Comedy Legacy
Although he first laughed at his own request, good friends and fellow comedians Mickey Blaine and his wife, Nicole Blaine, launched a Kickstarter campaign to raise money to fund his dream of recording a stand-up special and defraying his medical costs.
They never expected HBO's involvement.
The Blaines quickly raised the targeted $50,000 — and almost doubled it now — but it also generated considerable publicity, leading to a national television talk show appearance. Inadvertently, he became a national spokesman for mesothelioma awareness.
"The special is not about me. This is bigger than me. The special is dedicated to anybody who has been through cancer, lost someone to cancer or has cancer," he said. "This is literally about a disease."
Jones once kept a hectic pace. He did 1,000 comedy shows in one year during his late 20s. The unexplained stomach pains early in 2015 slowed him considerably. He knew something was wrong but was unable to get any definitive answers. He was in and out of the hospital several times before he was even diagnosed.
"My biggest fear used to be — before cancer — it's the same one I have now: Dying without leaving anything," he said. "Dying before I have the chance to do the stuff I want to do. So this (special) would be my opus. This would be my legacy I'm leaving here."