Asbestos Exposure & Bans
US Launches First National Firefighter Cancer Registry
Fact Checked
Our fact-checking process begins with a thorough review of all sources to ensure they are high quality. Then we cross-check the facts with original medical or scientific reports published by those sources, or we validate the facts with reputable news organizations, medical and scientific experts and other health experts. Each page includes all sources for full transparency.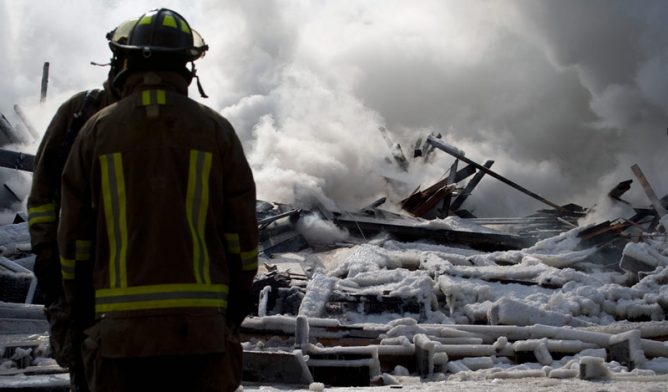 The National Institute for Occupational Safety and Health has launched the first nationwide Firefighter Cancer Registry, linking workplace exposures to deadly malignancies such as mesothelioma.
Officials administering the study believe the registry will help reduce the incidence of various cancers for firefighters.
"A national registry will go a long way toward answering the many questions still out there," Dr. Kenny Fent, an industrial hygienist at NIOSH who is leading the effort, told The Mesothelioma Center at Asbestos.com. "We're just laying the groundwork now, but in the long run, we want to help prevent these cancers."
Mesothelioma, which is caused by exposure to asbestos, is one of the rare cancers that will be examined as part of the registry.
Being a firefighter more than doubles the chance of being diagnosed with mesothelioma, according to an earlier, smaller-scale study.
"The bigger the sample for this registry, the better the ability to study specific subtypes of cancer," said Dr. Miriam Siegel, lead epidemiologist for the registry. "We could more accurately say what risk factors, what behaviors, what exposures are most related to mesothelioma."
Early Response Positive
The work stems from congressional legislation. The Firefighter Cancer Registry Act of 2018 was first introduced in 2017 by Rep. Chris Collings of New York and signed into law by President Donald Trump in July 2018.
"So far, the response to this has been very positive," Fent said. "There generally appears to be a large amount of interest among the stakeholders. Information gleamed from this could become very valuable."
The registry will include previously understudied groups such as volunteer firefighters, minorities and women. It will involve rural and urban departments and full- and part-time firefighters.
It will go well beyond the earlier, five-year study done by the National Institute for Occupational Safety and Health that included close to 30,000 firefighters from San Francisco, Philadelphia and Chicago.
There are an estimated 1.1 million firefighters within the United States today.
"This Registry is for every firefighter, and not just firefighters with cancer. It's for firefighters regardless of their health status," Fent said. "You could consider it an exposure registry or an occupational registry."
Higher Risk of Dying from Cancer
Firefighters have a 14 percent higher risk of dying from cancer than the general population, according to the Firefighter Cancer Support Network, a national advocacy group formed in 2005.
It also estimates 61 percent of line-of-duty deaths for career firefighters are caused by cancer.
The earlier study, published in 2016, showed significantly higher rates of oral, digestive, respiratory and urinary cancers in firefighters. It also showed a much higher rate of bladder and prostate cancers among younger firefighters.
The threat from asbestos — and the alarmingly high rate of mesothelioma — stems from the ubiquitous use of the toxic mineral in commercial and home construction throughout the 20th century.
Although asbestos is highly regulated and hardly used in new construction today, it remains prevalent in millions of older structures, which often are where firefighters work.
Asbestos materials become dangerous when a fire hits, sending the microscopic fibers through the air.
Firefighters often are exposed to many other contaminants that are suspected or known to cause cancer. They include well-known combustion byproducts such as formaldehyde and benzene.
The registry is expected to continue raising awareness to better workplace practices and controlled interventions that already have grown significantly in recent years.
Improved equipment, better respiratory protection and more thorough decontamination of gear have become the norm for fire departments across the country in recent years.
Improving Gear for Firefighters
In Florida, for example, the City of Orlando Fire Department recently celebrated its purchase of the latest high-tech bunker gear to better protect its firefighters from carcinogens and harmful particulates they face on the job.
"There will always be occupational dangers and exposure to harmful materials and toxins in this job, but there are things we can do to help reduce those risks," Jeffrey White, health and safety chief in Orlando, told The Mesothelioma Center at Asbestos.com. "We owe it to our firefighters to do so."
The bunker gear was selected after an extensive trial process, done with a company in partnership with the U.S. Department of Homeland Security.
"While they risk their lives for our residents every day, it's important that they be outfitted with bunker gear designed to keep them safe from any and all harmful contaminants," White said. "We're proud to provide the greatest level of protection to our firefighters."
The nationwide registry will involve coordination with state cancer registries and employment records from participating fire departments, along with state and national databases that determine causes of death and cancer among firefighters.
The registry is expected to provide more exact information regarding exposures, something the previous study failed to do.
Statistical analysis from the registry is expected to provide a clearer understanding of the link between various cancers and the workplace.
"The goal is to have a sample of firefighters that looks like the 1.1 million career and volunteer firefighters in this country, a real snapshot of the workforce," Siegel said. "We want something that ideally will lead to heightened awareness and better workplace practices."
Free Mesothelioma Resources
Get Access to Free Resources for Patients & Loved Ones