Appliance Installers & Technicians
Fact Checked
Our fact-checking process begins with a thorough review of all sources to ensure they are high quality. Then we cross-check the facts with original medical or scientific reports published by those sources, or we validate the facts with reputable news organizations, medical and scientific experts and other health experts. Each page includes all sources for full transparency.
Medically Reviewed
A medical doctor who specializes in mesothelioma or cancer treatment reviewed the content on this page to ensure it meets current medical standards and accuracy.
This Page was Medically Reviewed By
Appliance installers — known better as appliance repair technicians — install and repair home appliances. Labor involving larger appliances such as refrigerators, washers and dryers are primarily done in homes. Small, portable appliances like vacuum cleaners, toaster ovens, and microwaves are typically serviced in a repair shop.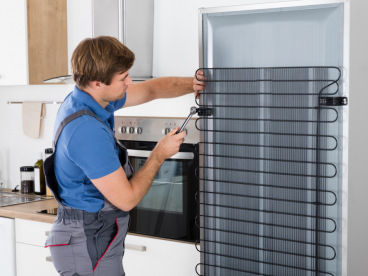 Page Topics
Quick Facts
The installation of appliances like refrigerators and stoves requires a technician to connect the appliances to a gas or water line that has been turned off for the purposes of bringing in the new appliance.
Once the installation has been properly completed, the technician must turn on the gas or water and check for leaks. Most appliances come with electrical plugs, the exceptions being dishwashers, stoves and ovens, which typically are wired directly into an electrical box.
In 2016, the Journal of the Air & Waste Management Association published a Korean study of asbestos in appliances. The researchers investigated 414 appliances manufactured between 1986 and 2007. They detected asbestos in many large home appliances such as refrigerators and washing machines.
The typical entry-level technician generally needs a high school diploma, although a work history in the field also can be enough to do this kind of work. Many times technicians only learn the specifics of the job by becoming apprenticed to an experienced technician.
In addition to meeting individual state licensing requirements, technicians who buy or work with refrigerants must pass the Environmental Protection Agency (EPA) written examination to become certified in the correct handling of refrigerants. Appliance installers were exposed to asbestos primarily in the appliances they services because it was used in the items themselves to prevent burnout during operation.
Appliance Installers & Technicians Products and Locations
Small appliances — toasters, broilers, electric blankets, popcorn poppers and slow cookers, for example — may have had parts made with asbestos-containing materials depending on the age of the appliance. Appliance repair technicians dismantling these would be exposed to asbestos fibers that are released. This type of long-term exposure can lead to long-range health implications for installers, including an increased risk of developing an asbestos-related disease.
Some older portable heaters that contain coil-wrapping and insulation made from asbestos may still be in use. Repairing these heaters also puts the technician at risk. In addition, there are older models of freezers and water heaters that contain asbestos in the insulating blanket within the metal cover.
Occupational Exposure for Appliance Installers & Technicians
When technicians remodel a space to accommodate an appliance that generates a high amount of heat, they often cut away existing walls that may contain asbestos insulation. Frequently, the special heat-resistant flooring on which ovens and dryers were installed included asbestos to reduce the risk of fire.
Phenolic molding compound, manufactured under the brand name Bakelite, was a plastic resin that contained chrysotile asbestos. It was prized for its thermal and electrical insulation properties. It was not only used in the appliances themselves but also as wall moldings that would have to be removed when an appliance installer was reshaping a space for a large appliance.
Scientific Studies Involving Appliance Installers & Technicians
In 2007, the Asbestos Disease Awareness Organization (ADAO) presented the findings of a research study conducted by Scientific Analytical Institute, Inc., that examined over 250 products in everyday use that were suspected to contain asbestos, including household appliances. The testing items were purchased at national retailers during the 18 months before the testing began.
After the presence of asbestos was confirmed in these products, Sean
Fitzgerald, President of Scientific Analytical Institute, Inc., noted that based on the findings of this limited study, more comprehensive testing for asbestos in routine products was necessary.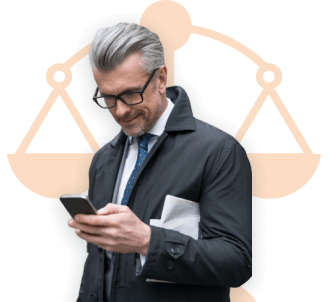 Find a Mesothelioma Attorney
Get help finding an attorney who knows the process and can get you and your family the compensation you deserve.
Lawsuits Involving Appliance Installers & Technicians
Electrolux, the world's largest appliance maker, reported in December 2002 that it was involved in 194 asbestos-related cases. The company had set aside less than $9 million to cover asbestos claims, but its liabilities were expected to significantly exceed that amount.
As of December 31, 2011, the company had 2,714 pending asbestos lawsuits. During 2011, 1,005 new cases were filed and 1,091 cases were resolved.
One new claim in which Electrolux was a named defendant was filed in February 2012 by Ward T. McFadden and his wife. The couple claimed that McFadden, who was diagnosed with lung cancer in October 2011, was exposed to asbestos from the Electrolux products he repaired during his working career. The case is pending.
Manufacturers Who Made Products Used by Appliance Installers & Technicians
Daniel and Mary Cain, John and Becky Cain, and Vincent and Kathleen Becker filed asbestos-related products liability claims against General Electric. The company manufactured, distributed and installed asbestos-containing products.
Whirlpool made an asbestos washer to be used in oven doors.
Sunbeam, Conair Corp. and Gillette Co. manufactured asbestos-containing hair dryers that were recalled in 1979.
---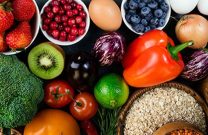 Get Free Recipes for Mesothelioma Patients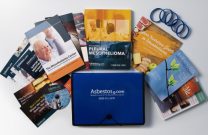 Read the Top Mesothelioma Guide for Free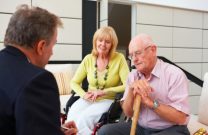 Get the Compensation You Deserve
---
Tell us what you think
Did this article help you?
How did this article help you?
What about this article isn't helpful for you?
Did this article help you?
Thank you for your feedback. Would you like to speak with a Patient Advocate?
---