Oil Refinery Workers
Fact Checked
Our fact-checking process begins with a thorough review of all sources to ensure they are high quality. Then we cross-check the facts with original medical or scientific reports published by those sources, or we validate the facts with reputable news organizations, medical and scientific experts and other health experts. Each page includes all sources for full transparency.
Scientifically Reviewed
An occupational scientist or another expert who specializes in occupational hazards reviewed the content on this page to ensure it meets current scientific standards and accuracy.
This Page was Scientifically Reviewed By
Oil refineries are industrial plants where crude oil, the unprocessed oil that comes out of the ground that is also known as petroleum, is processed and refined into various useful products, including gasoline, heating oil, kerosene and diesel. The process of refining oil requires the thick liquid to be boiled, allowing gases to be released and allowing various chemicals to be separated. Oil refineries are typically large complexes with extensive piping to transport fluids between large chemical processing units.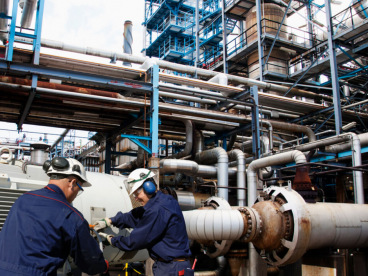 Page Topics
Quick Facts
There are several refinery specialties identified by professional societies, including millwrights and welders, pipefitters, boilermakers, electricians and engineers. In a country dependent on petroleum, oil refinery workers perform vital, but dangerous jobs. Petroleum is highly flammable and can cause explosions and damaging fires that may even claim lives. Oil refinery workers may operate or control refining or processing units, maintain and repair equipment, control pumping systems, gauge or test oil in storage tanks or regulate the flow of oil into pipelines.
As of Jan. 1, 2012, there were a total of 144 operable petroleum refineries in the United States, and as of May 2011, there were approximately 41,570 employed oil refinery workers in the nation. Also in May 2011, Texas held the highest employment rate in this occupation with an estimated 21,760 employees.
In addition to the risks of explosions and fires, oil refinery workers risk exposure to asbestos. Prior to changes in federal law, asbestos was commonly used to insulate equipment that operates at the high temperatures common at these facilities.
A 2018 review in the Journal of Occupational and Environmental Medicine analyzed the risk of cancer for oil refinery workers. Data from 36 studies showed that oil refinery workers are over three times more likely to develop mesothelioma than the general population.
Oil Refinery Products & Locations
Oil refinery workers have been exposed to different asbestos products such as:
Thermal Insulation: In oil refinery plants, asbestos is used mainly as a thermal insulator in places where heat and fire are a concern. From the 1930s to the 1970s it was common that oil refinery vessels contained highly flammable materials, and therefore needed to be insulated with a fire retardant such as asbestos. More specifically, any process that took place in a refinery that required high temperatures used pipelines, tanks, boilers, ovens, reactors, furnaces, dryers, heat exchangers and pumps that were lined with asbestos.
Asbestos can still be found in insulation materials that were produced before the 1980s, but it is most commonly found today around pipes, conduits and distillation columns, and in various gaskets and other machinery parts.
Refinery Equipment: Asbestos has not only been found in the insulation of oil refinery equipment, but also in the equipment itself, such as sealants and sheets, spiral wound and metal-jacketed gaskets. Asbestos gaskets were used in piping and pumps to prevent leaks. Maintenance workers came in contact with asbestos fibers when handling damaged materials if fibers were released into the environment and were inhaled.
Construction Products: Asbestos has been used in protective screens around on-site welding operations, in some brands of duct tape, and as insulation in floor, ceiling and roofing tiles, walls and work surfaces.
Protective Equipment: Because the oil refining process involves the use of high heat and flammable materials, there is a large potential for fires and injuries to take place in refineries. To protect employees from these risks, heat-resistant asbestos was also used in protective clothing and equipment.
Occupational Exposure for Oil Refinery Workers
Regardless of their specific occupation, oil refinery workers' exposure to asbestos was usually the result of directly handling equipment, involvement in the process of refining crude oil, the use of protective clothing or from inhaling fibers released from damaged material.
Refining oil requires the oil to be boiled, which releases gases and allows for chemicals to separate. It is this boiling that explains the use of asbestos: Parts, equipment and protective gear need to be insulated. Not only can asbestos reduce the risk of fire and prevent burns, but it also is resistant to chemical reactions.
Asbestos was primarily used in areas where heat and fire were a concern. Many of the processes taking place inside the workspace of these facilities required employees to cut, sand and handle asbestos-containing materials, which created asbestos dust. These tiny asbestos fibers were easily made airborne where they could linger for oil refinery workers to inhale and ingest. Once these fibers are inhaled, most are expelled, but some can become lodged in organ tissues and remain there throughout life. The accumulation of fibers can cause inflammation and scarring that may lead to the development of mesothelioma cancer and other asbestos-related illnesses.
Asbestos was also commonly used in clothing, usually worn by oil workers as protection against heat and the risk of potential fires. Such protective clothing included aprons, gloves, shoe covers, pants and facemasks. If damage occurred to these items, fibers were released and potentially inhaled. This brought especially high risks for those who wore asbestos face masks. The material, similar to that used within the pipes, contained asbestos fibers and would also decompose over time and circulate in the work area.
Scientific Studies Involving Oil Refinery Workers
A study conducted in 2000 by researchers of the National Cancer Institute titled 'Mesothelioma and Lung Tumors Attributable to Asbestos Among Petroleum Workers' found 96 to 100 percent of mesothelioma cases, and 42 to 49 percent of lung cancer cases among oil refinery maintenance workers, were attributed to asbestos exposure. The same study also found two cases of asbestos-related lung cancer among these workers for each case of mesothelioma.
A British study of more than 45,000 oil refinery workers employed in the industry for at least a year between 1946 and 1971, found significantly elevated rates of mesothelioma and other asbestos-related diseases.
Mesothelioma Lawsuits Involving Oil Refinery Workers
Ginger Hall, the wife of a refinery worker, filed an asbestos cancer lawsuit on June 25, 2012 against 11 companies where her husband worked, including Chevron USA, Citgo, DuPont, ExxonMobil, Huntsman Petrochemical, Mobil Chemical, Mobil Oil, Oxy USA, Texaco, Union Oil, and Unocal Corp.
According to her asbestos lawsuit, Hall was exposed to asbestos through her husband's employment at several area refineries because he would come home with asbestos dust on his clothing. After years of secondary asbestos exposure, Hall began to suffer breathing difficulties and eventually developed cancer. Hall is now seeking exemplary damages, past and future medical expenses, mental anguish, pain, impairment and lost wages, plus all court costs.
Amanollah Shahabi, a 76-year-old Iranian-American engineer, worked for the National Iranian Oil Company in Iran before relocating to the United States in the 1980s, where he worked as a consultant while obtaining his citizenship. He later worked for Bechtel on site at the Chevron refinery in Segundo, California.
For more than 40 years, Shahabi was exposed to asbestos found in oil refineries. In June 2007, Shahabi was diagnosed with mesothelioma, a terminal cancer caused by asbestos exposure, and he filed a lawsuit against A.W. Chesterton Company. In 2008, after a trial lasting more than a month, the jury awarded Shahabi $14.8 million.
Manufacturers Who Made Products Used by Oil Refinery Workers
The following companies have been defendants in asbestos and mesothelioma lawsuits:
A.W. Chesterton Company manufactures seals, packing, gasketing, and hydraulic and pneumatic sealing devices.
Johns Manville manufactured residential and industrial asbestos building materials.
Philip Carey manufactured asbestos roofing and insulation materials.
Pittsburgh-Corning manufactured asbestos insulation and roofing products.
---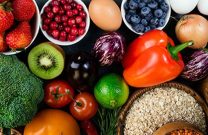 Get Free Recipes for Mesothelioma Patients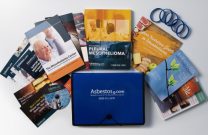 Read the Top Mesothelioma Guide for Free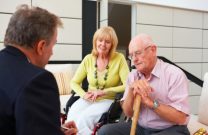 Get the Compensation You Deserve
---
Tell us what you think
Did this article help you?
How did this article help you?
What about this article isn't helpful for you?
Did this article help you?
Thank you for your feedback. Would you like to speak with a Patient Advocate?
---