Asbestos and Natural Disasters Guide
Natural disasters such as wildfires, hurricanes, floods and tornadoes can damage asbestos-containing materials and lead to asbestos exposure among first responders, cleanup crews and nearby residents. Learn how to prevent asbestos exposure when preparing for and cleaning up after a natural disaster.
On This Page
How Is Asbestos a Risk During a Natural Disaster?
A large number of homes and commercial buildings constructed prior to the 1980s were built with asbestos materials. Those products are considered safe as long as they are in good condition. But once ripped, broken, burned, blown or washed away, the products release toxic asbestos fibers into the air.
Breathing in these fibers in the aftermath of a natural disaster can lead to serious health conditions years later. The more someone is exposed to asbestos, the higher their risk of developing asbestos-related diseases such as mesothelioma.
Natural disasters pose dangers from the moment they occur. People don't often consider health risks after a tornado rips through their neighborhood or a flash flood destroys their personal possessions.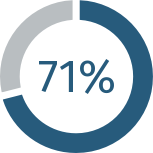 Asbestos exposure isn't an immediate danger such as live electrical wires, gas leaks or unstable infrastructure. It also isn't as apparent as more obvious health risks such as black mold. Asbestos fibers are microscopic and travel by air or in clouds of dust, so you can be exposed and not even know it.
It is essential to consider and properly prepare for asbestos exposure prevention when planning for natural disasters and severe weather. Knowing how to keep safe from asbestos after a disaster can help prevent health conditions later in life.
Who Is at Risk of Asbestos Exposure During a Disaster?
As the first people on the scene, emergency response crews and early response volunteers face an increased risk for asbestos exposure in the wake of a natural disaster because of all the debris. The risk of health effects increases over time and depends upon frequency and amount of exposure to asbestos to these workers.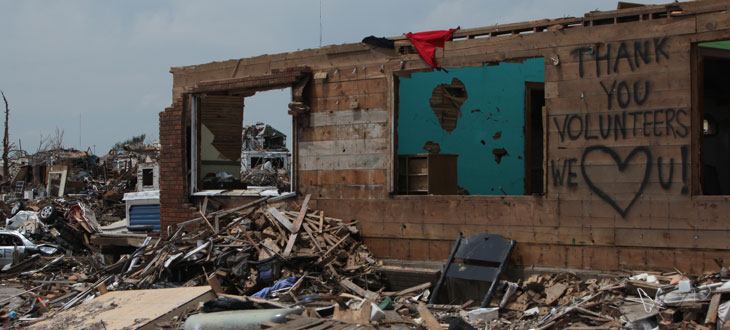 Top First Responder Occupations at Risk
Firefighters

Law enforcement officials

Emergency response workers (FEMA, American Red Cross, etc.)

Enlisted military (Coast Guard, Navy, Army, etc.)

Cleanup crew members (private contractors, state and local agencies, volunteers)
Homeowners of damaged properties also face these risks and should always use caution when cleaning or searching through debris.
Products Containing Asbestos
There are dozens of asbestos-containing products in older construction such as single-family homes, apartment complexes, office buildings, churches and schools. These products are considered safe if they are in good condition and left undisturbed in walls, floors and the ceilings and roofs of structures.
But natural disasters pose a threat to these products which can be damaged by winds, fires, floods and earthquakes.
If asbestos-containing materials are suspected during cleanup efforts, experts recommend you leave them alone. Stirring up asbestos-containing debris can result in airborne asbestos fibers, and exposure is highly likely at that point.
Common Household Materials Containing Asbestos
Roofing felt
Pipe lagging
Block insulation
Adhesives
Appliance components
Ceiling products
Cement board
Gardening products
Flooring
Paints
Roofing
Table pads
Wallboard
Insulation
Fireplace decorations
Taping compounds and plasters
Electrical insulation and panels
Heating and cooling systems
Asbestos Exposure Prevention After a Disaster
Different types of natural disasters present a variety of asbestos exposure risks. For example, tornados may carry asbestos debris from one location to another, while floods may contaminate local waterways and neighborhoods with asbestos materials.
Fires present a greater risk to firefighters than other emergency responders. Hurricanes pose a variety of exposure threats from related tornados and flooding.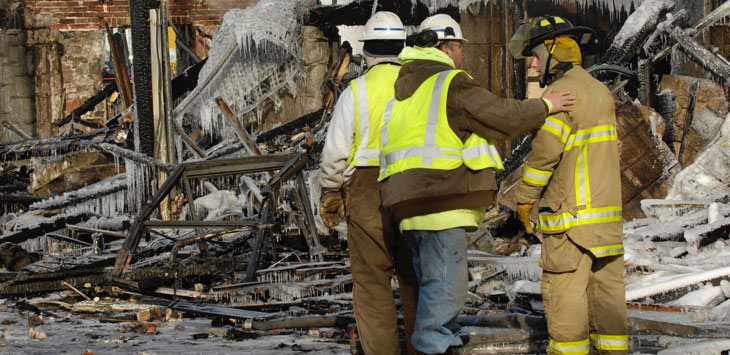 Consider these tips to minimize asbestos exposure:
If materials must be moved, wet them first so that the fibers are less likely to become airborne. Asbestos abatement contractors will be familiar with proper removal and disposal regulations. In each state, there are regulations that govern the removal and management of asbestos-containing materials after a natural disaster. You can find these requirements by locating the local EPA in your state.
Use only properly fitted NIOSH-Approved, N-100 or P-100 respirators. Do not use basic paper or fiber dusk masks, handkerchiefs or other, lower-grade air respirators, which will provide you with little or no protection from asbestos fibers.
Wet or cover asbestos-related debris to minimize dust, and always wear additional protective gear, such as boots, coveralls and gloves during removal.
Double-bag all building debris.
Enclose the work area with plastic sheeting and duct tape to minimize dust.
Only disturb construction materials that must be removed and minimize any excess breakage to prevent the release of dust and fibers into the air.
Be sure to thoroughly shower and wash once you have completed debris removal to remove any dust and fibers that could become airborne.
It is recommended to properly dispose of your clothes or wear disposable coveralls when handling asbestos materials. Washing clothes covered in asbestos dust or tiny fibers interwoven into the fabric can lead to exposure for you and your family members.
Make a Natural Disaster Emergency Plan for Your Family
People with cancer have more to consider and prepare for when planning for a natural disaster. Having an emergency plan in place that your family is on board with can help considerably when disaster strikes.
It's also a good idea to talk to your oncologist before developing your plan. Ask for important contact information and steps you should take in case a disaster causes any changes to your treatment schedule.
Your Emergency Plan Should Include:
Where you plan to shelter

Your best evacuation route

How your family plans to communicate

How you'll care for pets

How you'll access emergency updates, alerts and warnings

Where safety supplies, such as face masks, gloves and goggles, are stored

Contact information for your oncologist, veterinary office, local police, fire department and utility companies

Email and phone numbers of your family members, neighbors and other important personal contacts
In addition to sharing digital copies of your plan with your family, make sure each person has a printed copy. You may want to share your plan with extended family members and trusted neighbors in case you need to rely on them during or after a disaster.
What to Look for on a NIOSH-Approved Facepiece Respirator
Only a filter rating designation of 100 will protect you against microscopic asbestos fibers in the air. N-100 and P-100 respirators filter at least 99.97% of airborne particles. Filters with the "P" designation are also strongly resistant to oily particles.
These masks will also protect you from other hazards such as mold damage. They can be purchased online or at your local home improvement store. Disposable masks generally cost around $10 each, while half-mask or full-face respirators can be $50 or more.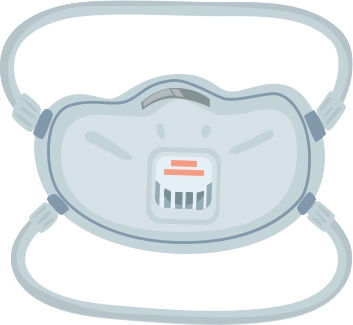 Respirators Must Contain
Manufacturer's name
Model number or part number
TC-Approval Number: Required for products manufactured after September 2008
Filter Designation: Must be N-100 or P-100
NIOSH name or logo
Other Protective Equipment You Should Wear During Asbestos Cleanup
Protective clothing, preferably disposable
Helmet to prevent fibers from attaching to hair
Safety glasses or goggles
Safety gloves
Protective boots
Resources for Wildfire Safety
Resources for Hurricane Safety
Resources for Flood Planning and Flood Victims
The U.S. Geological Survey tracks flood conditions and data nationwide. The site includes interactive maps and visualizations on current floods, high-flow conditions and regional and local flood alerts.
In addition to preparation tips, the CDC has an Emergency Water Supply Planning Guide and information for emergency responders.
The American Red Cross' flood safety page has information on what to do before, during and after a flood as well as a flood safety checklist.
Tornados
Tornadoes can destroy property and potentially cause exposure to asbestos among people who clean up the debris. The EPA and several state-affiliated departments of health and natural resources have issued guidelines for effective management of asbestos building debris to minimize exposure.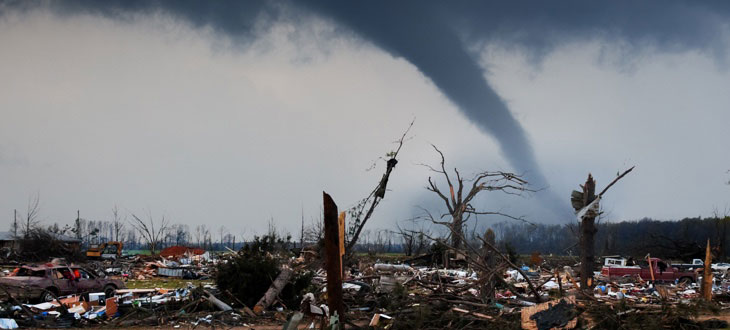 Cleaning After a Tornado
Soak all suspected asbestos-containing materials in water mixed with surfactant chemicals (amended water). This will help reduce the amount of airborne fibers.
Wear a NIOSH-approved N-100 or P-100 respirator mask at the disaster site.
Find the local EPA in your state and let them know if you believe the tornado has led to widespread asbestos contamination.
Resources for Tornado Safety and Response
OSHA provides a directory of resources, including a tornado safety checklist from the American Red Cross and a Demolition Safety QuickCard.
The National Weather Service details the difference between a tornado watch and a tornado warning and provides links to current tornado alerts in your area.
Earthquakes
Earthquakes are the vibrations caused by blocks of earth breaking and moving under stress. They strike suddenly, and often create significant damage to buildings and can also trigger tsunami waves that damage coastal communities.
In the U.S., earthquakes can strike any location at any time. However, most occur along the West Coast, primarily in California, according to the U.S. Geological Survey.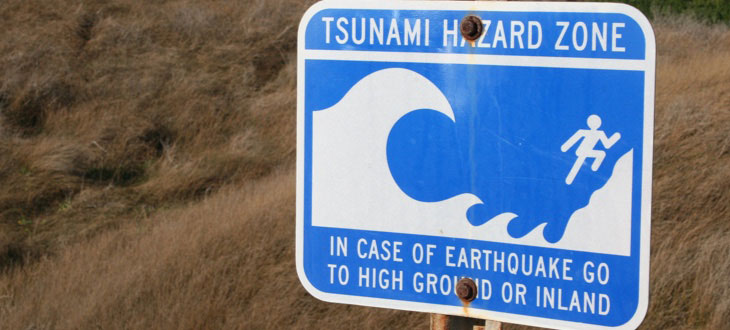 Asbestos Risks During Earthquake Cleanup
During cleanup of damaged and destroyed buildings after an earthquake, it is likely that there will be a need to handle, break up and dispose of asbestos-containing materials.
Much of this work may be undertaken by temporary laborers, volunteers and local residents who are unaware of the hazards of asbestos and who may be unable to identify asbestos products.
It is unlikely that the workers will initially be provided with appropriate personal protective equipment. Many people will also be unaware of abatement methods for the proper cleanup and removal of asbestos materials.
As a result of the cleanup operations, there may be an accumulation of asbestos-containing waste that will present a hazard to people in the local environment and those living in close proximity to the site of final disposal.
Key Takeaways and Resources
It is important to be prepared and have a safety plan in place in the event natural disasters strike. But the after effects of these disasters are also a cause for concern.
The most important thing you can do to prevent asbestos exposure following a natural disaster is to have protective equipment on hand in an emergency response kit. This includes a NIOSH-approved N-100 or P-100 respirator for everyone in your household.
Secondly, remember this rule: If you're not sure, don't mess with it. When cleaning up after a wildfire or storm, always use caution.
Even with a protective mask, asbestos exposure can occur from fibers sticking to your clothes and exposing yourself or your family after cleanup efforts. Fibers could potentially be inhaled or ingested if your mask isn't fitted properly.
If you know the cleanup site has damaged asbestos products, it is recommended to get the help of asbestos abatement professionals to remove and dispose of the materials safely and under EPA regulations.
Emergency Resources and Contacts
You can also contact these national emergency response organizations for help:
---

---

Last Modified September 24, 2020
12 Cited Article Sources
The sources on all content featured in The Mesothelioma Center at Asbestos.com include medical and scientific studies, peer-reviewed studies and other research documents from reputable organizations.
Environmental Protection Agency. (2011, July 14). Dealing with Debris and Damaged Buildings.  
Retrieved from: http://www.epa.gov/naturalevents/returnhomeadvisory.htm#f
Congressional Research Service. (2011, Jan. 13). Managing Disaster Debris: Overview of Regulatory Requirements, Agency Roles, and Selected Challenges.  
Retrieved from: http://www.fas.org/sgp/crs/misc/RL34576.pdf
Welch, C. (2010, Sept. 4). A flood of asbestos: How much should residents worry? : 
Retrieved from: https://www.seattletimes.com/seattle-news/a-flood-of-asbestos-how-much-should-residents-worry/
Spoto, M. (2012, Dec. 18). "Officials warn Hurricane Sandy victims of mold, asbestos, lead paint." The (Newark) Star-Ledger.  
Retrieved from: http://www.nj.com/politics/index.ssf/2012/12/officals_warn_hurricane_sandy.html
Minnesota Department of Health Fact Sheet. (2008, April). Asbestos Hazards Due to Flooding.  
Retrieved from: http://www.health.state.mn.us/divs/eh/emergency/natural/floods/asbestos/asbestos.pdf
North Dakota Department of Health. (2009, March). Asbestos Hazards Due to Flooding.  
Retrieved from: http://www.ndhealth.gov/flood/Asbestos_Hazards_Due_to_Flooding.pdf
Pielke Jr., R., Simonpietri, C., Oxelson, J. (1999, July 12). Hurricane Camille Project Report. Thirty Years After Hurricane Camille: Lessons Learned, Lessons Lost.  
Retrieved from: http://sciencepolicy.colorado.edu/about_us/meet_us/roger_pielke/camille/report.html
Centers for Disease Control and Prevention. (2012, Jan. 12). Storm, Flood, and Hurricane Response. Guidance on Health and Safety Issues Among Clean-Up Workers Involved with Handling and Burning Hurricane Debris. : from 
Retrieved from: http://www.cdc.gov/niosh/topics/emres/burningDebris.html
Pardue, J. (2008). " Hurricane debris and the environment: understanding impacts 3 years post-Katrina." Louisiana Water Resources Research Institute. Hazardous Substance Research Center. LSU Hurricane Center. from 
Retrieved from: http://doctorflood.rice.edu/SSPEED_2008/downloads/Day2/6_Pardue.pdf
Maines, R. (2005). Asbestos and Fire: Technological Tradeoff and the Body at Risk. Rutgers University Press

California Contractors State License Board. (2001, April). A Consumer Guide to Asbestos.
Retrieved from: http://www.cslb.ca.gov/Resources/GuidesAndPublications/AsbestosGuideForConsumers.pdf
Mississippi Department of Environmental Quality. (2011, May 24). Guidance for the Handling of Asbestos and Lead Based Paint During Storm and Natural Disaster Response and Clean-up Operations. Retrieved from: https://www.mdeq.ms.gov/wp-content/uploads/2017/06/AsbestosLeadStormGuide.pdf