Legislation & Litigation
Compensating Asbestos Claims Is Still a Challenge 11 Years Later
Fact Checked
Our fact-checking process begins with a thorough review of all sources to ensure they are high quality. Then we cross-check the facts with original medical or scientific reports published by those sources, or we validate the facts with reputable news organizations, medical and scientific experts and other health experts. Each page includes all sources for full transparency.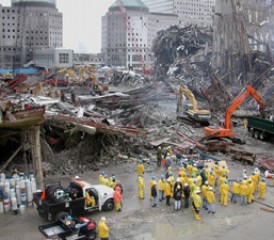 It is always time well-spent to reflect on what has happened in the 11 years since September 11, 2001.
My husband likes to listen to morning news programs while getting ready for work. I normally don't join him. (Although I'm a morning person, I need silence before 8 a.m.!)
But I made an exception on Tuesday because I wanted to somehow participate in this year's remembrance of 9/11.
I was also interested in what others had to say about how life may or may not have changed since that day. I was particularly interested in the state of health care for recovery workers, including those who since have developed mesothelioma and other asbestos-related diseases.
Looking Back at 9/11

I heard a lot of remarks about how the skies over Manhattan on Tuesday were as clear as they were 11 years ago. That fateful morning, I was in North Carolina, not Manhattan.
But I'll never forget that clear, bright sky. I also agree with the people I heard on the news. The sky seemed eerily similar on Tuesday.
Perhaps the similarity struck a deep cord with me because I knew I'd be going to Manhattan later in the week. And by plane no less.
I had to make the trip for an organization I founded that supports caregivers. So my mind was full of thoughts about the loved ones left behind and the first responders who risked their lives and health to help the nation recover.
A toxic cloud blocked the brilliantly clear sky and shrouded lower Manhattan the day of the tragedy. It also sealed the fate of recovery workers and others who inhaled its remnants for months. It didn't take long for many to develop nagging coughs and other signs of serious, life-threatening diseases.
But official acknowledgment of the cause for their health problems and help paying for treatment would only come much later.
Helping People with Mesothelioma
During news coverage earlier this week, I heard stories about how charities stepped in to help sick recovery workers, first responders. Those heroes urgently needed medical treatment that couldn't wait for government officials and insurers to come up with a plan for cover massive health care claims.
Part of their challenge was having enough money to compensate all of the injured.
Today, people who were exposed to toxins at 9/11 crash sites may be eligible for assistance through the federal 9/11 Victims Compensation Fund (VCF) and World Trade Center Health Program.
But until recently, it was unclear whether that assistance would provide coverage for cancers, including mesothelioma. On Monday, the National Institute for Occupational Safety and Health joined the 9/11 remembrances by announcing that the federal program now covers a variety of cancers, including mesothelioma.
But uncertainty remains for 9/11 first responders, volunteers and people who lived and worked in the New York disaster area who may develop cancer. It may take decades for them to be diagnosed with the mesothelioma.
But most claims under the VCF must be filed by October 2013. Others must be filed within two years of discovering a 9/11-related injury. In any event, VCF payments will end in 2017.
That's too early for victims who develop mesothelioma.
While riding the subway through lower Manhattan on Wednesday, I looked up to see a poster for the World Trade Center Health Program. Next to a collage of post-9/11 images appeared a single question for recover workers: Who will care for you?
We'll take a closer look at that question next week.
This is the first of two parts about asbestos, mesothelioma and 9/11.
Get Financial Assistance
Access Trust Funds, Grants & Compensation for Mesothelioma