Making Father's Day Special for Your Loved One Facing Mesothelioma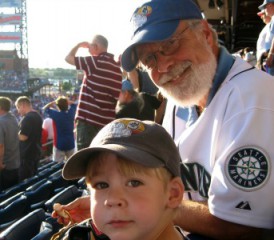 Last month we featured an article with our favorite ways to make Mother's Day a relaxing, healthy holiday for the female loved ones we provide care to. This month as the paternal counterpart holiday rolls around, we're looking at a similar, yet altogether different, way to bring the same joy to Father's Day.
While Mother's Day tends to be more flowery and touchy-feely, Father's Day is sentimental in different ways. Many children (and grandchildren) see it as a day to celebrate their father figure's strength, a trait that mesothelioma survivors possess in overflowing quantities.
Taking inspiration from some of our community members, we present our five favorite ways to put some extra vivacity into caregiving efforts this Father's Day.
Plan a Healthy Barbeque
Grilling out is a hallmark of many family holidays, and it's especially true on Father's Day. But is the menu full of steaks, hot dogs, hamburgers, or brats? If it is, you may want to rethink the meal plan.
A study from late 2012 found that diets high in red meat are associated with higher rates of lung cancer. For someone with a history of asbestos exposure, there's no need to make this risk even higher.
Instead, opt for lean white proteins (like chicken breasts) and cancer-fighting vegetables (like broccoli and mushrooms). A build-your-own-kebab bar is a festive idea that lets everyone assemble their own meal.
Offer to Attend A Men's Support Group
The stereotype that men are more emotionally reserved than women is just that, a stereotype, but that's not to say that they don't process their emotions differently. This crucial difference could be the difference between finding stress relief in a support group and attending the meetings without reaping the benefits.
This Father's Day, look up cancer support groups in your area. See if any male-specific meetings are scheduled in the near future. These meet-ups may focus on general topics, like anxiety and depression, but counselors might approach them in a sensitive way that appeals to men who feel like counseling is a sign of weakness.
Catch a Baseball Game
Some studies have suggested that vitamin D, which the body produces after exposure to the sun, has a cancer-protective role. Laboratory studies have even found that direct application of vitamin D helped slow the growth rate of cancer cell samples.
This Father's Day, our favorite way to catch some rays involves America's pastime. Snag tickets, usually ringing in at less than $20 to $30 each, to a game at an outdoor baseball stadium. The most iconic, of course, are Wrigley Field in Chicago and Fenway Park in Boston. Chavez Ravine in Los Angeles has a lot of history as well. Among the newer parks, Nationals Park in Washington, D.C., Oriole Park at Camden Yards in Baltimore and Citi Field in New York are all great places to soak up some sun.
The cheapest ticket is probably at Marlins Park in Miami because the home team simply doesn't draw many fans. (And you're going to get some serious sun in Miami, as long as the roof is retracted.)
You don't have to focus on a Major League game, though. Minor-league clubs play all across America during the summer, and tickets are inexpensive and promotions are often silly and fun.
Just be sure to pack a sunscreen from the Environmental Working Group's list of Vitamin-D allowing sunscreens.
Take Dad for Some Pampering
Moms aren't the only ones who enjoy indulgent attention, and if your dad feels like mesothelioma treatments are taking a toll on his body, he may appreciate some special care. Just focus on the less beauty-oriented treatments.
A hot shave, a sports massage or a back-refining polish are all dad-friendly options that can give his self-esteem a much needed boost.
Take a High-Tech Stroll Down Memory Lane
Many Father's Day gift lists are packed with gadgets and gizmos. If you're going to splurge, take it one step further to make your gift extra-personal. Help him take his mind off this hectic part of his recovery journey by helping him revisit the past and anticipate the future. For instance, load a digital photo frame with his favorite shots of the two of you and then promise to help him add more.
As you finish gearing up for Father's Day, consider taking a look at our Wall of Hope. Many of the inspiring stories featured in our asbestos awareness community center are submitted by men whose families are their reason for carrying on.
Tim Crisler credits his renewed fight against mesothelioma to his children; Paul Fields' children and grandchildren also motivate him to keep fighting.
What are you planning to do for your dad or grandpa this Father's Day?