Treatment & Doctors
Light-based Test Paves Way to Early Detection of Mesothelioma
Fact Checked
Our fact-checking process begins with a thorough review of all sources to ensure they are high quality. Then we cross-check the facts with original medical or scientific reports published by those sources, or we validate the facts with reputable news organizations, medical and scientific experts and other health experts. Each page includes all sources for full transparency.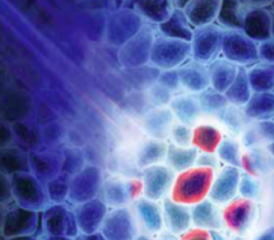 Today's approach to diagnosis rarely spots mesothelioma early in its development, when patients are more likely to qualify for the optimal course of cancer treatment.
It's a leading reason why mesothelioma survival rates are so low.
While a variety of blood tests that detect proteins and other substances linked to mesothelioma show promise for earlier, less invasive diagnosis, currently no test is reliable enough to provide an accurate diagnosis on its own — perhaps until now.
A team of researchers from Asahikawa Medical University in Japan recently reported success with an innovative approach to early detection: Photodynamic diagnosis (PDD). The technique uses a light-based imaging system to identify cancer cells on the lining of the lungs.
"Accurate diagnosis of [lung cancer] is an extremely important issue in planning therapeutic strategies," Masahiro Kitada, lead author of the study, said. "Moreover, early diagnosis of malignant pleural mesothelioma, which carries a poor prognosis due to the lack of effective therapies, has also attracted attention."
How Light-based Diagnosis Works
The basic principle behind photodynamic diagnosis is a natural phenomenon called autofluorescence. Kitada defines it as the spontaneous emission of light that occurs when living tissue is exposed to light from an outside source. He explains that certain molecules in our cells absorb light and emit autofluorescence in response.
Kitada's study, published in the Annals of Thoracic and Cardiovascular Surgery, shows researchers tested the technology on 31 volunteers: Two with pleural mesothelioma, 22 with primary lung cancer, two with noncancerous lung tumors and five with cancer that spread to the lungs.
To test the effectiveness of PDD, Kitada and colleagues used a camera-equipped light tool to shine light on the lining of the patients' lungs immediately after thoracoscopic surgery. The researchers were able to confirm the presence of cancer with 100 percent accuracy, simply by observing how the tissue responded to the light on a video monitor.
When the harmless blue light was beamed onto the lining of the lungs, it excited the tissue, causing it to emit light of its own. The color of this light reveals important information that helps with diagnosis. On the imaging system's video screen, healthy tissue emits green light in response to blue excitation light, while cancerous tissue emits violet to red-violet light.
PDD in the operating room
This shift in color occurs because cancer thickens tissue layers and reduces the amount of autofluorescent molecules in cells, among other factors.
"The color spectrum shift was observed in all tumors located on the pleural surface, and it did not admit false negative," Kitada said.
False negatives, or test results that fail to detect cancer when it is in fact present, occur more often with mesothelioma than any other cancer of the chest after thoracoscopic biopsy.
PDD also identified both patients with noncancerous tumors, which shows the technique may help doctors distinguish cancer from less serious conditions.
Benefits over Current Approach
Photodynamic diagnosis has several potential benefits over the current approach, which is significantly more costly and time-consuming.
Today, a reliable mesothelioma diagnosis requires an invasive procedure like thoracoscopic biopsy. For this test, doctors perform minor surgery to collect tissue samples for further analysis in the lab.
Even then, it is difficult to distinguish mesothelioma from lung cancer and other lung conditions under the microscope. Because of the rare and elusive nature of mesothelioma, many patients don't receive the correct diagnosis until several months after the first symptoms appear.
Rather than spending valuable time and resources to collect, test and process tissue samples, researchers instead could use the light-based technique and detect cancer in real-time. This may allow doctors to deliver a diagnosis immediately after the PDD procedure.
A fast and accurate diagnosis is crucial because it ensures patients receive the most effective treatments as soon as possible. A misdiagnosis delays proper treatment, and can significantly reduce survival and quality of life.
Improving the Technique
Despite these early promising results, the research team is already planning more investigations to improve PDD. Future studies will aim to refine the technology and the way doctors use it for diagnosis.
"It has been pointed out that the light intensity emitted by our device is rather low for optimal observation. At present, we are developing a device equipped with a light-emitting diode to increase light intensity," Kitada said.
The research team also hopes to improve PDD's ability to distinguish between malignant and benign lesions. While they do believe this is currently possible to some extent, they admitted the noncancerous tumors in this study appeared markedly different from cancerous ones.
In its current state, the technology cannot clearly display the border between cancerous and healthy tissue, which has important implications for surgery and other treatments. To address this limitation, Kitada's team has launched another study to test 5-ALA, a substance patients can drink before PDD to help doctors visualize tumors more clearly.
Medically Reviewed by Top Mesothelioma Doctors
Free Mesothelioma Guide