Health & Wellness
Tips for Mesothelioma Patients on Increasing Sexual Desire
Fact Checked
Our fact-checking process begins with a thorough review of all sources to ensure they are high quality. Then we cross-check the facts with original medical or scientific reports published by those sources, or we validate the facts with reputable news organizations, medical and scientific experts and other health experts. Each page includes all sources for full transparency.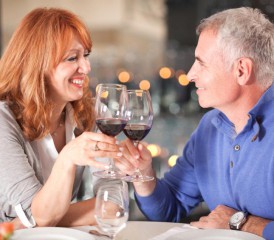 Stressful life events are known to have a negative impact on sexual desire and performance.
Emotional and physical threats activate our fight-or-flight response, and our brains react by decreasing sexual desire and ability to engage in sex. The result: We focus our attention and energy on dealing with the threat at hand.
Similarly, a mesothelioma diagnosis is a threat to our well-being.
In general, a cancer diagnosis tends to lower a patient's sexual desire, also known as libido. However, loss of libido doesn't necessarily mean a loss of affection for their partners. Libido is often lost because of other cancer symptoms such as fatigue, nausea or uncontrolled pain.
Common emotional and psychological factors resulting from cancer, including anxiety, depression and poor body image (hair loss, weight loss, weight gain or scarring) also contribute to a loss of libido. For example, men and women with mesothelioma often claim they feel or look 'unsexy' as they undergo treatment for their cancer.
Treatment symptoms, such as chemotherapy-induced hormonal fluctuations, nerve damage and pain, also negatively affect sexual desire.
While it certainly sounds as if cancer signals the end of sexual intercourse, men and women have some options for enjoying sex again.
How Men with Mesothelioma Can Improve Their Libido
Drugmakers have developed new medications to help men with erectile dysfunction.
Viagra and Levitra, both approved by the U.S. Food and Drug Administration for the treatment of erectile dysfunction, are safe for most cancer patients.
Cancer and accompanying treatments may lower a man's level of testosterone. If that's the case, those men may benefit from testosterone injections, gel or creams.
Patients considering these options should discuss it with their oncologist first because these drugs are known to have potentially dangerous side effects. They also may negatively interact with current cancer medications.
There also are medical devices that may help men achieve an erection and keep it. Vacuum pumps have been around for years to assist men with erectile dysfunction. Penile implants also have shown improvement in sexual function.
Options to Elevate a Woman's Sexual Desire
Chemotherapy drugs can decrease a woman's hormone levels, affecting sexual desire and enjoyment of sex.
A blood test will determine if hormone levels are affected. A gynecologist can discuss medications that may help rebalance hormonal changes.
Vaginal atrophy and dryness also can result from chemotherapy treatment and premature menopause. Using lubricants can help women feel more comfortable during intercourse. Vaginal dilators also can ease vaginal atrophy. Gynecologists can make recommendations regarding the right kind of lubricant or dilator to use.
Advice for Couples on How to Revive Libido
Sex therapy and couples counseling address the psychological and emotional factors that affect intimacy and sex.
While anxiety and stress are normal psychological states for anyone diagnosed with a serious illness, some mesothelioma patients may develop sexual performance anxiety, a constant and overwhelming worry over your performance in bed.
Body image issues may contribute to sexual performance anxiety. Most people think women are the ones who predominantly suffer from cancer-related body image issues, but there are many men with cancer who also obsess over how they appear to their partners, particularly if they have lost or gained weight.
Counseling can present strategies to manage anxiety so patients and their partners are more at ease and relaxed during moments of intimacy.
Couples who have been together for a long time usually develop habits or routines in their sex lives. They know what their partner likes and no longer feel the need to experiment sexually. However, if mesothelioma has affected the patient's ability to engage in or enjoy sex, couples should try different ways of engaging in sex or showing affection.
They may have to spend more time talking and touching to get in the mood. Other couples may not feel up to engaging in sex, but still want to feel close. Holding hands, rubbing lotion on your partner's shoulders or feet, cuddling in bed and kissing are all ways couples can remain close physically.
Perhaps discuss different positions to avoid pain or fatigue.
It's important to remember that intimacy is important during cancer treatment because it maintains a sense of normalcy. But there's no denying that cancer may make having a normal sex life challenging.
Couples willing to talk about their feelings and desires, as well as being open to trying new ways of having sex, can remain physically and emotionally close as they both travel on this challenging journey.
Free Mesothelioma Resources
Get Access to Free Resources for Patients & Loved Ones