Awareness & Research
Interview: Addressing the Issue of Asbestos in US Schools
Fact Checked
Our fact-checking process begins with a thorough review of all sources to ensure they are high quality. Then we cross-check the facts with original medical or scientific reports published by those sources, or we validate the facts with reputable news organizations, medical and scientific experts and other health experts. Each page includes all sources for full transparency.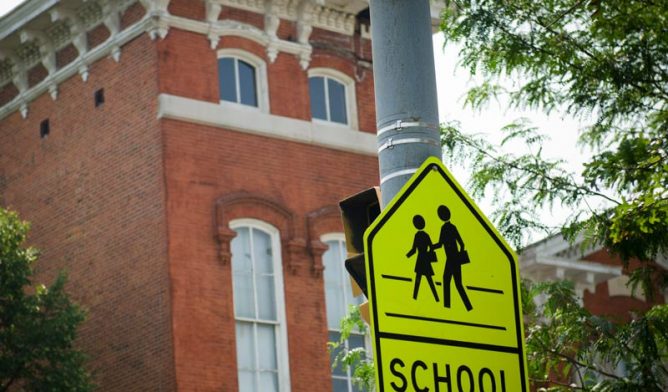 Legacy asbestos, or asbestos-containing materials in buildings built before 1980, is a growing concern in the United States.
Nowhere is this issue more apparent than in America's schools.
I recently had the opportunity to discuss asbestos in schools on the Tone and Tenor radio show on WWDB-AM in Philadelphia, where asbestos removal work recently displaced students at Ben Franklin High School and Science Leadership Academy.
There are an estimated 150 schools in the School District of Philadelphia that contain asbestos materials, according to Asbestos Workers Local 14, a labor union.
In 2018, the district inspected and cleaned seven elementary schools found to have alarming levels of asbestos fibers in the air. One sixth-grade classroom had 10.7 million fibers, according to an investigation by the Philadelphia Inquirer.
Asbestos Still Prevalent in America's Schools
Roughly one-third of America's schools were built prior to 1980, before the federal government heavily restricted asbestos use in construction.
Asbestos materials are virtually safe when they are in good condition and well maintained, but the toxic fibers from these products can become airborne and deadly when disturbed.
School maintenance workers can unknowingly dislodge asbestos fibers during routine work, leading to dangerous exposure for students, teachers and staff members. Asbestos exposure is the main cause of mesothelioma, a terminal cancer.
Philadelphia is among the large metropolitan cities in the northeast that are seeing the effects of ubiquitous asbestos use in schools for decades.
Aging infrastructure and a lack of funds to properly manage the asbestos-containing materials adds to the problem.
Pennsylvania is one of 29 states under federal jurisdiction of the Asbestos Hazard Emergency Response Act (AHERA), a program that saw funding dry up in the 1990s.
Only 13% of states under AHERA implementation performed required asbestos inspections from 2011 to 2015, according to a report from the U.S. Environmental Protection Agency's Office of Inspector General.
With no funding for safety inspections and regular maintenance, asbestos continues to threaten students and teachers at Philadelphia schools.
Often, the public only becomes aware of the issue in extreme circumstances such as the case with Ben Franklin High and Science Leadership Academy, where large asbestos removal projects displaced students and staff to temporary locations.
Asbestos Removal Costly & Usually Last Resort
Large asbestos removal projects are tedious and costly, which is why abating legacy asbestos in America's schools is often a last resort.
Schools typically follow an asbestos management plan where materials are maintained in good condition.
It is easier and cheaper to paint over and seal damaged drywall or asbestos cement than completely remove an interior wall of a classroom. Damaged pipes or boiler coverings may be encapsulated or enclosed to prevent fiber release.
While removing asbestos is the only permanent solution for controlling and preventing future exposure, it can potentially be more dangerous than other management methods. Demolition and major renovations can disturb more materials and increase exposure.
Parents who are concerned about asbestos issues in their child's school can call their principal or school superintendent to request the school's asbestos management plan.
These management plans are required to have inspection protocols and contact information for a designated, trained person who is appointed to oversee asbestos-related activities in the school system.
The problem of asbestos in our local schools isn't going away anytime soon. The most important thing you can do is be proactive. Find out if asbestos issues exist in your local schools and stay on top of what is being done about it.