Providence Cancer Center in Anchorage is a renowned mesothelioma center with the most comprehensive cancer treatments in Alaska. Dr. John Halligan and the team of experts at Providence Cancer Care offer mesothelioma clinical trials and focus on providing a multidisciplinary approach to cancer.
Get in Touch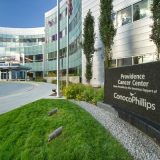 3200 Providence Dr, Anchorage, AK 99508
Multidisciplinary Treatment at Providence Cancer Center
The Providence Cancer Center in Anchorage is the most comprehensive treatment facility in Alaska, offering services that allow patients to get high-quality care while staying closer to home.
Mesothelioma patients in Alaska are receiving the latest multidisciplinary care that they once could find only by traveling out of state to a major specialty center.
The Providence Cancer Center, which is within the Providence Alaska Medical Center, now includes a variety of treatment options, including chemotherapy at the Lee Sheffield Infusion Center, radiation therapy at the CyberKnife Center and a thoracic surgical team that specializes in personalized care.
"There clearly was a point in time when it was the right thing to do for a patient to go to the Lower 48 for their cancer care. There was an advantage in doing that," said Dr. James Blom, radiation oncologist at the Providence Cancer Center. "But that's just not the case anymore."
The cancer center, which opened in 2007, is part of Providence Health & Services Alaska, a nonprofit network of care centers, hospitals, clinics, physicians and affiliated services started by the Sisters of Providence almost 160 years ago.
It includes services in Anchorage, Eagle Creek, Kodiak Island, Mat-Su, Seward and Valdez.
"Everyone who comes to us is concerned about how they are going to do. Our job as oncologists is to give every person the best chance," Blom said. "We are blessed with a tremendous cancer center here, on the surgical side, the medical oncology side and on the radiation oncology side."
Providence Provides Mesothelioma Cancer Treatment
Providence is equipped to treat more than 25 different cancers. The list includes more common ones such as lung and breast cancer, along with rare diseases such as mesothelioma, which is diagnosed in fewer than 3,000 patients annually across the United States.
Each cancer patient is seen by a team of multidisciplinary doctors who meet weekly to discuss each case, developing a personalized treatment regimen.
The collaborative team of experts includes a cancer specialist trained in systemic therapies, a radiation oncologist, a thoracic surgeon, a pulmonologist who specializes in diseases of the chest and a palliative care specialist who manages treatment-related symptoms.
Patients have access to the latest drugs, advanced surgical techniques and specialized radiation therapies.
There also are support services that include counseling, oncology rehabilitation, nutrition, acupuncture and spiritual care.
The Providence Cancer Center is led by Ella Goss, who was named director in 2017 after more than 25 years of clinical and administrative experience.
"Providence has state-of-the-art technology unmatched in Alaska, and as advanced as centers in the Lower 48," said Dr. John Halligan, radiation oncologist.
The Infusion Center, where patients may receive biotherapy, immunotherapy or chemotherapy, includes 10 private rooms, a nursing staff certified in oncology, and great views overlooking the Chester Creek greenbelt.
Mesothelioma Clinical Trials at Providence Cancer Center
A phase II clinical trial studying the safety and efficacy of the immunotherapy combination of Opdivo (nivolumab) and Yervoy (ipilimumab) for various rare cancers, including pleural mesothelioma.