Easing COVID-19 Worries of Caregivers and Family
Caregivers, family members and loved ones may be wondering how best to keep themselves and others safe during shelter-in-place orders. Depending on your situation, it may be best to limit interaction with your patient, prepare a stock of supplies or alter travel plans.
Adapting your role as a caregiver to be safe and responsible while still providing care is the best thing you can do to keep yourself and your loved ones safe during the pandemic.
What happens if my patient or I must be quarantined?
Caregivers and family members can follow these guidelines for effective self-quarantine:
Stay at home

Do not permit visitors

Stay 6 feet apart from others

Keep surfaces and objects disinfected

Do not share utensils, towels or clothes
Elective cancer surgeries were scheduled to resume April 26, 2020. Cancers such as lung cancer are more treatable through surgery than other methods and waiting more than a month poses more risk than benefit. However, the risk of infection becomes significantly greater after surgery, making effective self-quarantine that much more important.
If you are a caregiver, consult with your patient's physician or treatment center regarding safety measures you should take before entering your patient's home or providing care.
FEMA.gov has a list of emergency management agencies by state that you can contact to find out more details regarding your local shelter-in-place order.
How should I prepare the home for a quarantined cancer patient?
If you have a loved one who could be at risk for COVID-19, take the opportunity to prepare their house to prevent transmission of disease. Use disinfecting wipes that are 60% alcohol to clean frequently used surfaces and electronics.
If you are using an EPA-registered household disinfectant, check the label to determine if the product needs to be left wet on surfaces or if you should be using gloves or a face mask.
Consider creating a safe zone near the front door or other entrances. Block off an area with tape and set up a table with hand sanitizer and a trash can. This way, anyone who must come to the house can remove any possibly infected items from their person and sanitize their hands before entering.
If there are multiple people sharing a home and one of them is sick, choose a room in the house that can be used to separate the sick household member. If possible, allocate a bathroom for only the sick person to use. Clean the sick person's area only when needed in order to limit your exposure.
To clean soft surfaces, use soap and water or launder according to the manufacturer's recommendations. Use the warmest possible setting on your washing machine and ensure items are completely dried.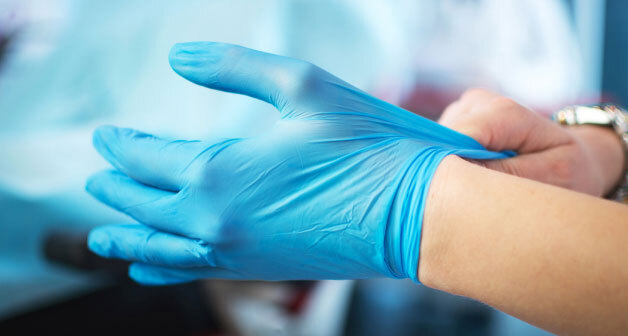 Wear gloves if you are doing laundry for a sick family member. It is not required to separate their laundry from anyone else's items. However, avoid shaking dirty laundry and disinfect clothes hampers after emptying. When finished, remove gloves and wash hands immediately.
A caregiver can provide personal cleaning supplies, such as paper towels, toilet paper and cleaning solution, to the sick household member. If they are able, the sick person can clean their own space.
What should my caregiver or family member role be during this period?
As a caregiver or family member of someone at risk for COVID-19, your first priority should be your own safety. If you become ill, you will be unable to provide care for those who require it. Limit contact with strangers through social distancing and avoid any public places if possible. Follow CDC guidelines for hand-washing and do not reuse face masks or gloves.
As you work to protect your loved ones from becoming sick, organize their environment with a stock of the following cleaning and health supplies:
Face masks

Disposable gloves

Disposable paper towels

Tissues

Waste bins with disposable liners

Cleaners and disinfectant solutions

Hand soap and sanitizer (at least 60% alcohol)

Fever-reducing medication (such as acetaminophen or ibuprofen)

Thermometer
Your role as a caregiver during this time should also be to provide support and stability. Recommend to your patient or family member they avoid watching the news if it causes them anxiety or concern. Reassure them you will always be available by phone or video call.
Continue to remain in contact with your patient's physician or treatment center for updates regarding their schedule and availability.
As a caregiver, you have the opportunity to be a pillar of security and comfort for those who need it most. Preparing a safe environment and providing the right resources will ensure those with the highest risk of infection will still be protected.
Should I travel with the patient?
The CDC recommends that people at higher risk for COVID-19 complications avoid all cruise travel and nonessential air travel. Crowded settings, such as airports, may increase your patient's exposure, and the rate of spread may differ between your origin and destination.
If you are planning domestic travel, consider if it is worth the risk of exposing your patient to the virus. For essential travel, such as to a distant treatment center, make sure that during the trip your patient is separated from other people, wearing a face mask and following strict hygiene precautions.
It is best practice to book a separate adjoining hotel room for the sick patient. If the patient requires more careful observation or frequent medical care, try to book a large room with beds that are farther apart. Assume all surfaces in your hotel room are potentially contaminated and inquire with the staff on what steps they are taking to prevent spread of transmission.
Where can I get financial help during COVID-19 pandemic for my loved one diagnosed with lung cancer?
The LUNGevity Foundation created Breathe Easier: An Emergency Response Fund, which provides $500 grants to eligible lung cancer patients and their families during the coronavirus crisis.
Patients can call LUNGevity's help line at 844-360-5864 to learn about eligibility requirements.