History
The Harbison-Walker Refractories Company was founded in 1865 under the name Star Fire Brick Company. The name changed to Harbison-Walker in 1875. The company's primary products included fireproof bricks and other industrial materials that could withstand high temperatures. Because of its fireproofing characteristics, asbestos was used in many of their products.
In 1967, Harbison-Walker merged with Dresser Industries, Inc., a subsidiary of Halliburton. In the 1990s, Harbison-Walker began facing asbestos-related lawsuits filed by people who developed an asbestos-related disease after using their products.
By 1998, Dresser merged with Halliburton after Dresser agreed to handle all asbestos-related claims stemming from Harbison-Walker products. Halliburton soon realized their involvement in the litigation proceedings was unavoidable.
At the time of Halliburton's acquisition of Dresser Industries (which included subsidiary Harbison-Walker), former Vice President Dick Cheney was the chief executive officer of Halliburton.
The merger was initially considered a great move on Cheney's part, but current and future asbestos suits stemming from Harbison-Walker products cost the company a fortune in legal claims. Halliburton said the level of asbestos problems that accompanied the merger couldn't have been anticipated.
In 1999, Harbison-Walker was purchased by RHIAG, an Austrian company that produces refractory products. Even after this purchase, Halliburton and Dresser were left to handle all asbestos-related claims involving Harbison-Walker products.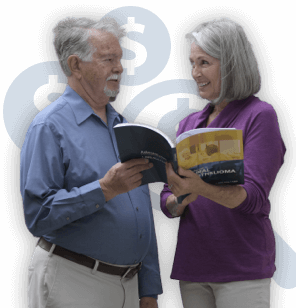 Exposed to Asbestos at Armstrong World Industries?
Gain access to trust funds, grants and other forms of compensation for you or your loved ones.
Get Help Now
Litigation and Specific Lawsuits
Even as the company's business was growing, the turn of the 21st century greeted Harbison-Walker with more than 200,000 pending asbestos claims, of which nearly 132,000 were related to an indemnification agreement made as part of the company's 1992 spin-off from Dresser.
Although Harbison-Walker filed for Chapter 11 bankruptcy protection in 2002, its case is unusual when compared to other asbestos bankruptcies.
Before filing for bankruptcy in 2002, Harbison-Walker, along with its parent company Dresser Industries Inc., merged with Halliburton. During the bankruptcy, the company struck a deal with its insurers, London Underwriters (and their reinsurers Equitas), to settle the asbestos claims for "100 cents" on the dollar.
The trust that resulted from the settlement (known as DII Industries, LLC Asbestos PI Trust) was funded with about $4 billion, with approximately 70% of all proceeds going to those victims diagnosed with cancer.
Of the total funds, $575 million was projected to come from London Underwriters. Between $1.2 and $1.4 billion was derived from company stock and another $1.5 billion came from insurance reserves and settlements from other insurers.
Just before Harbison-Walker filed for bankruptcy, a 2001 asbestos verdict of $40 million was awarded to five victims of asbestos-related diseases. The jury found Harbison-Walker, A.P. Green Industries Inc. and Armstrong Contracting and Supply guilty of exposing the victims to asbestos-containing products while knowing the hazards associated with asbestos.
Harbison-Walker entered bankruptcy so it could not only survive but also reorganize and set up an asbestos trust to handle future asbestos-related claims. Harbison-Walker felt the decision benefitted the company, its stakeholders and asbestos claimants.
Industries and Occupations
Harbison-Walker incorporated asbestos into rope, castables, fireproof brick and refractory cement. People in the construction industry who worked with these products were likely to experience asbestos exposure. Workers who helped manufacture them also faced asbestos hazards.
Asbestos-containing products manufactured by Harbison-Walker were sold under the brand names:
Micracrete
Chromepak G
H-W Lightweight Castable #10
Metalkase Firebrick
Former employees of Harbison-Walker who worked in manufacturing facilities faced higher-than-normal risks for asbestos exposure. Some former workers may still be at risk for developing asbestos-related diseases like lung cancer, asbestosis and mesothelioma.
Find Other Asbestos Manufacturers
Harbison-Walker & BP Oil Spill
Harbison-Walker's parent company, Halliburton was a major player in the Deepwater Horizon oil rig fire. The BP oil well that exploded on April 20, 2010 killed 11 workers and spilled oil into the Gulf of Mexico.
Cementing services from Halliburton were used on the oil rig. In September 2011, a federal report listed Halliburton, along with BP and Transocean, as partially responsible for the spill which cost up to $40 billion in cleanup and economic losses.
7 Cited Article Sources
The sources on all content featured in The Mesothelioma Center at Asbestos.com include medical and scientific studies, peer-reviewed studies and other research documents from reputable organizations.
How did this article help you?
What about this article isn't helpful for you?
Did this article help you?
Thank you for your feedback.
Would you like to speak with a Patient Advocate?
Last Modified July 31, 2019