Cooney-Conway
Cooney & Conway is one of the nation's most renowned mesothelioma law firms. The firm has recovered billions of dollars in asbestos compensation. It ranks in U.S. News & World Report's National Tier 1 category of Best Law Firms for Personal Injury, Mass Tort Litigation and Class Actions.

120 N Lasalle Street, Chicago, IL 60602
Key Facts About Cooney & Conway
Asbestos Compensation Recovered: $7 Billion
Rankings: U.S. News & World Report – Best Lawyers as a National Tier 1 firm in 2022, 2021 and 2020 "Mass Tort Litigation/Class Actions – Plaintiffs."
Regional Rankings: Chicago – Tier 1 in Mass Tort Litigation/Class Actions – Plaintiffs; Tier 1 in Personal Injury Litigation – Plaintiffs
Nationwide Law Firm Based in Chicago
Since its first asbestos trial in 1973, Cooney & Conway has spent decades representing workers, veterans and families impacted by asbestos exposure. The firm's expert attorneys have secured more than $7 billion in asbestos verdicts and settlements for mesothelioma patients and families.
The firm ranks among the country's top 15 plaintiff's law firms, with 24 attorneys nationwide.
Cooney & Conway is one of the best mesothelioma law firms in the country and is renowned for its long history of success in asbestos litigation. According to a 2021 KCIC Asbestos Litigation industry report, the firm handles more than 100 asbestos cases a year and was among the top five firms filing asbestos lawsuits in 2020 and 2021.
Featured In
Best Lawyer
U.S. News & World Report
Mesothelioma Verdicts and Settlements
Cooney & Conway has secured billions of dollars in compensation for victims of asbestos exposure and their families, including:
$5.2 billion asbestos settlement with Owens Corning.
$3.95 billion asbestos personal injury settlement with USG.
$5 million for a boiler technician.
$4.6 million for a union steelworker.
$3.9 million for the wife of a mechanical contractor.
$3.6 million for a U.S. Navy machinist's mate.
$3.6 million for an electrician.
$3.1 million for an auto mechanic.
The attorneys at Cooney & Conway have extensive nationwide experience with mesothelioma litigation. As a top asbestos firm, Cooney & Conway has access to multiple resources so it can secure the maximum financial reward for its clients.
Benefits of Working With Cooney & Conway
A team of experienced attorneys at Cooney & Conway will thoroughly evaluate your case, including the circumstances surrounding your injury, your treatment history and total expenses you've incurred. The firm will collect any information needed to support your case.
Working with Cooney & Conway ensures:
Higher compensation rewards than less experienced law firms.
Virtual or in-person support anywhere in the U.S.
Access to an asbestos database of manufacturers and products to prove your case.
Minimal disruptions to treatment schedules or time with family.
Multiple testimonials by clients who have worked with Cooney & Conway reflect the importance of having an experienced asbestos law firm by your side.
Without a doubt, this was the absolute best law firm our family could have called. The staff as a whole are obviously the best in their field. Our family thanks Cooney & Conway with all of our hearts.
I highly recommend the services of Cooney & Conway.
Cooney & Conway is handling my dad's asbestos case and they've gotten us the most money possible. I'm very satisfied with their services.
Cooney & Conway has provided legal assistance for union electricians, industrial plant workers, union insulators and oil refinery workers affected by asbestos or a mesothelioma diagnosis.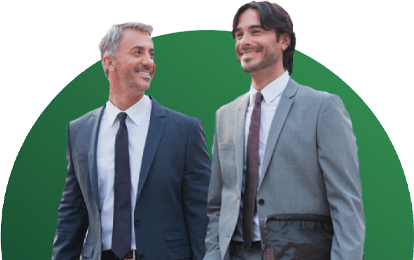 Find a Mesothelioma Attorney
Get help finding a top attorney who can get you the compensation you deserve.
Cooney & Conway's Legal Process
The first step in filing an asbestos lawsuit is a free consultation with the law firm. The attorneys at Cooney & Conway will review your case and ensure you feel comfortable with the practice.

Dedicated litigators working on your case will investigate the circumstances of your asbestos exposure and the impact of your medical diagnosis. Using an extensive library and database of historical asbestos references, they'll build your case to maximize the financial reward for you and your family.
Client comfort and peace of mind are Cooney & Conway's top priorities. The team's flexibility allows for virtual or in-person visits wherever you are, and meetings won't interrupt your treatment schedule.
Cooney & Conway only gets paid if it wins your case. It operates on a contingency basis, so you won't owe any fees unless the firm wins at trial or obtains a settlement in your favor.
It can take several months or longer for the court to deliberate your case. A judge or jury will determine the outcome if your case goes to trial. However, the defendant may offer a settlement before that point. With 60 years of experience, Cooney & Conway will know whether taking a settlement or going to trial is best for you.
Filing an asbestos lawsuit while dealing with a mesothelioma diagnosis can be stressful, but working with an experienced firm can ease the burden and leave you with more time for what matters most, getting treatment and spending time with loved ones.