What Causes Mesothelioma Pain?
Mesothelioma pain can be due to tumors pressing on nerves and vital organs. As the disease progresses, fluid buildup, particularly in the chest and abdominal cavities, can lead to pain with activity, breathing, coughing and eating.
If the cancer is more advanced, it can spread to bones or muscles. In these cases, a person is likely to experience significant body aches and pains. When this happens, it's important to contact your doctor.
Common Symptoms of Mesothelioma Pain
Pain often is an early common symptom of the disease. More than 60% of pleural mesothelioma patients report chest pain. Between 30% and 50% of peritoneal patients report abdominal pain.
Pain from mesothelioma can be more difficult to treat than pain from other types of cancer. A combination of medical treatments and psychological coping strategies are the best approaches to managing it.
Doctors need to understand the extent of your mesothelioma symptoms to prescribe the right treatments.
Mesothelioma Pain Treatments
Because every mesothelioma patient experiences pain in unique ways, there are multiple treatment options for patients to cope with mesothelioma pain.
Common Methods of Managing Mesothelioma Pain
Palliative therapies and pain medications
Medical procedures
Practical pain-management tips
Complementary and alternative therapies
Talk to your doctor about which of these pain management options work best for you. Remember, managing pain is an important part of every mesothelioma treatment plan.
Palliative Treatments for Mesothelioma Pain
Palliative treatments are intended to ease symptoms, not fight cancer. Medication is the most common approach for mesothelioma pain.
Palliative care also may be referred to as supportive care. It is different from hospice care, which focuses on making a patient comfortable at the end of their life. Palliative care supports other therapies and should be integrated into every mesothelioma care plan.
Common Pain Medications for Mesothelioma
Medication is one of the most common ways to manage mesothelioma-related pain.
Minor Pain: Doctors recommend starting with over-the-counter products such as ibuprofen (Advil) or acetaminophen (Tylenol).
Moderate Pain: Doctors combine weak opioids, such as codeine, with adjuvant medications, which may include antidepressants, anticonvulsants, anti-inflammatories, ketamine or topical lidocaine patches.
Severe Pain: Doctors replace weak opioids with strong opioids such as morphine.
Because of the widespread opioid-abuse problem in the U.S., some patients worry taking prescription opioids will lead to addiction or feeling too sedated. However, in many cases, a cancer patient's quality of life is better with opioids than without them.
Rather than causing sedation, the pain relief from opioids can reduce a patient's fatigue and give them a clearer mind. This is especially true for severe pain.
There are different delivery methods for pain medications, too. For example, if oral medications aren't enough, your doctor can prescribe a pain patch or faster-acting liquid pain drugs.
Medical Cannabis
In many parts of the U.S., medical marijuana is available for treating mesothelioma pain. For many cancer patients, this option can reduce pain, anxiety, insomnia and nausea.
Various types of medical cannabis allow a patient access to these products without needing to smoke or inhale the drug.
Always tell your doctor if you plan to use medical marijuana, other over the counter products or any pain option they didn't directly prescribe to you. This will minimize the risk of medication interactions and other problems when combining pain treatments.
Medical Procedures
Pain medication works for the majority of cancer patients, but it does not work for everyone. When this happens, medical treatments can reduce the level of pain.
For example, if the pain is caused by fluid buildup in the chest or abdomen, it may be easily alleviated through a minor surgery to drain the fluid.
Common Medical Pain Relief Treatments
Surgery: Neurosurgeon can perform a procedure to block the nerve pathways that carry pain signals to the brain.
Regional or local anesthesia: Anesthesiologists can administer local and regional pain blockers or steroids via infusion or injection. These are a mainstay at most comprehensive pain management clinics.
Palliative chemotherapy: Even if chemotherapy is not expected to cure cancer, this approach can shrink the tumor, reduce pain and improve quality of life.
Palliative radiation is another pain management option for some pleural mesothelioma patients. A 2016 study in the journal Pain Medicine reported radiation therapy shrinks pleural tumors and provides pain relief in about half of patients.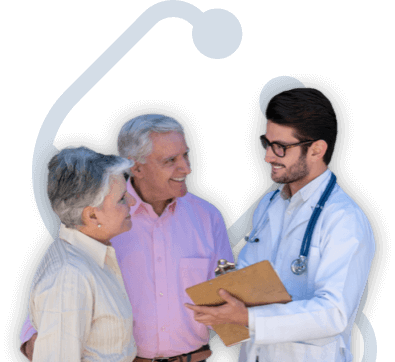 Connect with a Top Mesothelioma Doctor
We've helped thousands of people affected by mesothelioma find the best treatments.
Get Started Now
Practical and Psychological Techniques to Manage Pain
Patients can benefit from practicing psychological techniques such as relaxation, distraction and visualization. Patients should also reach out to others for emotional support.
The experience of pain is connected to our thoughts and feelings. Anxiety and depression make pain worse, and vice versa. Chronic pain may prevent patients from working or participating in social activities, leading to feelings of isolation and loneliness.
Patients should be open and honest with their caregivers, and they should seek help from a counselor or support group if they need it.
Ask for a referral to a pain management clinic if you feel overwhelmed by your pain.
Practical Pain-Management Tips
Pay attention to what makes your pain better or worse. Work within your limitations.
Schedule activities during the part of the day when you feel the least pain.
Get plenty of rest. Fatigue can worsen pain.
When you are in pain, focus your attention on things you enjoy such as games, books or TV shows.
Complementary Therapies
Certain complementary and alternative medicine approaches can help mesothelioma patients manage pain.
For example, art and music therapy can distract patients from pain and help them find meaning in their experiences.
Artistic hobbies and crafts can give patients something productive to do when they have insomnia or cannot be as physically active as they used to be.
These may seem like trivial approaches, but research supports their effectiveness for helping cancer patients better cope with pain.
Common Complementary Therapies for Pain Relief
Breathing Exercises: Help relieve tension and promote relaxation.
Biofeedback: A learned technique that may help patients control their pain.
Hypnosis: Creates a state of deep relaxation and may reduce stress and anxiety.
Massage: Facilitates relaxation and may relieve painful muscle spasms.
Acupuncture: May reduce stress and relieve symptoms caused by medical procedures and medications.
Transcutaneous Electrical Nerve Stimulation (TENS): Electrodes placed on the skin transmit a gentle current into the tissues to ease muscle tension and pain.
While these alternative therapies should not replace conventional treatments and palliative care methods, they may assist with relieving some of the pain associated with mesothelioma cancer.
Importance of Communication with Your Doctor
The most important part of pain management is communication. Keep your doctors informed on how pain medications are working and their side effects. A daily journal of all medications used and their effects — good and bad — is a helpful tool.
The American Chronic Pain Association provides excellent, printable pain-management tools to help you track your pain and communicate effectively with your doctor.
A pharmacist is an excellent resource, too, if you have questions regarding the safety of a particular pain management approach.
Be sure to share your full medical history with this person if you are seeking their advice.
8 Cited Article Sources
The sources on all content featured in The Mesothelioma Center at Asbestos.com include medical and scientific studies, peer-reviewed studies and other research documents from reputable organizations.
Saunders, J. et al. (2019, April 2). Pain management in patients with malignant mesothelioma: challenges and solutions. doi: 10.2147/LCTT.S192558

American Chronic Pain Association. (2018). ACPA Resource Guide To Chronic Pain Management An Integrated Guide to Medical, Interventional, Behavioral, Pharmacologic and Rehabilitation Therapies.
Retrieved from: https://www.theacpa.org/wp-content/uploads/2018/05/ACPA_Resource_Guide_2018-Final_Feb.pdf
Garcia-Fadrique, A. et al. (2017, October). Clinical presentation, diagnosis, classification and management of peritoneal mesothelioma: a review.
Retrieved from: https://www.ncbi.nlm.nih.gov/pmc/articles/PMC5674249/
MacLeod, N. et al. (2016, November). Pain in Malignant Pleural Mesothelioma: A Prospective Characterization Study.
Retrieved from: https://academic.oup.com/painmedicine/article/17/11/2119/2449726
MacLeod, N. et al. (2015, September). Pain Management in Mesothelioma.
Retrieved from: http://radioncology.com/en/articles/3835.html
MacLeod, N. et al. (2015, June). Is Radiotherapy Useful for Treating Pain in Mesothelioma?: A Phase II Trial.
Retrieved from: https://www.sciencedirect.com/science/article/pii/S155608641533046X
Salminen, E.K. et al. (2013, January). Opioids in pain management of mesothelioma and lung cancer patients. doi: 10.3109/0284186X.2012.725944

American Chronic Pain Association. (n.d.). Neuropathic Pain. Retrieved from: https://www.theacpa.org/conditions-treatments/conditions-a-z/neuropathic-pain/
How did this article help you?
What about this article isn't helpful for you?
Did this article help you?
Thank you for your feedback.
Would you like to speak with a Patient Advocate?
Last Modified September 29, 2020