Legislation & Litigation
Deadline Approaching for Pending 9/11 Lawsuits, Compensation Fund
Fact Checked
Our fact-checking process begins with a thorough review of all sources to ensure they are high quality. Then we cross-check the facts with original medical or scientific reports published by those sources, or we validate the facts with reputable news organizations, medical and scientific experts and other health experts. Each page includes all sources for full transparency.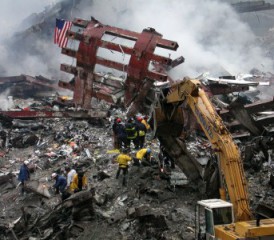 Anyone with pending litigation stemming from personal health issues surrounding the 9/11 terrorist attack in New York City must decide by Jan. 2, 2012 whether to continue the lawsuit, and forfeit the chance to apply for compensation from the government's $2.76 billion Victim Compensation Fund.
According to The Associated Press, more than 1,600 people are affected by the deadline.
No one with litigation pending in either state or federal court after Jan. 2 will be eligible to apply for compensation at any point in the future, according to the rules of the Fund. Dropping the lawsuit before Jan. 3 would clear a path to apply in the future.
The Compensation Fund was set up under the James Zadroga 9/11 Health and Compensation Act of 2010, designed to assist those with long-term health issues resulting from the toxic dust and smoke that covered Manhattan after the attack in 2001.
Victims Compensation Fund Doesn't Cover Cancer
The Fund currently does not cover mesothelioma, or other cancers, but those regulations are expected to be reviewed and possibly changed in the near future.
As it is written today, the Fund covers only a limited number of illnesses, including asthma, scarred lungs and several respiratory problems.
With the possibility of mesothelioma and asbestosis being included in future coverage, many litigants have been dropping their lawsuits, according to AP.
Mesothelioma is the cancer caused by the inhalation of asbestos fibers, which were a major part of the dust cloud that covered Manhattan for weeks. Only a handful of mesothelioma cases have been documented currently, but much of that is due to the long latency period of the disease.
It usually takes 10 to 50 years after exposure before mesothelioma is diagnosed. There was an estimated 400 tons of asbestos used in the construction of the World Trade Center, where more 2,700 died in the attack and collapse.
Several oncologists have predicted a rash of future mesothelioma cases will come from 9/11, urging the government to amend Fund rules to include cancers among the illnesses to be covered.
Firemen, police officers, city contractors who worked clearing the rubble of the collapsed World Trade Center were only a portion of those affected. More than 5,000 already settled lawsuits with the city. There also were thousands of residents affected. An estimated 60,000 enrolled in New York's Mount Sinai Medical Center Health Monitoring and Treatment program after 9/11.
Under the Fund rules, people whose lawsuits already have been settled are eligible to apply for government compensation. Any award they receive from the Fund will be reduced by the amount of their previous legal settlement.
Some 9/11 Victims Sticking with Mesothelioma Lawsuits
One New York City attorney whose firm is handling an estimated 100 cases, told the AP that the majority are sticking with their lawsuits and declining the chance to be included in the Compensation Fund, believing their potential payouts will be larger. Others have withdrawn.
"I've weighed my options and rolled the dice, believing that the country I helped is not going to let me down," said former New York City police detective John Walcott, who was diagnosed with leukemia in 2003. He dropped his lawsuit and applied for benefits under the Compensation Fund.
To prove withdrawal of a lawsuit, a fund applicant must submit official withdrawal/dismissal documentation from the court. The Victim Compensation Fund will not issue payment on any claim until it has received final order of the court.
The order can be dated after Jan. 2, 2012, but only if there is proof that the notice of withdrawal was submitted before that date. Any settled lawsuit had to have been completed by Jan. 2, 2011 with documentation provided, although payouts still can be pending.
Access Trust Funds, Grants & Compensation for Mesothelioma
Get Financial Assistance