Using Light Energy to Kill Mesothelioma Cancer Cells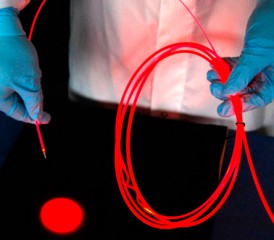 A clinical trial at the Ohio State University Comprehensive Cancer Center will start using light energy to kill cancer cells in patients with malignant mesothelioma.
Doctors at that cancer center have successfully used the treatment on patients with esophageal and lung cancer, but this is the first time they will use the therapy on patients with the deadly asbestos-related disease.
The treatment, known as photodynamic therapy (PDT), is not meant as a cure for mesothelioma. Instead, doctors want to see if it can help control or delay recurrence of the illness, killing any microscopic cancer cells left behind after the surgery.
PDT already has worked especially well for pleural mesothelioma patients in a clinical trial at the Abramson Cancer Center of the University of Pennsylvania. Radiation oncologist Meng Welliver, M.D., is hoping results will be equally impressive at the Ohio State University (OSU).
"There is a lot of hope surrounding photodynamic therapy in a lot of places right now," Welliver, told Asbestos.com. "[Penn Medicine] has had some phenomenal outcomes there. It's really important now to demonstrate that those results can be reproduced at multiple centers, and they aren't just confined to one or two institutions."
Researchers at OSU have not started recruiting patients for the clinical trial slated to begin later this year.
How Does Photodynamic Therapy Work?
Photodynamic therapy works by killing cancer cells with light energy.
Doctors administer a photosensitizer, a type of drug that makes cells sensitive to certain wavelengths of light. When the cancer cells are exposed to light, the combination of the drug and light causes a reaction that kills nearby cancer cells without harming healthy cells.
Other clinical trials have shown this outpatient procedure can improve life expectancy in mesothelioma patients, especially when used in combination with other treatments such as surgery.
Another benefit of PDT is its lack of toxicity. Side effects often include skin and eye sensitivity to light for several weeks after treatment.
The pilot trial is designed to measure toxicities, along with overall survival times and impact of PDT on the local control of mesothelioma.
Looking for an Effective Adjuvant Therapy
The medical community has been working to find an effective adjuvant to surgery for pleural mesothelioma patients. Some centers have been using intraoperative chemotherapy with impressive results.
PDT will be used in the OSU clinical trial as an adjuvant following aggressive surgery for both pleural mesothelioma and non-small cell lung cancer. The surgery will involve tumor resection, radical pleurectomy or both.
Doctors will administer Photofrin, a porfirmer sodium drug, 24 hours before surgery. The PDT will immediately follow the surgical resection or radical pleurectomy.
Patient follow-up will be at three, six, nine, 12 and 24 months. A previous study of PDT at Penn Medicine produced a median survival rate of 41.2 months. No control group was in place in the past to contrast and compare the results.
OSU Clinical Trial Part of Larger Trial
The National Cancer Institute recently awarded an $8 million grant to Penn Medicine to conduct the first randomized study of PDT for mesothelioma.
The OSU trial is designed to supplement that study at Penn Medicine.
Welliver is the principal investigator at OSU. She trained previously at Penn Medicine under Eli Glatstein, M.D., vice chairman of the radiation oncology department and a long-time advocate of PDT.
She says Penn Medicine has shown that "long-term survival is possible with a disease that historically has had poor outcomes."
"Clinical trials like this are critically important to developing new therapies, especially for rare diseases like this," Welliver said. "That's how progress is made in developing standards of care. It also provides patients with much closer monitoring, which is a good thing. It's good for patients today, and good for those in the future."
---
Related News Posts