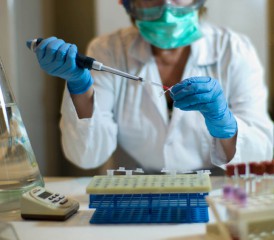 The highly touted
immunotherapy drug tremelimumab
failed to extend the lives of
malignant mesothelioma patients
, according to the London-based manufacturer after it ended its multicenter clinical trial Monday. Researchers were testing tremelimumab — with considerable fanfare — as a second- and third-line treatment for unresectable mesothelioma in a phase IIb trial. The immunotherapy drug already had shown success with other cancers. "We are disappointed that tremelimumab monotherapy did not demonstrate a survival benefit in this patient population," Robert Iannone, head of immuno-oncology at AstraZeneca said in
a statement released
Monday. "We remain confident in tremelimumab's clinical activity in combination." The announcement came less than a month after a report of tremelimumab's success in combination with durvalumab, another immunotherapy drug, to combat non-small cell lung cancer. That success was detailed in the most recent issue of
Lancet Oncology
.
Smaller Tremelimumab Study Showed Success
Its failure as a stand-alone treatment was also surprising because of a smaller, one-center study done earlier in Italy with a different dosage regimen that
showed impressive results
with mesothelioma patients. The smaller study detailed 29 patients at the University Hospital of Siena. More than half of patients achieved disease control with a median duration of 10 months. The
one-year survival rate
, from the earlier study, was an impressive 48.3 percent. "The goal is to improve the percentage of patients who become long-term survivors," Dr. Michele Maio, co-investigator of the Siena study, told Asbestos.com in 2015. "Tremelimumab moves us in that direction." Maio was confident the larger, multicenter study would show equally impressive results with mesothelioma. His team of investigators already started a second study combining tremelimumab with another immunotherapy drug that targets the
PD-L1 protein agent
, and is seeing more success.
Mesothelioma is a rare and aggressive cancer
caused primarily by asbestos fibers. It has no definitive cure. An average prognosis is 6-12 months to live. There currently is no FDA approved second- or third-line treatment. Standard treatment includes a combination of surgery, radiation and chemotherapy.
Twenty Tremelimumab Testing Sites in US
AstraZeneca's announcement Monday stems from the
clinical trial
conducted by MedImmune, its biologics research and developmental arm. The mesothelioma clinical trial started in 2013 and covered 571 patients in more than 99 locations, including 20 centers in the U.S. The company did not release specifics regarding the mesothelioma failure. It was a double-blind, randomized trial that compared tremelimumab to a placebo. AstraZeneca continues to tout the synergy effects of tremelimumab and other agents in treating several different cancers. Immunotherapy, which is regarded as the future of cancer treatment, is based upon helping a body's own immune system to destroy tumor cells without harming the healthy ones. The drugs work to unmask the cancer, and unleash the immune system. One highly-respected cancer center soon will begin the first mesothelioma clinical trial involving an immunotherapy combination prior to aggressive surgery.