Legislation & Litigation
New Limits Threaten EPA's Asbestos Review
Fact Checked
Our fact-checking process begins with a thorough review of all sources to ensure they are high quality. Then we cross-check the facts with original medical or scientific reports published by those sources, or we validate the facts with reputable news organizations, medical and scientific experts and other health experts. Each page includes all sources for full transparency.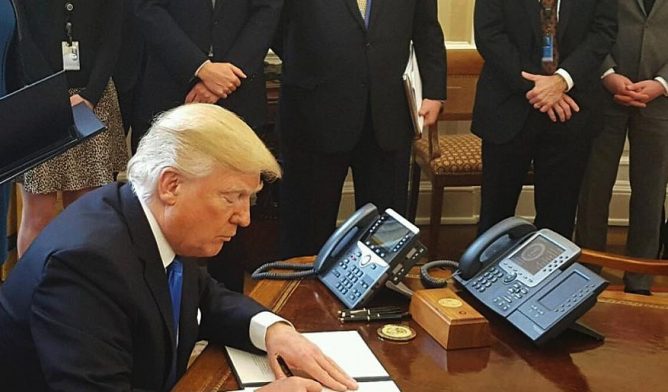 After pushback from the chemical industry, President Donald Trump's administration is scaling back a congressionally mandated review of asbestos and other deadly chemicals.
Toxic minerals in widespread use will be excluded from the revamped Toxic Substances Control Act (TSCA), which last December included asbestos among the top 10 dangerous chemicals the Environmental Protection Agency (EPA) must review.
Reducing the scope of the review will potentially leave millions of tons of asbestos and other toxic substances in homes and businesses. The Trump administration reportedly wants to limit risk evaluations of the top 10 toxic threats to new products being imported, sold or manufactured in the U.S.
For asbestos, this means only a few hundred tons of the toxic mineral imported each year will be up for review, excluding nearly all of the estimated 8.1 million metric tons of asbestos-containing products currently in American infrastructure.
Asbestos has not been manufactured in the U.S. since 2002, but imports nearly doubled from 2015 to 2016, according to a recent study by the Asbestos Disease Awareness Organization (ADAO) and the Environmental Working Group.
The U.S. imported an estimated 705 metric tons of raw asbestos last year. The overwhelming majority of raw asbestos is used by chlorine manufacturers, but the toxic mineral is still used in certain vehicle braking systems, asphalt roof coatings and gaskets.
Under the narrowed scope of the review, the EPA will only evaluate risks associated with annual imports of asbestos. The agency will no longer consider if new handling and disposal rules are needed for previously existing materials.
"There's still a lot of asbestos out there," Michael Harbut, an internal medicine professor at Detroit's Wayne State University, told The Associated Press. "It's still legal, it's still deadly, and it's going to be a problem for decades to come."
Firefighters, Construction Workers Remain at Risk
Firefighters and construction workers are two groups that could be heavily affected by the weakened EPA review.
Both professions are considered high-risk occupations for asbestos exposure.
Construction workers regularly come in contact with asbestos-containing building materials during renovations and other projects, while firefighters and other first responders are at risk when fires disturb the materials, releasing toxic asbestos fibers into the air.
Breathing in or ingesting these fibers can lead to serious health conditions decades later, including mesothelioma, a rare cancer caused almost exclusively by exposure to asbestos.
A 2013 study from the National Institute of Occupational Safety and Health concluded firefighters develop mesothelioma at twice the rate of the U.S. population as a whole.
"Hundreds of thousands of firefighters are going to be affected by this. It is by far the biggest hazard we have out there," Patrick Morrison, assistant general president for health and safety at the International Association of Fire Fighters, told The Associated Press. "My God, these are not just firefighters at risk. There are people that live in these structures and don't know the danger of asbestos."
Asbestos-containing building materials remain in many homes, schools and office buildings built before the 1980s.
Deaths related to mesothelioma are on the rise, according to a recent study from the Centers for Disease Control and Prevention (CDC). The cancer caused or contributed to more than 45,000 U.S. deaths between 1999 and 2015. Annual deaths increased by 5 percent in that span.
Environmental and public health activists fear the new limits on the EPA's review will leave many workers at risk for asbestos exposure in the future. Under current law, products must contain at least 1 percent of asbestos to qualify for regulations, but health experts say that threshold is arbitrary.
Industry Groups Influencing Decision
The reformed TSCA passed in late 2016 under the previous administration. Instead of following former President Barack Obama's proposal to review chemicals already in widespread use, the Trump administration has pushed to limit evaluations to products still being manufactured and imported.
Critics of the change claim ignoring products already in use ignores the goal of the TSCA.
Many point to the strong influence the chemical industry has on the Trump administration. Two top EPA officials — Nancy Beck and Liz Bowman — previously worked for the American Chemistry Council (ACC), the chemical industry's leading lobbying group.
Beck, the EPA's deputy assistant administrator for chemical safety, came to the agency after serving as the senior director for regulatory science policy for the ACC's Division of Regulatory and Technical Affairs.
Michael Dourson, the Trump administration's pick to lead the EPA's chemical safety program, also has deep ties to the industry. As a toxicologist, much of Dourson's research was funded by chemical interest groups such as the American Petroleum Institute, the American Cleaning Institute and the ACC.
Anti-asbestos activists and workers' rights groups have criticized EPA administrator Scott Pruitt since his appointment in February. As the Oklahoma attorney general, Pruitt led or participated in 14 lawsuits aimed at blocking EPA regulations.
More political influence is believed to be coming from the National Association of Homebuilders (NAHB), one of the largest trade associations in the nation. NAHB represents more than 800 state and local housing industry associations, and its more than 140,000 members build approximately 80 percent of new homes constructed in the U.S.
According to The Associated Press, the organization believes current asbestos disposal rules are adequate and broadening the EPA's review would lead to burdensome and unnecessary regulations.
"It doesn't matter whether the dangerous substance is no longer being manufactured; if people are still being exposed, then there is still a risk," Sen. Tom Udall, D-N.M., told The Associated Press. "Ignoring these circumstances would openly violate the letter and the underlying purpose of the law."
Access Trust Funds, Grants & Compensation for Mesothelioma
Get Financial Assistance