First Mesothelioma Patient Begins Newly Approved Treatment
A mesothelioma patient at West Cancer Center in Memphis, Tennessee, is the first in the country to use NovoTTF-100L, a noninvasive electric therapy treatment, since its approval by the U.S. Food and Drug Administration in May.
The FDA's approval of Novocure's Tumor Treating Fields device for the treatment of mesothelioma marked the first new FDA-approved treatment option for the rare asbestos-related cancer in more than 15 years.
NovoTTF-100L uses a low-voltage electrical field that is distributed with three pads attached to the front and back of a person's chest. The electrical current is designed to disrupt the inner components of a cancer cell when it divides.
It is now approved to treat mesothelioma in addition to chemotherapy, the most used treatment option for the rare cancer.
The patient at West Cancer Center will wear the device for 18 hours a day. His doctors are expecting promising results.
"We are looking at 97% disease control at year one," Dr. Moon Fenton, a hematologist at West Cancer Center, told WMC 5 Action News. "So, patients who are using this technology in addition to the chemotherapy actually have stable disease or great response to treatment."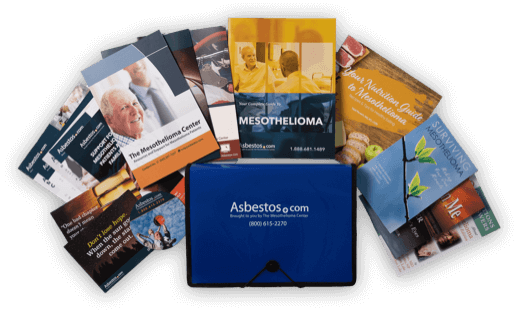 Free Mesothelioma Guide Recommended by Doctors
Get answers to your questions about mesothelioma symptoms, treatment, and more in your free medically reviewed guide.
NovoTTF-100L Unlike Other Mesothelioma Treatments
Tumor Treating Fields is a novel approach to treating mesothelioma.
Dr. Jacques Fontaine, a thoracic surgeon at Moffitt Cancer Center in Tampa, Florida, was part of a national mesothelioma advisory group for the NovoTTF-100L device.
"It's a completely novel approach, different from chemotherapy, different from radiation or surgery and different from the immunotherapy that is grabbing all the headlines right now," Fontaine wrote in a guest post for The Mesothelioma Center at Asbestos.com in June.
The treatment is noninvasive, meaning it doesn't require any skin incision or the insertion of any instruments or medical devices into the body.
Side effects from the treatment were minimal in a clinical trial of 80 patients with unresectable malignant pleural mesothelioma. The median overall survival of the patients in the trial was 18 months.
Tumor Treating Fields has been used since 2011 to treat certain brain tumors and is now being tested on ovarian cancer, pancreatic cancer and small-cell lung cancer.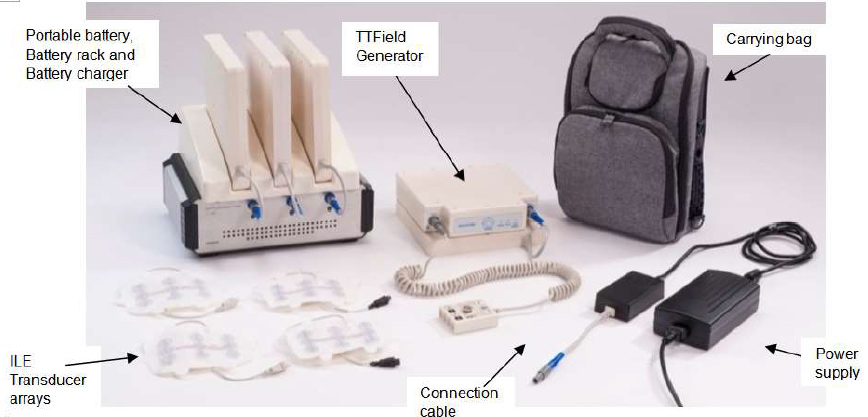 Logistics of Tumor Treating Fields a Concern
NovoTTF-100L is designed to be a take-home medical device that patients wear 18 to 20 hours a day — with minimal breaks. Patients are recommended to use the device until the disease progresses.
The pads must be changed every two to three days, and the skin area where the pads are applied must be shaved.
The device is plugged into a power supply or uses a large rechargeable battery pack that must be carried around to make it work properly. This may present a logistical challenge for some patients.
"I would worry about the likelihood of mesothelioma patients actually keeping this device hooked up for the majority of the day," Emily Ward, a seven-year pleural mesothelioma survivor, told The Mesothelioma Center at Asbestos.com. "That's a lot of stuff to carry around for 18 hours. How would it affect you when you're resting or sleeping? Would you still be able to do household chores and get around easily? These are important things to consider."
Fontaine advises that NovoTTF-100L is not a cure, but he believes the novel treatment can be an adjunct if standard-of-care mesothelioma treatment fails.
"It's not going to be the first go-to treatment, but an addition to chemotherapy or surgery for patients who have tumor progression," he wrote. "With an aggressive cancer such as mesothelioma, which has no definitive cure and very few options, this is innovative and something to get excited about."

Free Mesothelioma Guide
Medically Reviewed by Top Mesothelioma Doctors
Find a Doctor
2 Cited Article Sources
The sources on all content featured in The Mesothelioma Center at Asbestos.com include medical and scientific studies, peer-reviewed studies and other research documents from reputable organizations.