Blacksmiths
Fact Checked
Our fact-checking process begins with a thorough review of all sources to ensure they are high quality. Then we cross-check the facts with original medical or scientific reports published by those sources, or we validate the facts with reputable news organizations, medical and scientific experts and other health experts. Each page includes all sources for full transparency.
Scientifically Reviewed
An occupational scientist or another expert who specializes in occupational hazards reviewed the content on this page to ensure it meets current scientific standards and accuracy.
This Page was Scientifically Reviewed By
The majority of blacksmiths tend to work in a more artisanal setting than in the past. Today they produce ornamental pieces and artwork rather than create tools, the traditional role of a blacksmith. In spite of this change, the blacksmithing process is still the same.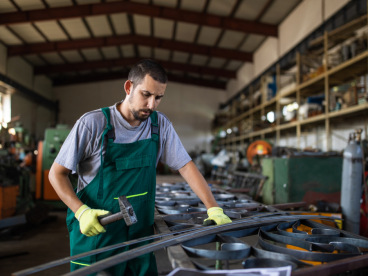 Page Topics
Quick Facts
That process starts with metal being heated in a forge so that it will become soft. When the metal glows, blacksmiths pick it up with tongs and place it on an anvil to mold and shape into the desired configuration using a pressure hammer and presses. The metal may be returned to the forge during the shaping process to reheat it so it remains pliable. After the basic shape is achieved, the blacksmith uses smaller hammers and chisels to create the finished product.
During the 20th century, blacksmiths were often exposed to asbestos in heat-resistant equipment. Asbestos-related diseases almost always trace back to occupational exposure caused by a lack of workplace safety. According to a KCIC industry report, more than 4,000 U.S. lawsuits were filed over occupational asbestos exposure in 2017 alone.
Hardening the finished item involves heating it in the forge to a high temperature – from 500 degrees Fahrenheit to more than 1300 degrees Fahrenheit – and then soaking it in a cold water bath. The next step is known as tempering, or making the product less brittle. The item is returned to the forge and heated to a lower temperature, where it remains for a long period of time. When it is removed from the forge it is cooled at room temperature.
Blacksmith Products and Locations
Blacksmiths were exposed to a number of products that were known to contain asbestos. Some of these products were not unique to blacksmithing, though some were. Both types included:
Insulation in the wall behind the forge to protect it and the forge itself from fires.
The tiles in the floor/ceiling of the workshop, especially around the forge and work area.
Asbestos-containing clothing and protective gear worn during work, such as gloves, aprons, face masks.
Occupational Exposure for Blacksmiths
Older tools had asbestos in them and their use created a risk of releasing asbestos fibers into the air that could be inhaled. A blacksmith's place of work often had floor and ceiling tiles as well as insulation, that when decayed would also release asbestos fibers. Blacksmiths also frequently wore asbestos gloves, another exposure point, to protect them from hot metals.
Scientific Studies Involving Blacksmiths
In 1991, a group of researchers from the Division of Environmental and Occupational Medicine from Mount Sinai School of Medicine, the Department of Radiology from Mount Sinai Hospital, and the Pulmonary Division of Mount Sinai Medical Center conducted a study of 869 New York Metropolitan ironworkers, both structural and ornamental (blacksmiths).
Findings of the study were based on:
A review of the participants occupational and medical histories
Comprehensive physical exams
Chest X-rays
Spirometry performed on 527 participants
Of the participants, 329 had pleural abnormalities on their chest X-rays that were caused by asbestos exposure. Ex-smokers had the highest amount of abnormalities. Further analyses showed that the duration of employment was the most significant factor determining how extensive the abnormalities were for each individual. Spirometry is a pulmonary function Test that measures how much air an individual can inhale and exhale and the speed at which these actions occur. Administrative problems prevented all of the participants from receiving this test.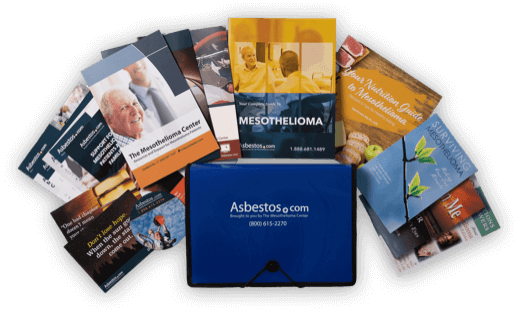 Learn About Your Legal Rights in Your Mesothelioma Guide
Also learn how to choose an attorney and how to qualify for compensation. Your free guide will be shipped overnight.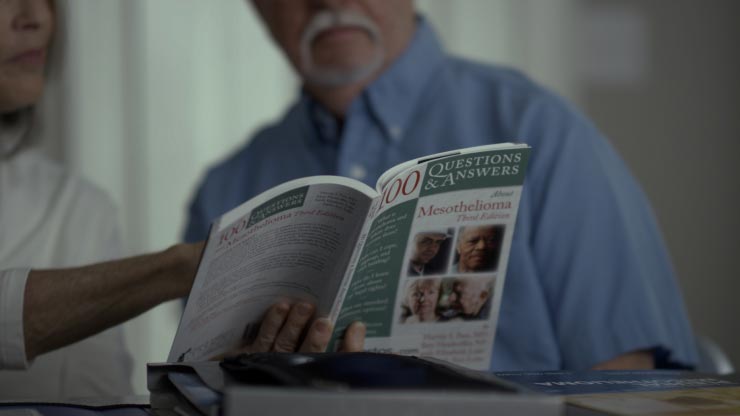 Asbestos Exposure Lawsuits Involving Blacksmiths
In June 2012, two former BNSF Railway employees sued the company, alleging they developed asbestos-related diseases through occupational exposure at the railroad. William Schleicher worked as a blacksmith and Frank Cox as a boilermaker at the O Street yards. Schleicher started work in 1943 and Cox started in 1968.
In their asbestos lawsuit, Schleicher and Cox claimed they were required to work around asbestos-containing materials, which violated federal law that says employees must be given a safe place to work. In a court response, BNSF denied responsibility, and blamed the lack of scientific knowledge about the dangers of asbestos at the time the negligence allegedly occurred. The company also blamed the carelessness, recklessness and negligence of the plaintiffs who didn't take responsibility for their own health. This case is not yet resolved.
Manufacturers Who Made Products Used by Blacksmiths
Foseco Inc. made asbestos-containing heat-resistant products used in foundries where blacksmiths were employed. One of these was a hot top that was used to keep molten steel at the right temperature to be molded.
---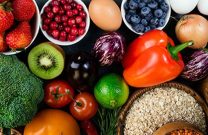 Get Free Recipes for Mesothelioma Patients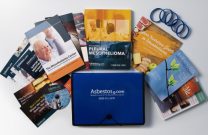 Read the Top Mesothelioma Guide for Free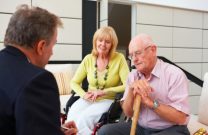 Get the Compensation You Deserve
---
Tell us what you think
Did this article help you?
How did this article help you?
What about this article isn't helpful for you?
Did this article help you?
Thank you for your feedback. Would you like to speak with a Patient Advocate?
---