HVAC Mechanics
Fact Checked
Our fact-checking process begins with a thorough review of all sources to ensure they are high quality. Then we cross-check the facts with original medical or scientific reports published by those sources, or we validate the facts with reputable news organizations, medical and scientific experts and other health experts. Each page includes all sources for full transparency.
Scientifically Reviewed
An occupational scientist or another expert who specializes in occupational hazards reviewed the content on this page to ensure it meets current scientific standards and accuracy.
This Page was Scientifically Reviewed By
Heating, ventilation and air-conditioning (HVAC) systems keep us cool in the summers and warm in the winters, and the people who maintain these systems are called HVAC mechanics. These systems exist in virtually every residential and commercial building: homes, schools, hospitals, office buildings and factories.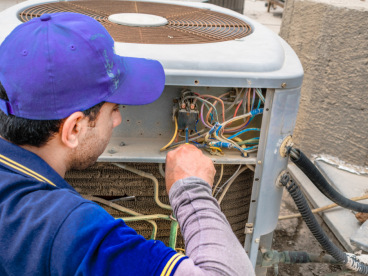 Page Topics
Written By: Matt Mauney,
Last modified: February 18, 2021
Quick Facts
HVAC systems account for about 40 percent to 60 percent of total energy use in the U.S. commercial sector. Mechanics are responsible for testing, repairing and overhauling the complex ventilation systems to ensure they work properly and efficiently. Because HVAC systems are so prevalent, there is great demand for quality HVAC mechanics.
Jobsites for these mechanics are always different. HVAC systems exist on concrete slabs outside the home and business, on rooftops, in garages and in attics and other closed-in spaces. Hazards of each site also differ. Buildings constructed before 1980 are considered high-risk for asbestos exposure through multiple asbestos-containing products. These products are not hazardous as long as they are undisturbed. But sometimes repairs necessitate disturbing the insulation, drywall and shingles, for example, and that's a potential danger.
Inhaling asbestos fibers can lead to life-threatening health problems. Asbestos exposure is the primary cause of mesothelioma, and it also can lay the groundwork for asbestos lung cancer and asbestosis. This diseases will not show up for decades after someone is exposed, and it's possible HVAC mechanics could get sick and not understand the connection between their illness and their exposure years earlier.
A 2017 article in EC Pulmonary and Respiratory Medicine analyzed asbestosis deaths in the U.S. from 1970 to 2014. The data showed that HVAC mechanics are over four times more like to die of asbestosis than the general population.
HVAC Products and Locations
HVAC Mechanics are exposed to different asbestos products such as:
Thermal Insulation: Asbestos is commonly used for insulation purposes in or around many products including steam or water piping, boiler surfaces and furnace ducts, which are located in or near areas where heating, ventilation or air conditioning units are stored inside buildings.
Building Materials: A variety of construction material used to build homes and public buildings where HVAC Mechanics work contain asbestos such as, siding, ceiling and floor tiles, walls, cement, firewall bricks, adhesives, pipe tape and joint compound.
Occupational Exposure for HVAC Mechanics
HVAC mechanics' exposure to asbestos is largely the result of working directly in a multitude of residential and public buildings that were built with asbestos-containing materials and buildings that used HVAC units that contained asbestos.
Asbestos is recognized for its heat resistance, and prior to the 1980s, it was commonly used for insulation found in the thousands of buildings. As mechanics mostly work in indoor spaces where heating, ventilation and air conditioning units are stored, they work in proximity to a lot of products containing asbestos as insulation, including steam or water piping, boiler surfaces and furnace ducts.
Ducts are used in HVAC systems to deliver and remove air, and they are wrapped with asbestos-containing insulation. When old ductwork is cut, sanded, broken or disturbed in anyway, asbestos fibers can be released into the air and inhaled by workers. Once these fibers are inhaled, many are expelled, but some can become lodged in organ tissues and remain their throughout life. The accumulation of fibers can cause inflammation and scarring, which is what can leads to the development of asbestos-related illnesses.
HVAC mechanics also are exposed to asbestos during normal system maintenance. They must frequently change filters and check furnaces. When mechanics open compartments and panels to perform these tasks, they can disturb any asbestos that has settled in the space. Often, this debris also contains asbestos fibers.
Hot water and steam pipes in older houses may be coated with an asbestos material or covered with an asbestos blanket or tape. When HVAC Mechanics work in a residential home or some public buildings, it is possible that their work space is a small and crowded enclosure. Without a lot of space to maneuver around certain HVAC units, it is possible for HVAC Mechanics to rub against asbestos-containing pipes while working on repairs, causing asbestos fibers to fall and collect in the air, where they can be inhaled.
HVAC Mechanics are also exposed to asbestos-containing building materials that were used to build the residential homes and public buildings that they work in. If any siding, floor or ceiling tiles or walls were damaged in anyway, it is possible for HVAC mechanics to have been exposed to asbestos fibers while routinely repairing HCAC units.
Scientific Studies Involving HVAC Mechanics
In 1956, the Montana State Board of Health industrial hygienist Benjamin Wake visited the Zonolite Company, later named W.R. Grace, which operated the world's largest vermiculite mines located in Libby, Montana and is the manufacturer of Monokote fireproofing cement and asbestos-containing acoustical plaster, which are widely used in buildings where HVAC Mechanics work. Wake took atmospheric dust samples and found that the dust contained 8 percent to 21 percent asbestos. When Wake returned to the plant in 1962, he still found evidence of asbestos such as 40 percent of airborne dust found in the plant was tremolite asbestos, and deemed it a respiratory hazard.
Mesothelioma Lawsuits Involving HVAC Mechanics
James Morrison won $325,500 in a verdict from a lawsuit against his former employer, Copeland Refrigerator Company. Morrison was exposed to asbestos from refrigeration compressors while he worked as an HVAC mechanic for the company in the 1970s and 1980s. He said this resulted in the development of his mesothelioma. The jury found that Copeland was responsible for 12.4 percent of the total damages suffered by Morrison.
In a wrongful death case against Sprinkmann Insulation in Wisconsin, formerly Sprinkmann Sons Corp., a man who worked as a HVAC contractor for the company developed mesothelioma and died. The disease was related to the significant amount of asbestos he was exposed to after decades of working in various industrial locations for the company. A jury awarded the man's family $1.5 million.
Manufacturers Who Made Products Used by HVAC Mechanics
W.R. Grace Corporation, Johns Manville, J-M Manufacturing Co., Rich Tex Inc. and Georgia-Pacific manufactured asbestos products used in the field of HVAC mechanics.
Dewey & Almy Chemical Company, Gold Bond, Kaiser Gypsum Company Inc. and Sprinkmann Insulation/Sprinkmann Sons Corp. have been involved in asbestos litigation for exposing HVAC Mechanics.
---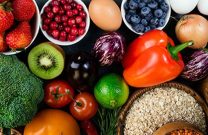 Get Free Recipes for Mesothelioma Patients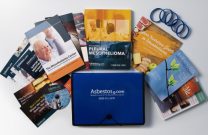 Read the Top Mesothelioma Guide for Free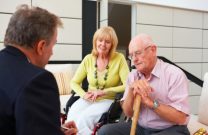 Get the Compensation You Deserve
---
Tell us what you think
Did this article help you?
How did this article help you?
What about this article isn't helpful for you?
Did this article help you?
Thank you for your feedback. Would you like to speak with a Patient Advocate?
---